The Thesaurus Problem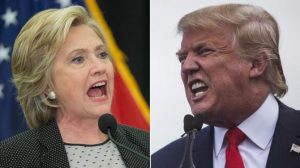 Thesaurus exercise: locate synonyms for the following word: "thuggish": What you will find is bully, uncouth, vulgar, coarse, gross. But in every thesaurus one synonym is missing: Trump.
It is possible that the owner of all these sobriquets could become the leader of the most powerful country on earth and thus the leader of the free world. That a person who has no experience in elected office, no knowledge of history or foreign affairs, who thinks that everything revolves about making some "deal" or another — that he might become president of the USA is more than worrisome; it is frightening.
I used to think that Hitlerism and Fascism could never find a home in America because, unlike Germany, America does not have a history of aggression and militarism. But with the dehumanizing elements of society now crawling out from under the rocks and being legitimized, one can no longer be sanguine. Ten million people have voted for him in the primaries. Not all of them are noxious, but millions clearly are.
Granted, much of the pro-Trump sentiment is a reaction both to the ultra left-wing proclivities of the Obama administration, and to the moribund, self-serving politics that today govern America. The people are exasperated; they have had their fill. The Diogenes-like search for an honest man has found no one. And the masses are revolted by the liberal erosion of traditional family norms. So they have turned to a person who, like every politician, promises to change things in Washington. And because this demagogue says whatever they want him to say at any given moment, they support him — even though his weekly outbursts would make it difficult to elect him sheriff of a little town.
Beyond the dangers that he poses for America as a nation, Trump has unleashed a poison-pill in human relationships. That which was once unacceptable in human discourse , because it was vulgar and uncouth, is now admissible in civil conversation. Thoughts which we used to bury and never express, have now been resurrected and become part of daily discourse. Once upon a time , If a person could not always control the random ruminations that flit across the mind, he could control their verbalization. But with Trump's vulgarisms, that which among decent people was better left unsaid is now becoming normal. Even if America should somehow survive his politics, the degradation of discourse and the violence to our sense of decency could be beyond repair.
One often wonders: in a nation of 300 million people, are these two candidates the best we can produce for our highest office? Clearly, the system – in which money buys and elects unqualified candidates — is corrupt, dysfunctional, and badly in need of repair. It is said that a nation gets the leaders it deserves. Does America deserve this?
Legitimate question: If you are so unhappy with Trump, why not vote for the other candidate? Answer: the other candidate also has a thesaurus problem. Look up "untrustworthy." What springs up is crafty, calculating, dishonest, unethical. Again the missing synonym is Hillary. Her list is not as long as Trump's, but it is just as troubling.
The very worst thing about this election is that one of them will win. The American voter is faced with what has been called the evil of two lessers. I still don't know what I will do on election day. My right hand faileth when it considers pulling the lever for Trump; and my right hand cleaves to itself when it considers the lever for Hillary.
There is only one comfort: that famous verse in Mishle 21:1: Lev melech b'yad haShem, "the heart of a king is in the hand of Gd." Ultimately, kings and kingdoms are not in our hands. We can only do our best to try to affect our future ,but the final outcome lies in a realm far beyond us. One remains worried, but King Solomon in Mishle offers a measure of solace.