Political Posturing at the Western Wall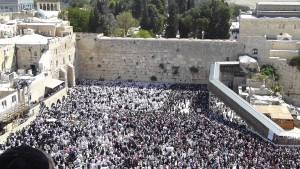 by Rabbi Yaakov Menken and Rabbi Pesach Lerner/JNS.org
Charlie Kalech is upset. Kalech is the Internet entrepreneur who broke Israeli law last year on behalf of the Women of the Wall (WoW), taking a Torah scroll from the men's section of the Western Wall in Jerusalem. Those scrolls may not be removed by law, respecting traditional Jewish practice. Kalech broke through the divider between men and women to give WoW a Torah scroll, and he was detained for his trouble. Now he feels betrayed — because WoW announced plans to hold a "birkat kohanot" this Passover, an imitation "priestly blessing" by and for women.
Large crowds come to the Western Wall twice each year for birkat kohanim, the Jewish priestly blessing. The blessing itself is hardly extraordinary — kohanim in Ashkenazi Orthodox synagogues perform it on each holiday in the Diaspora; Sephardim do it daily, as do all traditional synagogues in Israel. The special event at the Western Wall, however, held during the intermediate days of Passover and Sukkot, began less than 50 years ago.
It was initiated by the late Rabbi Menachem Mendel Gefner of blessed memory, based on an 800-year-old teaching that when 300 kohanim deliver their blessing together, it is a sign that the Holy Temple will soon be rebuilt. This is why nearly 100,000 Jews now come to receive the priestly blessing from hundreds of kohanim. There is no mandate in Jewish law for this service or for conducting it at the Western Wall, and no reason besides simple convenience to do it specifically during the holidays. Yet this is what WoW aims to mimic.
Kalech is agitated because Israel's Conservative Jewish movement does not approve of women performing this ceremony, and therefore WoW's "birkat kohanot" will not be "inclusive." In actuality, this particular idea is equally offensive to every denomination.
There is, of course, no way to reconcile"birkat kohanot" with traditional Judaism, which defines kohanim as male descendants of Aharon, the original high priest. But the Reform movement also rejects birkat kohanim when conducted by anyone. They point out that priestly status itself is not egalitarian: it separates the kohanim from other Jews.
So WoW plans to show preference to daughters of kohanim over other women in a way unsupported by any version of Judaism, doing a "Jewish" ritual supported by no version of Jewish ritual, in imitation of a ceremony that aims to restore Judaism's doubly undemocratic Holy Temple. And it claims to be doing all this in the name of egalitarianism.
If that reads like self-parody, so does Kalech's complaint. He decries WoW for "blatant disregard for respect of different streams of Judaism," and declares that the group has been "usurped by those who disregard halachic (Jewish legal) observance for their own political agenda." Apparently he did not recognize this last year, although their "birkat kohanot" is no more or less religious, and conversely no more or less political, than their use of a Torah scroll. Kalech is absolutely right, save for his use of the word "usurped."
The correct term is "founded." From its inception, the Women of the Wall have demonstrated "blatant disregard for respect of different streams of Judaism." Their behavior towards those praying at the Western Wall belies their claim to merely wish to pray in their own fashion and their own style.
One of their most active members uncomfortably admitted that her WoW colleagues consciously deviate from any normal style of prayer. On the contrary, she wrote, "they may not pray every morning at all. Some women pray/sing at the top of their lung [sic] in an operatic voice. I don't think they would do that at home or in their local beit knesset (synagogue)." Another WoW member stated openly that she doesn't even know how to pray, and that she came to "choose a potential victim to argue with" from among the traditional women there for prayers.
All of this is relatively obvious to anyone who has witnessed their behavior. Besides the aforementioned singing "at the top of their lungs," they have 10 women blow shofar in unison before Rosh Hashanah, wave their prayer books overhead, and in general do as much as possible to attract attention. Although the new "Ezrat Yisrael" egalitarian prayer area at the Western Wall is sufficient for a group many times WoW's size, it sits empty — WoW comes only to where traditional women are praying, and many of its members declare that they will accept no alternative.
This conduct reflects the expressed belief of WoW leaders that change must be forced upon other women. Bonna Haberman claims that WoW "catalyzes engagement in healthy democracy" by ensuring that "ultra-Orthodox" women are "aroused by the subversive possibility of women's autonomous public prayer." Anat Hoffman says that WoW's presence in the women's section is about "bringing about change in the Orthodox world," while Susan Aranoff and the late Rivka Haut wrote that WoW will "shock" traditional women and "change their world view." WoW's agenda is politics, not prayer.
Perhaps it was possible until now to ignore these statements, and credibly believe that WoW simply wished to conduct their own services. But only an alternate agenda demands that they continually push the envelope — by, for example, inventing an entirely new "Jewish" practice. It is simple political theater, busing in women to ape Orthodox men, with a performance as foreign to atraditional movements as to the most ardent traditionalist.
Perhaps WoW has finally taken things one step too far. Perhaps the media will finally ask why a group claiming to simply wish to pray "in its own fashion" keeps making its "fashion" more and more extreme. Perhaps people will wonder about a purported spiritual need for "birkat kohanot" found nowhere else in the Jewish world.
Even previous supporters of WoW must be discomfited, as Charlie Kalech is, now that WoW's true agenda is manifest and undeniable: forcing feminism upon women who simply wish to pray peacefully, in their traditional fashion, at what they regard to be the holiest place for their prayers. The Western Wall is a religious site, and not the venue for WoW's feminist politics.