An Open Letter to my Chaveirim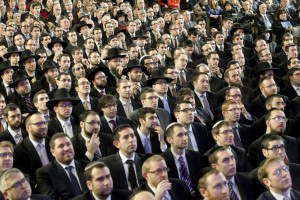 by Rabbi Shmuel Landesman
I am proud to be a musmach of Yeshivas Rabbeinu Yitzchak Elchanan. My rebbeim and chaveirim were the best. I was privileged to be in the shiur of Rav Yehuda Parnes for 3.5 years in a very overcrowded classroom. Rav Parnes insisted on remaining there because it was the very room in which Rav Shimon Shkop gave shiur, as did the Rav (before Furst Hall was built). I also attended Rav Aharon Kahn's shiur in the corner classroom with the Aron Kodesh facing east. That was the room where Rav Moshe Soloveitchik had a daily minyan because he refused to daven in the Beis Midrash, where the Aron faced north. I would sit in the Beis Midrash learning Gemara, thinking how my grandfather had sat in the very same room learning Gemara some 60 years earlier. I would also think how my great-grandfather gave shiur in the very same yeshiva some 75 years earlier (when it was on the Lower East Side).
Therefore, due to my love for Yeshiva, I am dismayed by the actions of a few of our fellow RIETS musmachim. Our chaveirim have founded the Open Orthodox movement and are ordaining women, engaging in interfaith theological discussions, defending the questioning of Torah MiSinai and mocking rabbinic traditionalists. What in the world is going on?
Yiddishkeit is a way of life, a way of living and a way of learning. We have a Mesorah (Tradition) as to how Yiddishkeit is transmitted. There is a system, a methodology. Today, in the 21st century, we are still living and learning Torah through this Mesorah or Tradition. Historically, there have been groups of Jews who have broken off and started new movements that rejected this Mesorah. But, the Sabbateans, Karaites and Sadducees all disappeared. Only we Pharisees, Rabbinic Jews, Mesorah Jews, have continued on. In the United States, the Reform and Conservative movements gave us Mesorah Jews a big scare during the first two thirds of the 20th century. It looked like Orthodoxy might die out. However, B"H, in the 21st century Orthodoxy or Mesorah Judaism is booming, while the Conservative and Reform movements are imploding.
Rabbi Dr. Norman Lamm, President Emeritus of Yeshiva University, would proudly tell us how during his long tenure as head of Yeshiva, not one student switched from RIETS to the Conservative movement's Jewish Theological Seminary. (In the 1950s, a plurality of JTS students were Yeshiva College graduates.) Rabbi Lamm explained that this was due to the Conservative movement's drastic turn away from Halacha and the strength of an Americanized Orthodoxy. 
So, for the past several decades, RIETS has been a rather large tent accommodating a wide range of types. Apparently it was not large enough. To my surprise, certain musmachim started putting down RIETS as having become too "right wing" or "Chareidi". A special blame was placed on the new generation of RIETS Roshei Yeshiva for the ominous trend. But, this was disingenuous, for these musmachim knew and lived the history of RIETS.
To explain to my younger chaveirim: Rabbi Dr. Samuel Belkin was the President and Rosh Yeshiva of the Yeshiva from 1943-1976.  In the 1940s, unlike today, RIETS had not produced musmachim who were qualified to be the Roshei Yeshiva. To his everlasting credit, Dr. Belkin hired the greatest Eastern European Roshei Yeshiva available, regardless of their hashkafa. Rav Mendel Zaks, Rav Yerucham Gorelick, Rav Dovid Lifshitz helped make the Yeshiva great. They also possessed little secular education and were opposed to Torah Umada. The loudest complainers about RIETS' recent supposed move to the right were students of these rabbis. No one can seriously posit that today's American born, college-educated RIETS Roshei Yeshiva are more right wing or yeshivish than their predecessors were or that they have changed the Yeshiva. (Incidentally, in the early 1940s, there was much opposition to hiring the Rav, Rav Yosef Dov Soloveitchik, to succeed his father as a Rosh Yeshiva, due to his Agudah affiliation – the Rav was then a member of the Moetzes Gedolei HaTorah of Agudath Israel.)
A decade or two ago, a couple of rabbinic alumni, ignoring Rabbi Lamm's pleas not to do so, opened a new, more "Open" Orthodox yeshiva. After several years, they started referring to themselves as a new movement, "Open Orthodoxy". This was all rather condescending, since the rest of us have always been open to the world. However, in the end, the opening of Yeshivat Chovevei Torah worked out well, because RIETS could now be more selective as to whom it accepted into the Yeshiva.
Jumping to today, the Open Orthodox movement and its related institutions of my fellow RIETS musmachim have made drastic and rapid changes to Yiddishkeit. We musmachim are all first, second or third generation talmidim of the Rav. As is well known and documented, the Rav was firmly opposed to ordaining women and engaging in interfaith theological dialogue. He also gave no quarter to Scientific Biblical Criticism and emphasized the critical importance of Chachmei HaMesorah.
It has been a full generation since the Rav was around, and circumstances can change. Prof. Shnayer Leiman told me that classically, the rabbinic leaders of the generation (Chachmei Hamesorah) were the rabbanim to whom Klal Yisrael turned with life and death shaylos. A generation ago in the United States, the Chachmei Hamesorah to whom we turned were principally Rav Moshe Feinstein, Rav Yosef Eliyahu Henkin and, especially for YU musmachim, the Rav. Fortunately, we also have in our generation Chachmei HaMesorah here in the United States, every one of whom is firmly opposed to the changes made by Open Orthodoxy. So, Open Orthodoxy has turned to a Judaic Studies professor from Bar Ilan University to be its rabbinic authority permitting these drastic changes. Professor Daniel Sperber is a lovely man whose seminal work on Jewish customs is a favorite of mine. We used to shmooze a lot when he would teach at Bernard Revel Graduate School in the summers. We also spent a Shabbos together, and I enjoyed his company immensely. (Back then, Dr. Sperber related to me that his paternal grandfather had been a member of the Moetzes Gedolei Torah of Agudath Israel.) I do not know any RIETS musmachim who call Prof. Sperber when facing life or death shaylos. I do not know any RIETS musmachim who call Rabbi Avi Weiss when facing life or death shaylos. We all know whom we call – the Chachmei Hamesorah.
There is legitimate discontent in our social circle. Life is difficult. American society, in which we are immersed, has radically moved away from traditional Jewish values. Western society is relentlessly egalitarian with regard to gender roles and also with regard to religion. In an era in which everything I know about my smart phone I learned from my kids, there is no concept here of transmitted wisdom. 
However, to adopt the above mentioned practices will not solve anything for the Modern Orthodox Jewish community. Ordaining women, engaging in interfaith theological dialogue and rejecting the traditional understanding of Torah MiSinai and Mesorah have not stopped the Conservative movement from falling apart. Why do our chaveirim at OO think that adopting these already tried practices will enable them to succeed?
I used to be a pulpit rabbi out of town – in Massapequa, Long Island and Binghamton, New York. While the shuls were Orthodox, most of the members and Jews in the community were not. Fortunately for me, in that pre-Open Orthodoxy era, traditional Jewish standards with regard to gender roles, interfaith dialogue and belief in Torah MiSinai were clear. Unfortunately for our chaveirim who are currently out of town, Open Orthodoxy has confused many non-yeshiva educated Jews as to traditional Jewish standards in these areas. The congregants think that Open Orthodox rabbis who hold "Progressive" standards are also Orthodox.
Therefore, we must publicize the fact that Open Orthodox rabbis are no longer part of the Orthodox Jewish world. In November, the Moetzes Gedolei HaTorah of Agudath Israel, for the first time in its history, declared that a group of self-identifying Orthodox Jews, those affiliated with Open Orthodoxy, are Chutz Lamachaneh, or outside of the camp. (Incidentally, the Moetzes made it very clear that it considers Modern Orthodoxy and RIETS to be part of the Orthodox Torah camp.)
The founders of Conservative Judaism were Orthodox Jews, just four generations ago, who thought they could save or conserve Halacha by changing it. They tampered with the Mesorah and the result has been disastrous. I ask my Open Orthodox chaveirim, "Why will your deviationist movement fare any better in the long run"?
Rabbi Shmuel Landesman is a member of a family that has taught and/or learned Torah at Yeshivas Rabbeinu Yitzchak Elchanan since 1915. He lives with his wife and children in New Jersey.​