Vehi SheAmda, How do you pronounce it?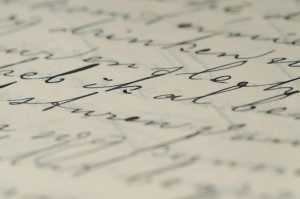 How do you sing the paragraph in the Hagaddah Vehi SheAmda? Is it Vehi SheAmda LavoSeinu (Ashkenazic) or LavoTeinu (Sefardic) pronunciation ? In Israel a duet, that has BOTH pronunciations simultaneously has become very popular. Yonatan Razel, a Sephardi, sings it Lavoteinu. Along with him is Yaakov Shwekey singing Lavoseinu, in his usual Chassidic–Ashkenazic accent, even though he is from a Syrian–Jewish family. (BTW, Shwekey has a new album Libi BaMizrach, in a Sefardic accent, an example of hafuch al-hafuch).
In the aforementioned duet for the Pesach passage Shwekey sings Ashkenazic. What is symbolic is that Shwekey and Razel make beautiful music together, each maintaining his own identity and accent. You can hear their "legendary performance of Vehi SheAmda at Caesaria"
Although I have reservations about the razzle-dazzle of Razel/Shwekey in Caesaria, the fact that this was the site where the Romans once tried to destroy Judaism is something to ponder.
A similar Sefardi-Ashkenazi duet took place last week. One of the world's top Ashkanazi cantors, Hazzan Yitzhak Meir Helfgot, sang at a hazanut concert accompanied by the Israeli Philharmonic Orchestra in Tel Aviv's bastion of secular culture, the Mann Auditorium. Hazzan Helfgot sang a duet with Amir Benayoun, who is the quintessential Moroccan paytan. Although I was not privileged to see it, I did hear this duet rebroadcast Friday (11bNisan,April 15) on Israel Army radio, Galey Zahal. A charedi couple, Yedidya and Sivan Meir, have a regular program Fridays at noon, and this Friday they played the Netanel Helfgot – Amir Benayoun duet, a Shlomo Carlebach rendition of Lecha Dodi. The popular program of this charedi couple, aimed at a young secular audience, can be heard on the Galey Zahal website, although the one on April 15 is not yet posted.
The Helfgot-Benayoun duet is another example of mizug galuyot, where each tradition is preserved while they can sing together. This reminds me that when the twelve tribes of bnei Israel crossed the Sea, they crossed together but in twelve parallel but distinct tunnels with transparent walls(Yalkut Meam Loez,Beshalah 5,28).
I'll be thinking of this when we sing Vehi SheAmda at the Seder.