Yad Vashem & the Pomegranates of Rosh Hashana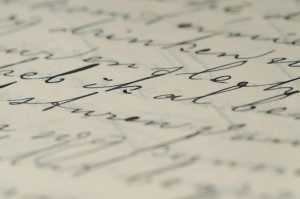 The place:Liberated Theresienstadt. Date: May 1945. Hanna, a survivor, recalls:
"I thought to myself: 'I am now free. I am actually free to do whatever I want.' But I had nowhere to go. I had no one. Where could I go? There was no one to guide me. I was completely detached. I belonged to no one. I had just turned 13. At that moment I decided to come to Eretz Israel. I wrote to the uncle, Yitzhak Rosner, who had come on aliya before the War, asking if he would take me in, as my family no longer existed. I wanted to belong to someone. I wanted to belong to my nation."
These words were narrated by Hanna Rosner Bar-Yesha in a new film that can be purchased online in Hebrew or English from Yad Vashem (by contacting Naama Shik [email protected] tel.011-972-2-6443654).
I saw a preview of "She Was There and She Told Me:the Story of Hanna Bar-Yesha" at a summer study session initiated by the Zachor Holocaust Education Center of the Michlala, in Bayit vGan, under the direction of historian Esther Farbstein and coordinated with Yad Vashem International School head Shulamit Imber.
Hanna came to pre-State Israel on the rickety aliya bet ship, the Amiran Shochet, commanded by Yonatan Kinnereti that brought her and 182 other "illegal" immigrants here. Narrowly escaping British Mandate patrols, they arrived on a Friday in the summer of 1946 to the Caesaria beach and were hidden in the religious moshav Kfar HaRoeh, not far from Kiryat Sanz, Netanya, where I live. Hanna described to me her first Shabbat in Eretz Israel, when I interviewed her in her home in the south of Israel:
"I stood mesmerized next to Rabbi Moshe Zvi Neria who was explaining the symbolism of the pomegranates growing in his garden. They would be eaten on Rosh Hashana and hung from the walls as Succot decorations."
It goes without saying there were no pomegranates in Auschwitz, but even during Hanna's childhood in Slovakia/Ukraine/Hungary, a pomegranate was something she could only read about in the Bible or hear tinkling from silver Torah ornaments, rimonim or pomegranates. But until that Shabbat, she never actually had gotten to see this rosy red fruit and eat its juicy seeds. (Last week I went out to Kfar Haroeh and found that the same tree Hanna remembers so vividly from 62 years ago in R. Neria's yard. I photographed it, pregnant with plump pomegranates, for my article "From Starvation in Auschwitz to Pomegranates in Kfar Haroeh" which in the Jerusalem Post internet and printed editions.)
What impresses me most is Hanna's deep religious faith before, during and after the Holocaust, and her commitment, along with that of her late husband Chaim Weltfreud Bar-Yesha (a longtime yeshiva administrator) to religious education. I subsequently met with Hanna in her home in Merkaz Shapira and wrote an article which you can read on the internet in the Jerusalem Post's Rosh Hashana supplement (Google "From Starvation in Auschwitz to Pomegranates in Kfar Haroeh.")
The Yad Vashem staff has shown increased sensitivity to conveying the story of religious survivors such as Hanna. From the first minutes of the movie we get a glimpse of traditional life for Hanna's family in Ungvar.
"My family would have Friday night dinner at home.Then we and all my relatives – cousins, aunts, uncles – would converge at my grandparents, where we would sing zmirot and recite birkat hamazon after dessert."
Yad Vashem is pioneering a new series where the survivors are filmed in their hometowns and in the various ghettos and concentration camps where they were imprisoned. Hanna takes us (on film) to Budapest where her family vacationed summers before the War and where her father took her to see the majestic Neolog Doheny synagogue, (second largest in the world), explaining that while the Rosners davened in an Orthodox shul, she should be aware of the institutions of all the Jewish people.
Her happy childhood was halted as the family was rounded up in the spring of 1944. They were first sent to the Ungvar ghetto in a brick factory, and then to concentration camps. At 12, she was taken to Auschwitz-Birkenau. In the film, she stands next to the slats she slept on in her barracks, and recalls with emotion:
"I was six or seven months in Birkenau with my mother. I was terrified that we would be separated, and suddenly my mother was gone. I'll never forget that small door through which my mother passed the last time I saw her."
The only remembrance was a small towel her mother had embroidered. But she had to relinquish even that token momento after the War when all their ragtag luggage had to be thrown overboard the aliyah bet ship, the Amiram Shochet, in order to make room for more "illegal" immigrants.
Clips from the hour-long film can be seen on Yad Vashem's website by going to their "search" Then in Hebrew letters type "Hanna Bar Yesha" into the search. You will get 10 results. Click on the 10th link which says : "hee hayta sham v'hee sipra lee" and you will get the site with the clips, enabling you to see a few minutes of the hour-long DVD. Soon the clips will have English subtitles. The full-length DVD contains some very rare historic footage, e.g. the actual deportations from Hungary.
Again I have to say that Yad Vashem should be commended for increasing their coverage of religious Jewish life and for this innovative documentary, of which the one on Hanna Bar-Yesha is the second in the series.
For Hanna Rosner Bar-Yesha herself, the pomegranate is not just a succulent symbol
of the New Year, but an edible reminder of a new start in life.