The Most Annoying Phrases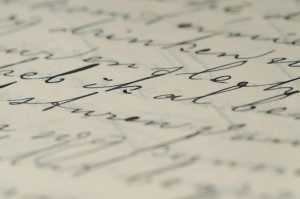 A while ago, a feature article published on the website of the UK Telegraph newspaper asked, 'what is the most annoying phrase in the English language?' Suggestions included 'chill out' and the replacement of 'now' with 'at this moment in time'. The posting, before it disappeared, elicited over 2000 comments from readers, each of whom mentioned a pet hate. A random glance at them yielded such expressions as 'all intensive purposes', 'fell pregnant', 'blue-sky thinking' tautologies such as 'potential risk' and the use of the soccer-player's favourite phrase 'at the end of the day', which, it was claimed, actually means nothing at all.
The observant world is blessed with a number of eloquent speakers and writers who are outstanding advocates for Judaism. Their sensitive and lucid writings have drawn many hearts towards authentic Judaism and, when necessary, they articulately defend the Torah from outside attack: we would be a poorer community without them.
Yet the standard of their written and spoken English is scarcely reflective of the majority within the observant community; even in English-speaking countries, low standards abound. À la Telegraph, one could prepare a list of the most annoying phrases used by members of the religious community. My bête-noir is the common misuse of the word 'by', as in 'I'm eating by the Cohens this Shabbos' and 'we daven (pray) by the Oshplotzer Rebbe'. This may be correct syntax in Yiddish, but is it English? Some even seem to be unaware that the words 'takke', 'mamash' and 'ziche' may be unfamiliar to the plumber.
In some parts of the religious community there is little appreciation of the value of using clear and accurate English and examples of frum-speak are common. Numerous English-language books and journals are filled with basic spelling errors (don't the authors use 'spell-check'?), inaccurate usages, and scant attention to English syntax, quite apart from the limited and simplistic vocabulary. How should one respond when one's children notice simple spelling and grammatical errors in the school-worksheets prepared by their teachers? In a masterful exposition of this problem (aptly named: 'Tefillin in a brown paper bag'), Rabbi Emanuel Feldman wrote in reference to the contents of an Orthodox periodical:
The alphabet and the words were English, but the sentence structure, the rhythm, the syntax, the tone, were of another language altogether
.
Perhaps we have forgotten that many books and articles on the market are commonly read by the less observant: in fact, the literature is frequently prepared with them in mind. For them, weak English is often a real turn-off, as they inexorably associate the message with the medium: bad English equals bad message. Some recent 'outreach' publications suffer from this deficiency: notwithstanding the time and resources that have been devoted to their publication, I suspect that they will have little impact on their target audience. Rabbi Feldman again:
Beyond theory, the use of deficient language has practical negative consequences as well, for it prevents us from preaching to anyone but the Orthodox choir. Intelligent, educated non-Orthodox Jews will surely be put off by the argot which passes for much of Torah Judaica today.
Some opine that at least within the observant community, this is unimportant: provided the intended audience understands the message, who cares if the English is poor? It is difficult to treat this seriously. A well-known Jerusalem Rosh Yeshivah remarked that it is hard for him to understand why anyone would aspire to speak English poorly. Why, he asked, would one aspire to learn English from people who speak it badly; why would one want to ignore the nuances of expression available in English and communicate in a puerile or ambiguous manner?
Does anyone truly believe that simply because the audience is familiar with the 'lingo', the use of poor English has no consequences? Language is not merely a means of communication, but exposes the outlook of the speaker:
Every language expresses the core ideology of the nation (that speaks it) according to its Weltanschauung and in accordance with its grasp of the essence of reality: from this emerges its language. (Telshe Rosh Yeshivah, Shiurey Daas, Likutim)

Every language connects the core (of a person) with the external world…. (Shem MiShmuel, Devorim 5676)
If a language reveals the essence of the speaker's world view, perhaps it follows that a limited vocabulary and the use of clichéd phraseology is reflective of tired, uncreative thinking and narrow horizons, hardly noble religious aspirations.
Negligible attention to presentation and slapdash English spill over into other areas of life too. Do we fool ourselves into thinking that when our children neglect English, this has no impact on the quality of their Torah achievements? Children are unable to compartmentalise their experiences – if they see sloppy presentation in one part of their schooling, it will affect others: is it too daring to suggest that users of poor English may become inexact Talmud readers?
Inaccurate English is most often caused by laziness and occasionally by a smidgen of arrogant superiority that allows people to think that they can get by without bothering to master the language. Simplistic English has a different source: inattentive reading, which leads to careless use of syntax and scant attention to the subtleties of language. Carefully reading a range of appropriate literature is the only way to develop a sophisticated and nuanced approach to the use of the language.
We need to produce more journals, children's books, English-language scholarship and fiction that are engaging, rich and nuanced, and exposing our children to them, as well to a carefully-selected range of general literature. This will contribute to broadening their horizons and improving their capacity for self-expression and excellence in Torah learning. And without doubt, it will help us to extend our influence far beyond its current confines.