Moved to Tears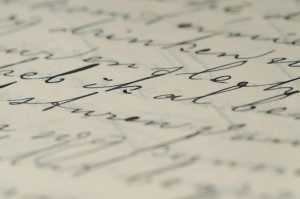 Well, not literally — but when I read the following comment to an earlier post, I did think about it. The topic then was a Slate magazine article which covered Ismar Schorsch's "parting shots" at the Conservative movement, delivered during his final graduation address as the Chancellor of JTS.
Here is Ahron's comment:
I went to a heavily Conservative day school and can only amplify and reamplify the observation of "no passion".

A short story: When I was in 7th grade I davened in the Conservative minyan at this school. When we came to "ahava raba" right before the morning shema, we sang the opening part of it in a popular tune but with some sort of variation so that we stopped the singing right before the word "ahava" ("love") in "talmud toratecha b'ahava" ("the learning of your Torah with love"). I presumed (in 7th grade!) that the reason we stopped singing out loud right before "ahava" was because in the Conservative minyan they didn't want to encourage us to study Torah with love or passion but rather with dispassionate academic distance and criticism. I am deadly serious.

Now, I have no idea why the minyan sang the tune in this fashion. It may have just been one of the many local variations that invariably develop in popular tunes. But even as a 7th grader I knew (or perhaps better, deeply sensed) that the Conservative movement did not want us to study Torah with passion and committment, and so based on my experiences with Conservative teachers/rabbis at the school I found a logical explanation for their omission of the word "love" from our prayers. They didn't want "love". They just wanted us to "study". In essence they wanted us to always be outsiders peering in to the Torah from behind a microscope.

Does any rational person intend to bequeath this bizarre way of "life" to their children?
How can anyone familiar with how Torah can enrich a person's life not be moved by a line like that… "to always be outsiders peering in to the Torah!" Ki Hem Chayeinu — they [the words of G-d's Torah] are our life. They are not an intellectual exercise alone.
As an aside: responding to Rabbi Adlerstein's comparison of Kollel students to mathematician Grigory Perelman, some in the comments asked if every Kollel student is as brilliant as Perelman, able to solve problems as thorny as the Poincaré conjecture. They entirely miss the point. The dedication of Kollel students arises in part because the effort to solve the problem is the ideal — not merely arriving at an innovative solution.
When celebrating the conclusion of a Tractate of Talmud or Order of Mishnah, part of the traditional recitation is "we toil and they toil; we toil and receive reward, and they toil and do not receive reward." Now what does this mean — doesn't everyone receive payment for their work? The traditional answer uses the aforementioned distinction. If a shoemaker fails to construct a shoe of the right size, he doesn't get paid. If a programmer cannot construct successful programs, she loses her job. But a student immersed in Torah study is, at that moment, in the best situation.
Well, in any case… The larger point to be made here is that there is neither room nor time for some sort of "triumphalist" attitude about the demise of the Conservative movement. For a child to go through what Ahron describes is an unmitigated tragedy, and could easily explain a lifetime of intellectual detachment not merely from Torah study, but from Judaism overall.
The movement is not our problem. Every Jew is our problem, and, Houston, we have a problem…