Blogging – An Alternative Mission Statement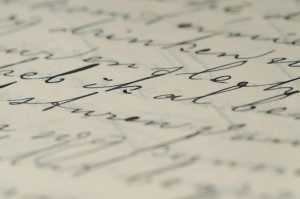 A few days ago, Rabbi Menken offered his reasons for blogging, and essentially his raison d'etre for Cross-Currents. I respectfully dissent.
I will beg the forgiveness of readers who turn to these pages looking for some Torah insight into today's headlines. It is going to take a few posts to formulate and articulate some ideas that have been brewing for quite a while. I hope this will not seem self-indulgent, or the improper use of a digital bully-pulpit. Getting feedback from the readership on which of our visions – if any – is more needed (or how to blend the two) will be valuable to the future of this blog.
Minimally, perhaps some of us will figure out whether we are devoting too much time to yet another distraction taking us away from more important parts of our avodas Hashem (service of G-d). We are in the month of Elul, and now is the time for some serious internal housekeeping. One of the lessons that sinks in each year at this time is that time is not a renewable resource. Every moment is precious, and we will ultimately have to give an accounting for every delicious morsel of it. (The Vilna Gaon explained the oft-repeated phrase din ve-cheshbon (judgment and accounting). The former means answering for our misdeeds; the latter is to account for all that we were supposed to accomplish had we not squandered the opportunity. This second level of scrutiny, said the Gaon, is a more serious cause for concern than the first!) Perhaps we can learn how to blog more efficiently, or even not at all. For all its importance – as I will try to show – we need to prove that blogging justifies time off from learning. (Rabbi Yosef Dov Soloveitchik zt"l once hosted a group of heavy-hitter philosopher types in his office, keeping them enthralled with his knowledge and depth of their academic field. Not wanting to spend too much time on this meeting, he "arranged" to be politely interrupted so that the meeting could come to an end. When his guest had left, he reportedly remarked (it loses in the translation from the Yiddish), "None of it comes to learning another Tosafos!") My own excuse is that I rarely write except late at night, when I just cannot effectively concentrate on a sefer without falling asleep. I pray that HKBH either gives me the strength that I should be able to change this, or that He accepts my excuse.
Truth be told, Rabbi Menken's formulation is closer to the original conception of Cross-Currents, which oddly enough predates the existence of the blogosphere. A good number of years ago, CC's own Rabbi Jonathan Rosenblum and myself paid a call on the Novominsker Rebbe shlit"a while he visited Har Nof. We went intent on executing a full-court press to convince the Rebbe that more should be done to fight the negative stereotypes associated with the Torah world in the popular press. The Rebbe did not need much convincing, and a number of important changes occurred after that meeting. One of the Rebbe's ideas proved too difficult to implement. He wanted to see a journal, perhaps a quarterly, of well-written Torah thought that would be read by the non-Orthodox. The idea was still-born at the time, but was resurrected when blogging became an instant and inexpensive way to reach instantly beyond all borders. A few of us conceived of Cross-Currents – pushed largely by Rabbi Menken – to make a contribution in that arena. [Note: We did not ask the Rebbe whether to launch an internet site. It is quite likely that he would not have given his blessing to any internet presence.] Cross-Currents was thus born of the need to defend against a steady stream of wrong-minded drivel about traditional Judaism in general, and right-of-center and haredi Judaism in particular.
I no longer blog for that reason, although I still think it a valuable goal. I do believe that there are some even more valuable goals, and that traditional Judaism is even better served in the long run by pursuing those. In a series of posts over the next week or so, I hope to set forth those goals. Briefly, they include global kiddush Hashem (sanctifying G-d's Name), kiruv (outreach to non-observant Jews), teaching Torah, and providing support for one special group of observant Jews caught in the crunch between two worlds. More to come.
Again, I apologize in advance.