Who By Tongue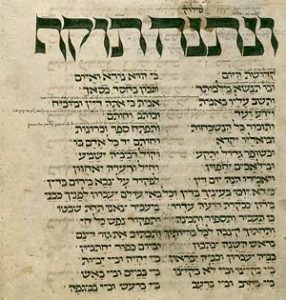 There's an often overlooked irony in the story of Rabbi Amnon of Mainz, whose poignant tefillah "U'nesaneh Tokef, describing the Ultimate Judge's opening the book of our deeds and deciding our fates, is solemnly recited on Rosh Hashana and Yom Kippur.
It is a chilling passage to recite – and the haunting melody to which it is traditionally sung only adds to its poignancy. And its final words, "But repentance, prayer and charity remove the evil of the decree," chanted loudly by the entire tzibbur, are a fount of inspiration and hope for the new year.
The story behind the composition is from the 13th century halachic work Ohr Zarua, written by Rabbi Yitzchok ben Moshe of Vienna.
Rabbi Amnon was pressured by the Archbishop of Mainz to convert to Christianity and refused, finally, as a stalling tactic, asking for three days' time to consider the offer.
When Rabbi Amnon didn't visit the clergyman at the end of the three days, he was forcibly taken to him and, adamant in his refusal, was tortured on the Archbishop's orders. Rabbi Amnon's fingers and toes were amputated one by one, and he was returned to his home with his twenty amputated limbs.
On Rosh Hashanah, Rabbi Amnon asked to be carried, along with his body parts, into shul, and before Kedushah, intoned U'nsaneh Tokef, dying shortly thereafter. Several days later, one Kalonymus ben Meshulam, according to the account, had a dream in which Rabbi Amnon taught him the words of the prayer.
According to the account, when Rabbi Amnon was brought before the archbishop, the rabbi told the clergyman that he wanted to be punished – not for refusing the conversion offer but rather for having given the impression that he had even considered such a thing.  "Cut out my tongue," he told the archbishop.  The clergyman, however, seeing Rabbi Amnon's refusal to convert as his sin, chose his own punishment for the rabbi, the one meted out.
And so the priest, while he tortured the Jew grievously, left his victim's tongue in place.
And therein lies the irony. That tongue was what yielded us U'nsaneh Tokef.
© 2023 Rabbi Avi Shafran
My most recent Ami Magazine column, "Sorry, Media," can be read here.
Please consider helping Agudath Israel in its current Charidy campaign, here.
Ksiva vachasima tova to all!