Ki Savo – Schrödinger's Moon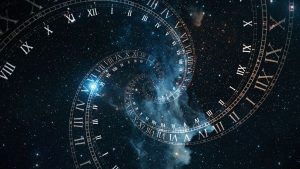 Seizing on the fact that the Hebrew word for a granary – osem – shares two letters with the word for "obscured" – samui – Chazal make an intriguing assertion: Blessing [i.e. increase in volume] is common only in things that are "obscured from the eye" (Bava Metzia 42a).
The pasuk on which that truth is based is in our parsha: "Hashem will order the blessing to be with you in your granaries [ba'asamecha]…" (Devarim, 28:8).
Rav Dessler (first chelek of Michtav M'Eliyahu, pg. 178 in my ancient edition) explains that what we call cause and effect, the essence of physics, is really an illusion; only Hashem's will is operative, even in what we call physical nature. And so, when something is out of sight, where cause and effect cannot be perceived, His will can cause bracha in the hidden.
That idea of natural law's suspension in the case of something beneath perception is vaguely, but tantalizingly, reminiscent of quantum physics' "Schrödinger's cat" thought experiment, where direct cause and effect is seemingly suspended – on the subatomic level, but with theoretical implications for the macroscopic world. The issue underlying Schrödinger's paradox remains an unsolved problem in physics.
Be that as it may, though, something important will in fact be "obscured from the eye" in a few weeks: the moon, on Rosh Hashana. The moon is Klal Yisrael's timekeeper, and time is the most fundamental element of nature. Klal Yisrael's clock will not be visible on the first of the days of teshuva.
And time itself, in a sense, will be suspended then. Because we can interfere with its natural, relentless march forward – or, at least, with its unreachable past. Through the bracha of teshuva, which Chazal tell us can change the very nature of our pasts, traveling back, in a way, in time – turning past wrong actions done intentionally into actions done inadvertently; even, with the deepest teshuva, repentance born of pure love of Hashem, into meritorious acts.
© 2023 Rabbi Avi Shafran
My most recent Ami Magazine column, "A Nazi's Revealing Order," can be read here.  And a longform piece I wrote about a Jewish scientist and the expression of his "pinteleh Yid" was published by Tablet last week. It can be read here.