Speak Out Against Annexation!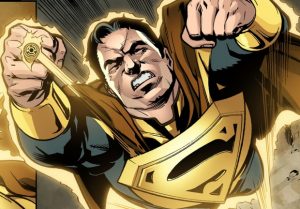 Annexation is about to wreak havoc with the lives of millions of people. It will deprive them of personal liberties, and subject them to arbitrary prosecution at the whim of a powerful oppressor. It will end rightful dreams of autonomy and self-determination. World pressure could make a difference, but it is not happening. Boycotts of the perpetrators should be widespread.
Have I gone mad? Sorry. I should have been more clear. I am not, G-d forbid, speaking about Israel's possible moves in the next days or weeks to extend Israeli civil law to 30% of Yehuda and Shomron. We're seeing lots of global rage about that! We don't have to get into whether that annexation is welcome or not. Arguably, it is tepid in scope and in depth relative to the ongoing annexation of Hong Kong by China.
Given the guarantees that China gave to the former British colony which are now being unilaterally broken, it is nothing less than an annexation. It will bring far greater hardship and sorrow than the one in the Middle East, to a population three times the size of the West Bank. We're not talking checkpoints and denied access to olive trees here. We are talking about the overnight end to effective civil liberties for everyone in Hong Kong, and the real prospect of prosecution and incarceration by a government that has shown itself willing and able to keep hundreds of millions under its thumb.[1]
Why are we not hearing any outcry from the World Council of Churches, or the academic world, or the European Parliament? Why no marches on the Capitol, like the Palestinian Lives Matter one of a few days ago?
There are millions of people, whose freedom hangs in the balance, and nothing but silence from the usual culprits. Many of them are too busy. They are preoccupied with wagging their fingers at Israel, and calling for punitive action. But he moral calculus is so much clearer in regard to Hong Kong, where there is little question about who the good guys and bad guys are! Wake up Bernie, AOC, and BLM. Is it that you just don't care about the people in Hong Kong?
Two reasons for the uneven application of global outrage come to mind. The first is that all the high-minded justice-seekers know exactly what could work, and they are just not interested in paying the price. Applying pressure to China means boycotting her goods. You know, the very thing that liberal churches and academic organizations have been demanding regarding Israeli settlements – even when those boycotts primarily harm Palestinian workers. Some have gone further, and practice this against all of Israel, if they've allied themselves with the BDS movement. Imagine the impact on China if the US mainline churches (the ones that hate Israel) were to promote a stay-away-from-Walmart program that would remain in effect till Walmart divested itself from all goods coming from China. That might work. No one is even talking about the possibility.
Simply put, the morality of these churches and of the university campus ends when it butts heads with providers of cheap tchotchkes. Hard to beat that for hypocrisy. Especially since this is only the latest episode in the global game of moral blindness to the many outrages perpetrated by the Chinese Communist regime. Had the EU considered a boycott of China, Tibet might be free today, rather than remaining – after decades of oppression, cultural repression, and murder – under the thumb of the Communist Party, the only people who count in the People's Republic.
Now some will argue that the Tibetans are not Christian, while some of the Palestinians are, so at least the church groups have an excuse for worrying about their own. But the Chinese have been persecuting Christians for decades, and it has only been getting worse. Another church was demolished last week – the latest in a long series. No calls to boycott, though, coming from these churches. (Nor from the Vatican, which did, however, summon the Israeli ambassador to express its displeasure about the proposed Israeli annexation.) While they claim to care about Muslims (certainly more than about Tibetan Buddhists, who never quite achieved enough victimhood to make it to the West's PC list – although they certainly should be entitled to it), they have taken no action on behalf of the million Uyghurs sent to concentration camps for re-education. A mention here and there, but no calls to effective action. They are just not going to pay the price.
Then there is the second reason why no one is getting anywhere near as exercised about Hong Kong's essential annexation. The Chinese aren't Jewish. Israelis are. It is as simple as that. The double-standard is not always – not even usually! – conscious. But it is there. Jews have always been treated more harshly and severely, and that is not going to change until the arrival of mashiach.
I would not have even bothered with these observations, were it not for their serendipitous conjunction with this week's parsha. הן עם לבדד ישכון. "This is a nation that dwells alone, and will not be reckoned among the nations."[2] One set of rules and expectations for Jews; another for everyone else. Rav Hershel Schachter, shlit"a, made the point in one of his recordings on Balak. Ben-Gurion reportedly was not fazed by reports of an active red-light district in Tel Aviv. This didn't mean that he approved of the activity. He thought it was healthy, however, that Jews show that they are just like any other people, with the same mix of the good, the bad, and the ugly as all other nations. That would, he thought, change the hostility to Jews as foreign creatures who are made of different stuff than the rest of mankind.
As Rav Schachter pointed out, BG was wrong. The prostitutes are still there, but not the acceptance of Jews or the Jewish State. Plenty of Esav continuing his hatred of Yaakov, including the World Council of Churches, which has been a consistent enemy of the Jewish people for many decades.[3]
And plenty of Jews who are still not getting the message that it is time to come home.
If you haven't been keeping up with the developments in Hong Kong, read this from NPR. Just be warned that if you nod your head too vigorously about the behavior of the thugs of Beijing, you could be prosecuted by them, no matter where you live, no matter what your nationality. One of the items in their new legislative package – dictated from Beijing – is that anyone, anywhere can be prosecuted for harming the interest of the Chinese government. ↑

Numbers 23:9 ↑

What has definitely changed is that there are millions today who no longer act like Esav, and are not consigned to the same fate, as Rabbenu HaKadosh told his friend Antoninus (Avodah Zarah 10b). Unfortunately, many other millions are still part of the classic mold, and even more vocal today than in previous decades. ↑