Confessions of a Frustrated TV Consultant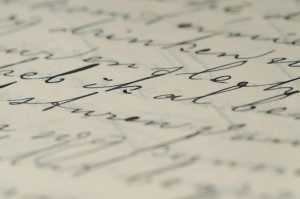 Yaakov Menken's recent postings (which I just saw, having returned from my son's wedding and related festivities) set off a cascade of inner reactions.
If you are at all a public figure here in LA, you have to try hard to ward off the invitations to comment to and consult for media. They often come back to haunt you. I have tried (usually successfully) to do the opposite of what many of my neighbors here are doing. They work feverishly to get as many "credits" as possible; I try stipulating that my name should be left out. Occasionally, there is a slip-up, and some gracious director figures that I have spurned the limelight out of a sense of rabbinic humility, and puts my name in anyway. He thinks he is doing me some sort of favor. Mercifully, Divine providence has insured that they usually misspell my name, so nobody finds out about it, and my kids can still find shidduchim (matches).
The worst case I can remember is a constant source of irritation. I have been told that the single most popular segment of the Discovery Channel concerns the Bible Codes. They continue to use it as a favorite rerun. Travelers on Jet Blue alleviate transcontinental boredom by watching it on their personal TV consoles. As a result, every few weeks, different people walk over to me and say, "Hey, rabbi! I saw you on TV last night!"
Small problem. What they see me say was the polar opposite of what I actually said in the taping. How it happened demonstrates some important realities about the news business and our role in it.
I was approached by someone whom I had known for years, since he had previously been employed by the Simon Wiesenthal Center, where my day-job tends to reside. I had little to no reason not to trust him – or so I thought. Nonetheless, before I dragged my friend Dr Barry Simon into an interview, we insisted on a meeting in which the production company outlined just how objective it intended to be. They had done their homework, and it seemed like a good bet.
To some people, so does putting their life's savings on red at the roulette wheel. Not a good policy for success. Neither was mine. I taped for two hours. The questions were right on target, and I got to say exactly what I wanted. I was allowed to retape any response that I was not happy with.
Now, I happen to be an implacable foe of the use of so-called Bible Codes in the world of kiruv (outreach). No, I have no doubts that G-d intertwined many levels of deep meaning in His Torah. It is not the existence of "codes" or messages I object to. What I have little doubt about is that the authors of a particular paper claiming to demonstrate one type of code as meeting the requirements of scientific "proof" were not even close. Trying to "prove" Torah by using scientific proof is anathema to me hashkafically, and doubly so if the science will ultimately be unseated (as actually happened in subsequent articles and studies.) To me (and to a number of gedolei Yisrael (Torah sages) I consulted with), it was not kosher to use falsehood even for the purpose of kiruv.
This is not the place to dredge up an old discussion. (Don't take the bait!) It is all a matter or record. What happened next is interesting no matter what you believe about the Codes.
When the show aired, it included some great footage of me – all saying what I did not believe. How did they do this? They slipped in one question: How do you explain what your opponents believe? I answered it – and spent the rest of the interview demonstrating why I felt it was all incorrect. They then stripped the question, and discarded every bit of the interview, except my explanations of the other side! Effectively, they presented me as an advocate for the position that I rejected in toto.
What have I learned from this? Certainly, I am more careful. But there is no way that I have found that will give me the control that I want – none that the papers or radio stations or networks will live with. I have learned as well about the power of the visual media. People remember seeing you on TV months later, even if they saw you on an off-the-beaten-track venue. (Most people who've approached me about the Codes program didn't remember what I said, Baruch Hashem. They did remember seeing an Orthodox Jew on the air who seemed upbeat and articulate.) There is a power in TV that we should try to use to our advantage, if there is a way to do it without compromising ourselves.
Have I given up on giving interviews? No, and here's why. They get me wrong much of the time. Let's be conservative, and call it one third of the time. Two thirds of the time, I can contribute something accurate about Torah and traditional Jews. If they don't come to me, they will go to someone outside our community, who will get it wrong 100% of the time, or close to it. I see it as a net gain. I may be wrong. Time (and our readers) will tell.
Meanwhile, I wait to see what ABC's 20/20 will do in a few weeks with the two hours of time I gave them regarding the Kabbalah Center. I tried explaining that Kabbalah is not hocus-pocus, but an honored part of Torah She-B'al-Peh (the Oral Law). I explained what deep questions it answers, but how the answers require living a Torah life-style to understand them properly. I showed how practices like scanning the Zohar with one's fingers or drinking water that had absorbed the energy of the Kabbalah Center were illegitimate. I pointed to where interested people can go to find a legitimate introduction to Kabbalah, such as the writings of Rav Aryeh Kaplan z"l. In short, I tried to defend the honor of Torah. The rest is in their hands.
I can hardly wait to find out what I said.