In Praise of the Orthodox Statements on the George Floyd Murder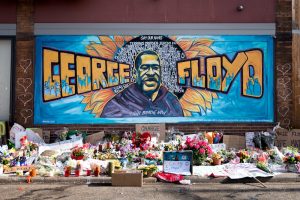 Only HKBH's Torah demands a Torah she-b'al-peh. Sometimes even the work of Man cannot or is not properly understood without commentary and exegesis. The statements released by a number of Orthodox organizations were, as far as I have heard, received very well by their constituents. But they did not make everyone happy. Here, then, is one man's commentary. Not only was it not received at Sinai, it is not offered after consultation with either of the organizations involved. Zero. Zilch. Nada.
The OU statement (along with another excellent statement by Agudah of LA, and now a third by national Agudah) was fully appropriate for what it tried to do. It was meant to send a signal to tens of millions of black Americans who feel that this is a moment to discern who is with them, and who is against them. The signal that we ought to be sending is that we stand with them in their moment of frustration and anger.
Now, you can argue all you want about whether those feelings are appropriate, deserved, exaggerated, self-inflicted – we've heard them all. That is all irrelevant. You don't get far disagreeing with people's feelings. They are our fellow citizens, and neighborliness and prudence dictate that we ought to provide what they are looking for if we can, and if we want to keep any relationship with their communities.
We should easily understand yet another reason to make strong declarations of support. It is simply the right thing to do for others what we expect those others to do for us. Whenever some tragedy or attack befalls our community, we expect/demand that our neighbors speak out in support. We are upset when those we regarded as friends don't come forward on their own to join their voices with ours. In the back of our minds, we know that they think that we take this antisemitism thing a bit too far. They believe that we are paranoid and trigger-happy, and exaggerate the importance of minor events. But they don't voice those reservations while we are coping with our own shock. They don't question our right to react as we do, even if they don't understand it.
Is it not fitting that they might expect the same from us? Empathy is not a difficult commodity to deliver, unless we simply don't care. Why should we not deliver it, in spades?
Additionally, we don't really have a choice. The intersectionality people are out there in full force telling the black community that all us Jews – especially the ones that love Israel – are the full (and historical) enemies of all black people. Do we really want Farrakhan (and a thousand others!) to shape the impressions that African-Americans who never met a Jew have of us? If you are one of those who think that we should be making more mention of black antisemitism, stop and think for a second. Do you believe that black hatred of Jews (polls show that it is there, but not as elevated as some of my friends think) is located somewhere on the black genome? If it is taught, do we want the bad guys to be the only ones in the classroom? Our silence at this time would be handing them the mike, rather than competing for it.
Of course, there are lines we cannot cross. We can't stab ourselves in the back while doing it, or deliver support that undermines our core interests. We cannot have anything to do with BLM, which fully supports the BDS movement, and is riddled with virulent antisemitism.
We also cannot support one need, while remaining silent about others. If our statements ignored the embattled law enforcement personnel of this country, our silence would itself be a statement of non-appreciation for their difficult position. Similarly, giving a pass to anarchy, savagery, and calls to destroy the system is not an option. The OU and Agudah-LA statements addressed all of these.
The term "statement," I believe, is confusing to some. They looked to it as the Orthodox Jewish take on the situation at hand, an overview that provides balance and insight into causes, and instructs us about what our reactions should be. As the say in Brooklyn: fuhgeddaboudit. That was not the purpose of the release. Its purpose was to let our neighbors know that we are not indifferent to their pain, and we stand ready to listen carefully to their grievances. Nothing more; nothing less.
Some within our ranks would like to see our words be addressed directly to the protesters (as opposed to looters), conveying all sorts of moral points. We generally know better than that. We know when our words will be heard, and when will disappear faster than a pigeon in the intake of a jet engine. As the baalei mussar point out, when an poor person comes to the door, the only thing to give him is a donation – not a pep talk about bitachon/trust in G-d. This is not the time to tell our neighbors about how we think they should be living their lives.
Some of our chaverim would like us to share our own significant narrative of what we have suffered in the last months – only to add the destruction of businesses and vandalizing of our shuls. Valid points. But they need to be communicated in a different forum – not in our message to black America.
If anything, the OU statement should only be a beginning. On the local level, we have an opportunity to build friendships in the next few days that can redound for decades. We should call every black pastor we know (and one or two that we don't know) and simply say that we share their pain, and express our support. Conservative black churches in particular are often hugely pro-Israel. Ones at the other end of the spectrum might be a bit more constrained against anti-Israel activity if they had some Jewish friends outside of JVP. I know that the calls I made were received extremely gratefully. (I later learned that one pastor friend I called appeared on a radio station the next day, lamented that he had not heard from his white evangelical colleagues, but did hear from his rabbi friend. I didn't call him to get that reaction. But it was nice to know that my reaching out was appreciated, and that tens of thousands found out about it.)
This is a time of opportunity – a teachable moment – for us to address a problem within our own ranks. I can't prove it, but I believe that the Orthodox community as a whole is a good deal less racist than others. (Yes, there are important exceptions.) But it is not squeaky clean, and that costs us dearly, besides being just plain wrong. I would be surprised if anyone involved with Jewish outreach cannot relate a few choice stories about losing potential candidates for halachic observance because they were turned off by a racist remark at a Shabbos table. Not to mention ona'as ha-ger, and the hurt caused to black Jews by birth. We can do much better. The programming we do in our shuls in the coming weeks could include discussions of racism, and why it is wrong al pi Torah. If we reach even a few people, it will be worth it.