It's Not Just 'Tone,' Mr. Tapper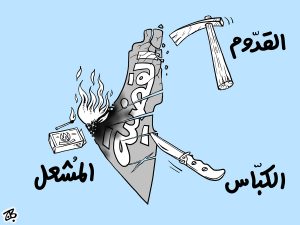 Are you aware of the connection between the El Paso shooter and Palestinian terrorists?
No, the shooter wasn't a Palestinian and had no known affiliation with the Palestinian cause. He was apparently an anti-immigrant white nationalist, as indicated in the manifesto he seems to have posted on a shady website shortly before he set out to kill innocent Hispanic people, accomplishing that goal in 22 cases, and failing in 24 others, where the victims were merely wounded.
The Palestinian "connection," such as it is, is indirect, and involves Jake Tapper, the well-known broadcast journalist and frequent critic of President Trump.
In the wake of the domestic terrorist attack in El Paso, many charged that the president's rhetoric bore some responsibility for the carnage. Mr. Trump's repeated characterization of migrants seeking asylum in the U.S. as an "invasion," the critics asserted, echoed the shooter manifesto's anti-immigrant sentiments and repeated use of the same word in that context. Accused accessories to the president's alleged crime included various media outlets, primarily Fox News, which used "invaders" or "invasion" to describe migrants or migration in more than 300 broadcasts over the past year alone.
The killer himself acknowledged the likelihood that Mr. Trump would be implicated in the attack. "I know," he wrote, "that the media will probably call me a white supremacist… and blame Trump's rhetoric." Well, yes.
No one needs to convince those of us even rudimentarily informed by Jewish thought that words can be weaponized. Chazal in fact characterized words as capable of "killing." Whether, though, political rhetoric can be rightly pointed to as a culprit in white nationalist attacks – like the one in El Paso or the 2015 murder of nine black churchgoers in Charleston, South Carolina or the Poway, California synagogue shooting this past spring – is arguable.
Mr. Tapper, predictably, leans toward a "yes" vote. But, on a CNN program panel, he also raised an intriguing point. "What's interesting," he averred, is that "you hear conservatives all the time, rightly so in my opinion, talk about the tone set by people in the Arab world… Palestinian leaders talking… about Israelis," claiming there is "no direct link necessarily between what the leader says and violence against some poor Israeli girl in a pizzeria." Conceding that "you can't compare the ideology of Hamas with anything else," he asserted that, "at the same time, either tone matters or it doesn't."
Sana Saeed, Al-Jazeera's online producer, was appalled, calling on CNN to fire Mr. Tapper for achieving "the height of unethical journalism." BDS proponent and all-purpose Israel-basher Linda Sarsour seconded the motion.
U.S. Congresswoman Rashida Tlaib chimed in too, accusing Mr. Tapper of "comparing Palestinian human rights activists to terrorist white nationalists." (If Ms. Tlaib considers Hamas terrorists to be "human rights activists," it is she who deserves to lose her job.)
Not one to be left behind, Raouf J. Halaby, Professor Emeritus of English and Art at Ouachita Baptist University in Arkadelphia, Arkansas (no, none of that is made up) reacted to Mr. Tapper's point by calling it "the height of hypocrisy," and adding, for good measure, that "Israel is led by racist rulers and rabbis egging their citizens to kill Palestinians because (they claim) the Torah sanctions these killings and it is kosher to do so."
One can only hope that Arkadelphians recognize a madman in their midst when they hear one.
Mr. Tapper's verbal assailants, of course, grossly misrepresented what he said. He did not compare human rights activists to white nationalists or defend any fictional rabbinical inciters to murder. But the critics are correct in feeling that his comparison was imperfect.
Just not in the way they contend.
The reason Mr. Tapper's comparison was faulty is because, whatever one may think about the president's rhetoric or judgment or positions or personality, whatever one may think about whether or not his words inadvertently offer solace or encouragement to evil people, he has never called for attacks on anyone.
Unlike Palestinian leaders, media and schools.
Palestinian Authority President Mahmoud Abbas, for example, in 2015, after violent riots on the Har HaBayis initiated by Muslim extremists, declared that "We welcome every drop of blood spilled in Jerusalem. This is pure blood, clean blood, blood on its way" to heaven.
Palestinian media regularly lauds "the resistance." Fatah's "official" Facebook page has featured a knife with a Palestinian flag on its handle stabbing a bearded religious Jew.
And Palestinian educational materials encourage violence against Israelis and Jews. As chronicled last year by the Institute for Monitoring Peace and Cultural Tolerance in School Education, a nonprofit that aims to do just what its name says, textbooks created as part of the Palestinian Authority's new K-12 educational curriculum "are teaching Palestinian children that there can be no compromise" and "indoctrinat[e] for death and martyrdom."
Fourth graders, for example, learn addition, and ninth graders multiplication, by counting the number of Palestinian "martyrs" – terrorists who perished in the course of their murderous acts.
No, it's not Palestinian authorities' "tone" that's at fault.
It's their promotion of murder.
© 2019 Hamodia (in edited form)