Amos vs. Amos Oz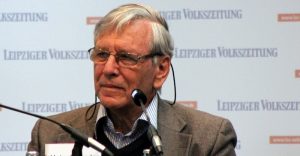 The Israeli media has been focused on the late Amoz Oz, whom many consider Israel's top writer and who passed away a fortnight ago. The world media also gave Oz's passing a great deal of attention. I felt ambivalent. I first discovered him in his book Here and There in the Land of Israel, and was mesmerized. His Hebrew writing is superb, and his lectures even better. See for example Amos Oz on Israel:Between Love and Darkness, on his semi-autobiographical book, A Tale of Love and Darkness. During the years I lived in Beer Sheva I decided to audit courses he gave on Agnon at Ben-Gurion University. When he lectured at conferences in English, I would jot down some of the very few and minor mistakes in English grammar or pronunciation and send the corrections to him, unsolicited. He appreciated the feedback. Sometimes I criticized his take on Biblical passages, and we developed a short correspondence. When I learned of his passing, I reviewed the letters from him, especially those where he argued that he was troubled by many Biblical passages. For example, in response his citing Cain and Abel, I quoted a passage from Steinbeck's East of Eden, which has a discussion of the phrase from Gen.4:7, "atta timshel bo." Steinbeck, who was not Jewish, opts for translating "timshel" [sic] as "thou mayest rule over it" –man can choose to rule over his passions.
Amos Oz retorted with a question, Why did the Creator not stay the hand of Cain, just as he prevented Isaac from being sacrificed, or Ishmael from dying? I understood that Oz implied that it was, so to speak, the Creator's fault.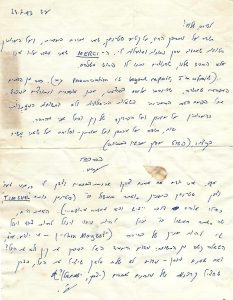 One thing we did agree upon was the ignorance of the Bible and Jewish texts in the contemporary Israeli non-religious sector. Amos complained in a lecture to the University's Board of Governors, "If I say: Do not tell it in Gat, the average Israeli has no idea what I am talking about, has no inkling this is from the Bible." [2Sam.1:20] The books by Oz are studded with hundreds of Biblical phrases, which the average Israeli won't appreciate. In Oz's epistolary novel, Black Box, a disillusioned immigrant says about coming to Eretz Israel, "In the dream myrrh and frankincense… and in the morning, behold, it was Leah. What Leah? Malaria. Ottoman Asia." Most young Israelis haven't a clue why Leah is invoked here.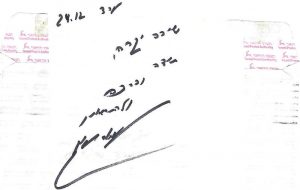 So why do I feel so ambivalent? Amoz Oz was the ultimate secularist. He was honest about this. He saw Jewish culture, especially the written culture, as replacing Torah and mitzvot. He wrote, with his daughter, a book about books and written Jewish culture, Jews and Words, which they saw as a substitute for Jewish religion.
I finally understood my ambivalence when I read the transcript of a symposium of Amoz Oz and rabbis published last week in Makor Rishon. Said Rabbi Aharon Lichtenstein, z"l, referring to the gap between the secular and religious sectors(my translation):
"The sides are not symmetrical. We want the general population to be exposed to more Torah; we want Rabbis to be invited to secular schools and to the army. But I have to admit that I am not ready to be 'fair' and let the secularists come to our yeshivas. …Our responsibility to the spiritual world of our students is more important than 'fairness.' You can agree or not agree. I hope Amos Oz will understand and not be angered. But there are issues for which I am ready to suffer his anger."
Referring to the world of the secular kibbutz, where Amos Oz lived for decades,. Rav Lichtenstein said further:
"If I have to choose between the world symbolized by Ponevezh Yeshiva and that symbolized by the kibbutzim I will not hesitate for a second….We don't want to isolate ourselves in a corner [away from the general culture], but from a basic existential viewpoint, in our kishkes [sic] the answer is clear. This may disappoint you, and maybe you thought us more liberal, but this is the truth and you shouldn't be surprised by that statement… Let me add that that there is no Judaism without the element of bakashat Hashem…"
The full transcript is on the Makor Rishon website, "Yahadut, Girsat Amoz Oz."
Maybe it is not just a gap, but rather a chasm. The prophet Amos asked rhetorically, "Can two walk together except they be agreed?" (3:3) Sometimes we have to choose between Amos and Amos Oz.