Touching Hearts in Tel Aviv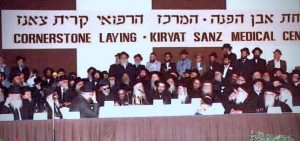 In the summer of 2017 Eyal Datz, a media person from Bohemian, avant garde Tel Aviv precincts, proposed to do a film on the Sanz-Klausenberg Rebbe, ztz"l, for Israeli television to be broadcast on Israel's April 2018 Yom Hashoah (Holocaust and Heroism Memorial Day). The film, titled אסתיר פניי debuted on Yom Hashoah (April 12,2018) and can be seen on Youtube  (see below) The title Astir Pannai is from Devarim 31:17-18, I will hide My face…
Eyal Datz was coming from left field (double entendre intended),and he was not among "anshe shlomenu" i.e., not one of us but rather a product of secular Tel Aviv culture. He had two strikes against his project:(1) A TV antenna is anathema among haredim; (2) Many rabbinical thinkers consider the timing and conceptual underpinnings of the Israeli Yom Hashoah problematic.
Why Eyal Datz wanted to make the film, and how the ten months spent filming caused him to reconsider his preconceptions and stereotypes, I describe in an article about the film in the current issue of AMI Magazine .
My cover story also contains an interview with Eyal Datz where he details the obstacles during filming and how this die-hard Tel Avivian came away with a new appreciation for the world of chassidut and Torah
My husband and I live in Kiryat Sanz Netanya among the Sanz Hassidim. We consider ourselves fellow travelers, not card-carrying Sanzers. I myself was ambivalent when Eyal proposed interviewing my husband who knew the Klausenberger Rebbe because he had been drafted in 1980 to head the Department of Surgery in Laniado Hospital, Sanz Medical Center.
I was also asked to be filmed while giving a presentation about the history of Kiryat Sanz to the girls in the orphanage Bayit vTikvah House of Hope Children's Home, established decades ago by the Klausenberger Rebbe, I had deep reservations. Might this turn out to be one more haredi-bashing film? Our neighbor, Menachem Look, who plays a major role in the documentary, explained why he was willing to give the filmmakers the benefit of the doubt. Menachem Look has a singing group that performs at weddings and other simchas.
"The film proposes to document the life of the Klausenberger Rebbe. His wife and eleven children were murdered in the Churban, yet he went on to rebuild his family, rehabilitate thousands of survivors, found Laniado Hospital, build an orphanage, establish a Beit Avot, the Mifal Hashas, and a dozen other projects. If the film is about the Rebbe, then something good must come of it."
The controversy has long simmered over whether and how to cooperate in marking new Israeli holidays like Yom Hashoah. In the same issue of AMI as the article about the Klausenberger Rebbe, Rav Moshe Taub discusses the halachic and hashkafic arguments against Yom Hashoah. The haredi Litvishe daily Yated Neeman marked Yom Hashoah by publishing an editorial against marking Yom Hashoah.
The film is mostly in Hebrew. An English version is in the works. Some people succeeded in watching it on youtube with automatic English or Hebrew subtitles by pressing the bottom-right icons on the screen.
One source of anxiety was the filmmaker's intention to ask the participants about delicate subjects like emunah and theodicy, topics often skirted by the haredi media. Bottom line – Sanz Hassidim undertook a risky venture. Whether the gamble was justified, you can judge by watching the film  and reading the article.