We The People, They The Elites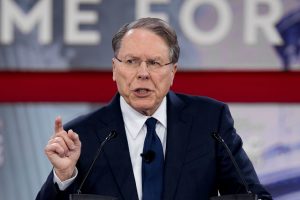 I'm not one to spy anti-Semites hiding under the bed. When I was a high school Rebbi, sometimes, when erasing the blackboard (remember blackboards?), I lost control of the wood-and-felt eraser and it landed on the floor. I would look down at it and growl "antesehMIT!" – not just as a joke but as an indirect lesson to the class that not every obstacle a Jew might face is necessarily sourced in Jew-hatred.
But my antenna for subtle prejudice against Jews nevertheless functions well. And a recent speech by longtime National Rifle Association executive vice president Wayne LaPierre set it vibrating intensely.
The NRA boss was addressing the Conservative Political Action Conference (CPAC), and he didn't mention the words "Jew" or "Jewish" at any point. But my radar strongly registered his words all the same.
The speech was a fiery one, an ultra-conservative cri de coeur that went far beyond defending gun ownership and opposing even reasonable gun control measures. It was a call to arms (maybe even literally – I'm not sure) for patriotic Americans to resist liberal societal forces – "European-style socialists," as he called them – that he accused of being determined to destroy America from within.
Deriding recent efforts at tightening gun restrictions, he asserted that "The elites don't care, not one whit, about America's school system… For them, it is not a safety issue. It is a political issue. They care more about control and more of it. Their goal is to eliminate the Second Amendment and our firearms freedoms, so they can eradicate all individual freedoms."
"History proves it," he asserted. "Every time, in every nation in which this political disease rises to power, its citizens are repressed, their freedoms are destroyed, and their firearms are banned and confiscated.
"It is all backed in this country by the social engineering, and the billions [of dollars], of people like George Soros, Michael Bloomberg, Tom Steyer, and more."
He went on to single out Senate Minority Leader Charles Schumer as one of the Democrats who, he claimed, are anti-American and "liars to the core."
And, for good measure, he namechecked Karl Marx, Bernie Sanders and 1960s community organizer Saul Alinsky.
"These intellectual elites," he charged, "think they're smarter than the rest of us. And they think they're better than we are. They truly believe it… They think they deserve to be in charge of every lever of power."
"But you know what?" he challenged his listeners, "We the People are in charge of this country!"
He characterized the Democratic Party as "infested with saboteurs," and the student-propelled resurgence of gun-control advocacy that followed the Parkland, Florida school shooting as a "shameful politicization of tragedy… a classic strategy right out of the playbook of a poisonous movement."
Then, noting how there are armed guards at some jewelry stores and sports stadiums, he asked his listeners, "Do we really love our money and our celebrities more than we love our children?"
Practically every sentence he uttered drew resounding applause.
Now, few if any of us Orthodox Jews are fans of George Soros or Saul Alinsky, and we certainly have no sympathies for Karl Marx. Most of us, moreover, are politically and socially conservative. But is it unreasonable to be concerned by the fact that so many of the names Mr. LaPierre cited, especially the non-elected officials, are of Jewish ethnicity?
To be sure, Jews are prominent in American philanthropy and politics, and, whether or not we like it, most American Jews are of liberal bent.
But billionaire gun-control and "social engineering" proponents also prominently include people like Bill and Melinda Gates and Jeff Bezos. And, in Congress, many similarly non-members-of-the-tribe, like Senators Jack Reed and Richard Durbin, and Representative Carolyn Maloney, are at the forefront of the effort to enact gun control legislation.
Mr. LaPierre likely has no great affection for those people or others like them. Why did he omit them from his jeremiad?
And why did his gun control enemy list not include "usual suspects" like the Brady Campaign to Prevent Gun Violence or The U.S. Conference of Catholic Bishops?
Why did he choose instead to reference so many… people known as Jews?
Mr. LaPierre may be no more anti-Semitic than my old blackboard eraser. Maybe I'm reading into his recent screed's references to Jews something that isn't really there.
But my antenna won't stop buzzing.
© 2018 Hamodia
This column has been corrected to not claim or insinuate that Mr. LaPierre referenced only Jews in his speech.
PS: Tablet has been publishing columns of mine about Yiddish words and phrases.  I don't post them on Cross-Currents, since I think the site should include only issue-oriented postings, not features or other diversions.  If anyone is interested, though, in reading the Tablet pieces, the ones that have appeared until now can be accessed at:
http://www.tabletmag.com/author/ashafran
And, presumably, that link will be updated with new pieces, be"H, in the future.