Those Who Prey and Those Who Daven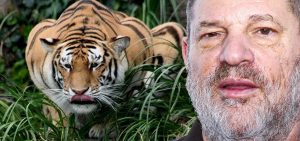 I recently wrote that if Harvey Weinstein and his fellow "preyers on women" had imbibed the halachic norms on male-female relationships, much tragedy might have been averted. In reaction, one of our readers, a young woman, wrote me to relate several instances in which she, a woman, was humiliated and disrespected by men who were obviously Orthodox or haredi, and surely knew these halachos. In one incident, a haredi man embarrassed her and verbally assaulted her because she was innocently sitting in the men-only section of a Jerusalem bus; in another incident, a supposedly frum man in a grocery made a loud, disparaging remark in public about women which was clearly directed at her, the only woman present at the time. She cites other similar instances, and claims that they reflect an endemic disrespectful attitude towards women in the frum, observant community —which, she claims, the community refuses to address. The following is an expansion of the personal response I sent her.
The incidents you describe are very distressing. Respect for a human being is an essential element of Torah. To humiliate another is an extremely serious offense and, according to the Sages (Avos 3:15) causes a person to forfeit his share in the World To Come: Hamalbin pnei chaveiro barabim ein lo chelek bolam haba —  whether the person humiliated is a male or female. Note well that those who eat pig-meat, while in violation of Torah law, do not automatically lose their share in the World to Come. Halacha here is not referring to aberrant activities such as serial pedophiles or sexual predators — which are entirely different levels of behavior—but to daily ordinary acts of embarrassing and humiliating others.
We should be carefuI, of course, about a broad- brush condemnation of all observant, religious or haredi men. ( When in this column I use the term "haredi, " I use it generically to mean any Orthodox or "frum" person.) And a woman must realize that if a man does not look at her directly while talking to her , that is not necessarily a sign of disrespect . I know haredim well, and the overwhelming majority of them would never behave in such brutish ways. Hopefully, the inexcusable incidents you describe are rare exceptions. But any "frum" man who behaves in this way because of what he considers pious and Gd-fearing reasons is not sanctifying the name of Gd ( Kiddush haShem) but desecrating His name ( Chillul haShem), than which there is no greater transgression. And if decent, religious men sit silently by and do not protest such behavior, they are accessories to the crime.
It is ironic, even farcical, that a man who is exacting about his lulav and esrog , meticulous about his tefillin, punctilious about his mezuzos , and will not (quite properly) shake the hand of a woman, can be so thoughtless about publicly embarrassing a fellow Jew because she is a woman. Such a person might have had good Jewish schooling, but is Jewishly uneducated; he might have learned much, but remains un-learned.
I wonder: Is the attitude of such a man — who apparently considers women to be things and objects who ( that?) can be disrespected at will — very different from the rich and powerful who consider women not to be human with sensitivities and feelings, but mere things and objects whose role is simply to please men? These products of yeshivos and kollelim – even if they are a minuscule minority — need to go back to school and re-learn the story of Tamar( Genesis 38:25) who was ready to surrender her very life rather than embarrass Yehudah. ( From which the Talmud derives,"Better to be cast into a fiery furnace than to humiliate someone in public"-Sotah 10b.)
All of the above is clear and obvious to anyone who has studied even a modicum of Torah, and should not require repetition. But as R Moshe Chaim Luzzatto says in his famous Introduction to Mesillas Yesharim, the more something is obvious , the more do we tend to overlook it . Thus, these obvious teachings are a continuing challenge to  our frum schools, yeshivos and kollelim. I know that they try mightily to convey proper behavior, but not every single student is always reached. To study the laws of yichud and tzeniut is apparently insufficient. Teachers and rabbis must learn how to sensitize frum Orthodox men to inter-gender behavior. The challenge is to teach  male-female halachos and simultaneously to impart the concept of respect for women . That a woman sits separately in Shul , or that a man does not shake a woman's hand , is due to many considerations – but not because she is somehow a pariah or an outcast.
There is a narrow ridge between, on one side, the mountain of restrictions and halachos involved in inter-gender relationships, and, on the other side, the abyss of personal humiliation that can result from a misapplication of these halachos. The ability to traverse that narrow ridge separates the genuinely pious from the imitation pious.
I thank you for calling your pain to our attention, and pray that your allegiance to Gd and Torah will remain strong despite your distressing experiences. Hopefully, they are rare aberrations, but in any case we will all try to do better in the future. This article, engendered by your note, is one small step in that direction. Meanwhile, I pray that those who prey today will learn to daven tomorrow.