Moving Commentary4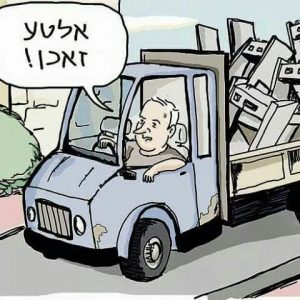 Buying appliances works differently here. When they drop off a refrigerator, you can't just plug it in. You have to make an appointment with a technician from a service company to do the final assembly of door handles, etc. The same with any major appliances, like an oven or stove top.
We bought a 220 refrigerator from a chassidishe shop which matched internet prices. It arrived on time, within a few days. We scheduled the technician's visit, which also did not take too long.
Definitely not chassidish. Definitely secular. As he was finishing up, I got ready to ask some general questions relating to disabling some functions so that we could use it on Shabbos. I never got the words out of my mouth.
"So here is what you are going to do on Shabbat," he volunteered out of nowhere. Out of that same nowhere, he produced a plastic contraption that mounted on an inside wall of the freezer, and kept the light in an off position. He then mounted two strips of Velcro on top of the main compartment, which marked the position at which we were to place two small magnets each erev Shabbos to disable lights and sensors there.
Sensing that the fellow understood something of the issues, I asked him about the icemaker. "You will have a problem taking out ice if we don't disable it entirely, which I will show you how to do." I thought I could score, and show him that we were really more reasonable than he thought. So I told him that taking out the ice did not have to be problematic unless doing so would immediately turn on a circuit. The fact that more cubes would be produced by a cycle that is preprogrammed would not necessarily be forbidden. "No," he replied, eager to pasken. "That won't work. This model has sensors that respond to any removal of ice. You can't use it on Shabbat unless you disable the entire mechanism."
I had never been overruled on a halachic decision by a secular Jew before.
He left shortly thereafter, but not before wishing us a Shabbat Shalom. (When the stovetop technician arrived this afternoon to do his thing, he was initially kind of curt and gruff. Until he finished. Then he warmed up, and wished us first a Shabbat Shalom, before deciding that Gut Shabbos was more appropriate.)
A few minutes after Mr. Refrigerator Technician left, the doorbell rang. Someone identified himself as coming from an organization that does checks on the suitability of appliances for Shabbos use. I was pretty impressed by how quickly they were going to service our refrigerator. Turned out that he had the wrong address. Still, before we pointed him in the right direction, he – this time an observant Jew – was able to explain the service of his organization in dealing with the complexities of modern circuitry.
What can I say? These interactions remind me of the classic Yogi Berra story (OK, maybe it wasn't Yogi, but these stories tend to get attributed to him). Someone asked him if he knew that Dublin once had a Jewish Lord Mayor. He responded, "Only in America!"
Meanwhile, I tentatively have found a local Ashkenaz minyan that operates on time, with a yekkish gabbai who keeps things honest. After davening onen morning, he casually tells me that I have been sitting in the seat right next to the one used for years by R. Aharon Lichtenstein zt"l all the years that he lived in Yerushalayim (i.e. till all of his kids married) before he moved to the Gush.