Moving Commentary: An Occasional Travelogue 1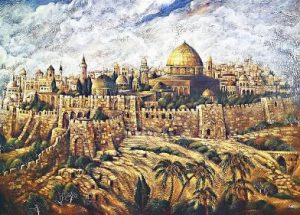 [Perhaps more for catharsis than anything else, I will BEH try from time to time to offer reflections on my move to Israel that might be of interest to some readers. To everyone else, take this as a request to indulge my need to escape the difficulties of the day by banging at the keyboard.]
People matter; things don't matter. Perhaps in some perfect world that is true, but the sentiment didn't work for me. Closing up a house we had lived in for 37 years and raised all our kids was much harder than we thought. Maharal argues that property is an extension of our core selves. It certainly felt that way with each decision of what to put on the lift, what to give away, and what to discard. The movers who will place their catch on a container and give it over to a sea-faring vessel came a week ago. Yet, we were still not finished dealing with what is left over. It was a relief to find homes for (some of the) furniture that had no real resale value but was entirely functional. I'm still at a loss to understand why mere objects – most of which were taken for granted – should mean so much, should provide such a sense of security and belonging, which now was so rudely disrupted.
My rational self was greatly helped along by a thought of Rav Dessler – even if my heart didn't quite keep up with the compelling logic. Chazal tell us that as Yaakov neared the border of Israel as he sought to return to his father's house after over two decades, the angels of the Land came out to escort him. There are several beautiful explanations. Rav Dessler understands Chazal to be telling us about our possessions. At every stage of life, we are given the tools, the kelim, that are best suited to help us in our personal mission. If we achieve one of the goals along the way, we are given new equipment that is relevant to achieving the next goal. The angels of Eretz Yisrael that sought Yaakov out signified that the kelim he had been given for his years in the house of Lavan were now irrelevant to the next phase of his life. The angels would introduce him to the new set of items that he would use in the Holy Land. Parting with lots of things that had shaped my immediate environment became a bit easier when I reflected upon this. These things had been useful in the past; life in Israel would require a different set of items. The familiar items became obsolescent not because of their age, but because they no longer had a role in future avodah.
In one area, this did not work at all. We would be going from a 2400 sq. ft. house to a much smaller apartment. There would not be room for many, many of the seforim I had acquired over the decades. I had to divest myself of hundreds. It is one thing to get rid of familiar tchatchkes, but quite another to discard perfectly good seforim. A local outreach organization took a few score English works. But no one was interested is volumes in perfect shape, but that had become outdated because newer editions were available.
No one. We are so well-off that we treat seforim just a few years old like a dated iPhone: functional, but who wants it? The upshot is that I made many trips to a special container that Chabad provides for the community for sheimos. Nothing hurt more than to take precious Torah seforim – many in mint condition – and place them in that bin.
Shaul Stampfer in Lithuanian Yeshivas of the Nineteenth Century describes the opening day of a new zman in Volozhin, where competition was severe simply to receive a copy of the mesechta that the yeshivah would learn in the coming months. There just were not a sufficient number of basic texts to go around.
We don't fight anymore about who will be privileged to receive a borrowed gemara for a semester. In access to Torah texts, there is affluence even in the midst of poverty. This is a wonderful blessing, but it comes at a price. Arms that coddle a sefer should not have to let it go into a discard bin. We should have to treasure every sefer like a family heirloom – but we can't, because we have so many. I don't know what effect this has on our souls, on our appreciation of Torah itself. But I wonder about it.
And I realize that one of the reasons why I am drawn so strongly to make the move is to counter the conspicuous consumption of the West in so many other areas. While Israel is not that far behind, it is still a place where some simplicity is still obtainable, where not everything that exists is, to use the expression in vogue, "must-have." It will be a struggle, but lowering the bar on expectation has to be, in the long run, good for the neshamah.