Ivanka Trump Got Me Thinking about Shabbat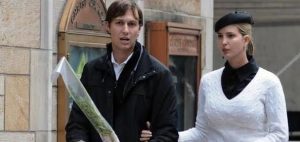 Several statements by Ivanka Trump stimulated me to rethink my own Shabbat observance. The 35-year-old daughter of US president elect Donald Trump converted to Judaism seven years ago. She said that she and her husband and children…
"…observe the Sabbath. From Friday to Saturday we don't do anything but hang out with one another."
This Shabbos, November 11-12, Parashas Lech Lecha has been designated as "The Shabbos Project," to encourage worldwide observance by Jews. I wrote about this in my Jerusalem Post oped, Nov. 10 (9 b'Heshvan) titled "Ivanka Trump and Shabbat"
There is still time to go to the Shabbos Project website and join or sponsor an event.
In my oped I give the full interview which appeared, of all places, in Vogue Magazine in 2015. There Ivanka and her husband Jared Kushner talked to the reporter about Shabbos. Reading Ivanka's words helped me to reevaluate my own Shabbos observance.
While working on my article, I had an interesting email discussion with Mr. Moshe Lax, a businessman and associate of Ivanka in the Ivanka Trump Fine Jewelry endeavor, He gave me permission to share it.
Wrote Moshe Lax:
"While it's not appropriate for me to answer any questions about Ivanka and the Trump family, as I should not be speaking for them, I would like to say that Ivanka and Jared have the zechus of making a tremendous Kiddush Hashem for the nations of the world, and even more so for the impact on the Jewish people, as the Rambam described in the fifth chapter of Hilchos Yesodei HaTorah.

I can't count the number of Jews, frum and non-frum, who ask me whether Ivanka and Jared are really frum. People always want to hear more about this. You can see the wheels are turning in the mind of the questioners about their own state of Judaism.

I read a Halacha shiur on Kiddush Hashem by Rav Moshe Twersky, hy"d, who was murdered in Har Nof, Jerusalem by terrorists. He is an older brother of my Rabbi, Rav Meir Twersky. Rav Moshe wrote that Kiddush Hashem is a collective mitzvah for all Jews, i.e., it's an obligation of the tzibur. I am happy that I can have the tiniest part in the great Kiddush Hashem that's happening on the most public and the largest stage possible."