He Never Promised Us A Rose Garden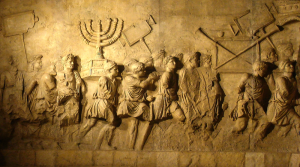 Tisha B'Av may not be anyone's favorite, but it may be just what the Good Doctor ordered to treat a very modern malady.
Jewish calendar events, we are told[1], are never commemoratives. We don't remember things past, but re-experience them. Each event puts us in close proximity to some spiritual commodity that ripens at the appointed time, and begs to then be plucked from its celestial tree. We avail ourselves of personal freedom at Pesach, Torah at Shavuos, bitachon at Sukkos. Yom Kippur could be termed the ultimate free lunch. In a bit over 24 hours, we can win a reprieve from death or disaster, and – more importantly – restore our innocence and relationship with our Heavenly Father. What greater payoff could there possibly be?
We would have a hard time arriving at a consensus about the holiday or event that does the most for us in modern times. We would find ourselves arguing, as Jews are wont to do, about defining terms. Who is "us?" Perhaps Chanukah should walk away with the "value-added" honors, since it has moved ahead of Pesach in keeping vast numbers of non-observant Jews loosely tethered to their religious identity. For those who place greater value on building up the core group that most likely will assure Jewish continuity, perhaps Pesach should remain in first place, since hundreds of thousands stagger away from the seder table, fatigued by the lateness of the hour, but exhilarated by the annual participatory review of all principles and ideas crucial to Jewish thought. Could this be the greatest take-away?
Maybe there is a new dark-horse contender: Tisha B'Av. We don't expect it to leave us beaming and excited. But it may work like root-canal. We hate the procedure, but are grateful that it removes the rot that can be dangerous or even fatal.
The abscess here is not one we speak about too often. Maybe we have too many other things to worry about. But it has lodged in our national person, and seems likely to spread. Let's consider a few high-risk populations.
For decades, many (not all!) prospective baalei teshuvah were recruited by promising them a garden of earthly and non-earthly delights. Becoming frum was the way to happiness, success, finding a spouse, and always, always being able to face each day with a smile. People joined, largely because it was the best deal that they heard about. Many, in time, found much deeper reasons to maintain an observant life style. But some didn't. And some of those also found that what they got was not everything they had hoped to get. This was especially true of those who did not find the marital relationship they were looking for. They woke up years later with buyer's remorse. More importantly, perhaps, those who joined up for cause, and were not disappointed, subtly transmitted a similar approach to their children. Too many second-generation kids are now dropping out because they have approached Judaism the same way. Consciously or otherwise, they have a check-list of what Torah is "supposed to do" for them. If it doesn't, they are out of here faster than a new iPhone becomes yesterday's antique.
People are motivated to convert to Judaism for all sorts of initial reasons. Often, it is connected with a Jewish significant other. Some are spiritual seekers. Yet others are what could be called cholent Jews. They come for the kiddush, stay for the warm-fuzzies, and sign-up for the promise of community and camaraderie. If the community later disappoints them, some of them check out.
Those described so far as leaving the fold all suffered dashed expectations. We might think that only a recently-minted connection to Torah Judaism could be severed by mere disappointment. Those who knew Yiddishkeit from the cradle are joined at the hip to its truth. They may show some signs of strain, and become vulnerable to new challenges by the yetzer hora. But they do not give up their core belief.
We would be wrong. It is happening all around us. It is happening in the Modern Orthodox community; it is happening in the haredi community. People who simply find Yiddishkeit unsatisfying – leave. They grew up with expectations and thoughts of entitlements – from the community, and from Hashem. If they and He don't deliver, they are ready to take their neshamah elsewhere.
We could stop and analyze why the chinuch we have provided our children has been inadequate to keep them connected despite disappointment, but that is not the purpose of this essay. (Very different answers to that question apply to the MO and haredi communities.) One essential error underlies the thinking of all who use a check-list method of affiliation: Torah is binding because Torah is true. It does not have to "work" for us. HKBH created us, molded us into a people, entered into a mutual, binding contract with us. He is entitled to demand our obedience, and in fact does.
Now, it is quite true that we would have little success convincing our children to subscribe to our beliefs if they were presented as darkly and austerely as the last few lines. Those lines certainly do not do justice to our mesorah! We need to explain to ourselves and our children that all of that is true – but so is Hashem's unimaginable goodness, His love for Man, His patience and kindness. We need to allow our imaginations to luxuriate in contemplation of the eternal reward in an afterlife, and delight in the certainty of a messianic utopia still in this world. We need to understand, as best as we can, all the whys and wherefores of our Yiddishkeit that the human mind is capable of comprehending. We need to remind ourselves that nothing can enhance Him, and that everything He asks of us can only be for our good.
We also, however, need to realize that we are duty-bound to rigorously follow the precepts of the
Torah whether they seem to pay off for us or not, whether they are convenient or seem burdensome, whether they are in synch with modern sensitivities or clash with them. As Maharal explains,[2] knowing that Hashem's demands upon us serve our interests does not conflict with our dealing with them mentally as Divine edicts.
Most of us know all of this. Some of us sometimes get deflected from the message through all the opposing stuff that we are exposed to.
Here is where Tisha B'Av comes in. To be sure, it has its own avodah.[3]It also brings with it a huge dividend. Reading the heart-wrenching kinos of death and destruction over centuries, supplementing them (as many do) with contemporary accounts of Holocaust survivors, we come to realize that our ancestors – century after century of them – did not follow the Torah because it was convenient. They did not indulge in the fantasy, "I refuse to believe in a G-d who did X,Y, or Z to me." They did not treat belief in Him or His Torah as something volitional. They stuck with it through unimaginable suffering and adversity. They stuck with it because they knew it to be true.
Nefesh Ha-Chaim explains the nachash ha-nechoshes as an extreme exercise in bitachon. It was insufficient for those in the wilderness to daven to Hashem for help, looking to Him rather than focusing on the dangerous snakes that were set upon them. To the contrary, they had to stare at the mortal threat, look it straight in the eye, and tell themselves that it had no power over them at all, if they had Hashem in their corner. Tisha B'Av does something similar to us. We focus on all the misery that has befallen us as a people, and realize with pride that we are part of a people with loyalty to Hashem and His truth, no matter what hand He deals us. And we go right on.
The lesson, relived each year, could not be more powerful or more needed today. When all is said and done, when we revisit the question with which we opened this discussion, we realize that, on some level, the question itself is illegitimate. At times, we cannot ask what the take-way is. We remind ourselves that ultimately, it is not for us to ask.
[1] Maharal, R. Dessler, others
[2] Tifferes Yisrael, chapter 6
[3] See Nesivos Shalom, Bein Ha-Metzarim, 1