A Better Way to Allow Change in the Charedi World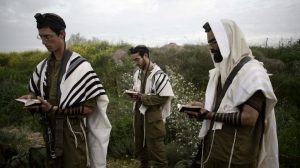 When Yair Lapid introduced his measures to nudge the charedi community into the IDF and the work force a few years ago, Cross-Currents readers mixed it up with more gusto than Bernie Sanders supporters at a Debbie Wasserman Schultz testimonial. Some resented any attempt to influence the charedi status quo from outside; others saw the intervention as better than some of the alternatives.
Most agreed, however, that coercive measures – especially those that introduced criminal sanctions for non-compliance – would be counterproductive. The community would fight back vigorously anything it saw as forced acculturation. The positive changes in attitudes towards employment and army service would be erased. Better to let economics do the coercion.
That position is supported by a new article in Commentary by Evelyn Gordon. Here you will find the latest analysis and stats on issues of growing charedi employment (men and women), receptivity to core curriculum even in high school, and the throttling of the stereotype that those who serve in Tzahal lose their Yiddishkeit.
While a confluence of decisions unpopular with secular and heterodox Jews in America have turned charedim in Israel into popular whipping boys in the last days, Gordon finds that the situation is not as dire as some would have it: "[T]he headlines of recent months are misleading: Developments in Haredi society as a whole actually provide strong grounds for optimism."