An Open Letter To Rabbi Herzl Hefter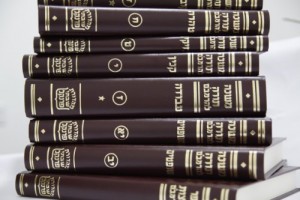 by Rabbi Nahum Spirn
אֵיךְ נָפְלוּ גִבּוֹרִים – How the mighty have fallen. These words, spoken by King David in his eulogy for King Saul, seem to apply oh-all-too well to you, R' Herzl. How we looked up to you when we were in Gush. How my peers were impressed by your incisive analyses of Rishonim when you taught them Yoreh De'ah in Gruss.
And now, in your recent essay explaining your decision to ordain women: From a few vague sentences in the writings of the Ishbitzer, you bring out not just a new yesod in a sugya (a fundamental, underlying principle in a Talmudic topic). No, not just that. Rather, a whole new yesod turning upside-down all of Jewish intellectual and religious history. How weak a basis can one have (see here)!
So how is it possible? How is it possible that a leading student of Rav Lichtenstein, one who excelled in understanding when a Rishon (early Talmudic commentator) was making a clear point and when he was ambiguous and thus open to interpretation — how can it be that this student takes a few ambiguous and esoteric statements from a few Chassidic masters and says that "our [own] refined moral convictions and moral sensibilities may be considered a form of divine revelation"?
Perhaps the answer, R' Herzl, is that there are additional sources, sources you did not quote in your essay, that espouse your approach. So let us look at some additional sources:
1)
The Ishbitzer did not make up the idea, in the words of R' Yaakov Elman (here), that there is "much greater room for a dynamic human involvement in the post-Biblical halachic process" than had been assumed by earlier scholars. The idea came from the Ishbitzer's rebbe, R' Simcha Bunim of Peshischa. And it was developed much more in the writings of the Ishbitzer's talmid (student), R' Tzaddok HaKohen. Thus he writes in Resisei Layla (p. 14b):
Thus, even though later generations are inferior [to earlier ones], they nevertheless maintain their awareness [of knowledge], as dwarfs [on the shoulders of] giants … and they themselves continue the process of this opening of new Gates [of knowledge]. Even though they themselves are greatly inferior [in comparison to their forebears, their insights] are more profound, for they have already passed through the Gates opened for the earlier generations (translation Elman).
2) The Vilna Gaon on Mishlei 16:4 writes:
Every person has his own [spiritual] path to walk… When there were prophets, people would go to the prophets to inquire of God, and the prophet would tell [him] … the path he should take, based on the root of his soul and the nature of his body… And when prophecy ended, there was [still] ruach hakodesh (Divine spirit) in Israel, and each person's [own] spirit would inform him how to act; for each and every person has ruach hakodesh (translation mine).
Not bad, right?
But let's go back to analyze these sources, starting with the first:
1) In R' Gordimer's response to you, he noted that the Chassidic sources you cited do not at all speak about halachic decision-making or observance. This is true. But let us grant the possibility that they were talking about halacha, too.[1] Does R' Tzaddok not support you?
It is clear that the answer is no, and this for two completely separate reasons:
a) In halachic matters, who has the authority and the right to create brand new halachic principles? Do the greatest rabbis of the last 1500 years have that right?
They do not. Only Chazal do. The last Amoraim (Sages of the Gemara) were the last of Chazal, and thus the last people to have this authority.[2] The period of the Amoraim ended approximately 1500 years ago. Even the Vilna Gaon did not believe he had the authority to create brand new halachic principles.
R' Chaim Brisker famously said that our job today is to understand the Rishonim, i.e., to figure out how the Rishonim (Rashi and his colleagues who lived from 1000-1500 C.E.) understood the words of Chazal. In other words, in halachic matters, we don't even pretend to have the ability to understand Chazal in brand new ways!
b) R' Tzaddok HaKohen, in the paragraph translated above, speaks of later generations opening "new Gates of knowledge." This is possible, he writes, because "they have already passed through the Gates opened for the earlier generations."
But this means that the scholar of the later generation is going in the same direction as the earlier generations. He has passed through various Gates, and now he is able to continue further, opening new Gates. It is obvious that the later-generation scholar cannot contradict what has been taught in the earlier "Gate." He cannot undo it; it has already been accepted as truth. He can only build upon it.
So, R' Herzl, would R' Tzaddok give you the right to create brand new halachic principles? Would he allow you to use your own "refined moral convictions and moral sensibilities" to create a new "Gate" that contradicts all the earlier Gates opened by the scholars throughout Jewish history?!
Certainly not.
Let us go on to the next source.
2) The Vilna Gaon in Mishlei sounds just like you, doesn't he? "Each person's [own] spirit would inform him how to act; for each and every person has ruach hakodesh." Wow.
But let us read further in the very same passage by the Vilna Gaon: 
Praiseworthy is the person whom Hashem considers to be without sin and who has no deceit in his spirit. … But who can say, "My heart has merited," who has no deceit in his spirit at all, and [that] his nature does not desire and does not lean toward anything but the word of the will of God? … If God forbid there is in his heart a small "root flourishing with gall and wormwood," then there is deceit in his heart. If [such a person] will act according to [the dictates of] his [own] spirit — and every person's path is pure and upright in his [own] eyes — he will fall from the heavens to the earth until he will not be able to rise [any more]; he will turn away from the ways of Hashem without realizing [it] himself (translation mine).
So while we might all have ruach hakodesh, evidently that Divine spirit will not help us too much unless we are true and perfect tzaddikim! R' Herzl, with all due respect, do you qualify? I certainly don't.
R' Herzl, these sources cannot justify your "new theology." What, then, can it be that leads you to posit that "our [own] refined moral convictions and moral sensibilities may be considered a form of divine revelation"?
I am afraid there is but one answer. You have written (here) about your acceptance of the teaching of the Bible scholars that the Torah was written over many centuries and is not entirely the actual Word of Hashem. If this is so, then clearly the things you are writing now, to utilize one of our favorite expressions from Gush, are "le'shitaso" — following one's own opinion on a related topic elsewhere. If you hold the opinion that human beings can add onto the Torah itself, and their additions can become, for all intents and purposes, the Word of God Himself — then indeed you must hold that "a person's own convictions and sensibilities are a form of divine revelation." Le'shitaso.
Here is not the place for a discussion of Biblical Criticism. The idea that Jews in any era would have accepted large-scale additions to their Sifrei Torah seems to me crazy. But I know that arguments have been made. I would like to quote Rav Lichtenstein again. In 1984 a question was posed to Rav Lichtenstein during a Question-and-Answer session (the type of session that came to be known affectionately in later years as a "press conference"). The question was: In light of the ideal of "freedom of inquiry," why had Rav Lichtenstein strongly discouraged the reading of certain books? (The questioner mentioned two books. One was The Canterbury Tales; I don't remember the other.) Rav Lichtenstein answered, "First of all, the list of books I would say that one should not read is far longer than the two books you just mentioned." And then he went on to quote Thomas Aquinas, who said that there are two types of Truth: Truth of Revelation and Truth of Reason. While Truth of Revelation is most powerful – one has heard something directly from God Himself! – nevertheless, Truth of Reason can overpower Truth of Revelation. That is to say, we can become convinced by our logic of something that is against something known to us by revelation. And therefore, Rav Lichtenstein concluded, one should not read books that may "convince" us of something that is against our Tradition.[3]
R' Herzl, you did not heed our rebbe's advice. You became convinced by the Bible critics. You have adopted a forbidden belief (no Rishon holds this way!).
It is, of course, your prerogative.
But why did you have to tell everyone? The Gemara (Yoma 86b) rules that if a person committed a sin that is בֵּין אָדָם לַמָּקוֹם (between man and God), he should not publicize it. The Rambam codifies this ruling (Hil. Teshuvah 2:5), calling its violation עַזּוּת פָּנִים (brazenness). It is not right to share one's religious doubts (or in this case, "certainties" of the falsehood of traditional Torah beliefs); to publish essays that may bring others to do things that are against halacha. To the contrary: Elisha ben Avuyah, the great rebbe of R' Meir who became a heretic, warned R' Meir to turn back when the 2000-cubit techum (the limit for walking outside the city on Shabbos) was approaching.[4]
So we come to the original topic: ordaining women. I don't want to discuss the halacha — I don't think I'm qualified. (I will tell you that I am a supporter of women learning, and of the Yoetzet Halacha program.) But I have noticed something troubling about the women being "ordained" as Maharats, or as rabbis, or as whatever they may be called: A high percentage of them have expressed, in different ways, a desire to utilize their own "convictions and sensibilities" to change the halachic landscape (see, for example, here, here, and here).[5] These women, whether technically your students, R' Herzl, or not, appear to be highly in tune with your kind of thinking. What prevents them from wreaking havoc with the halakhic system?
You provided the answer. You wrote that your basis for ordaining women was your "new theology." And you wrote that humility will enable those who follow the "new theology" to "avoid falling into a totally subjective scheme in which anything goes and my personal preferences take precedence over all else, including the Halakha."
But creating a new theology — one that is not supported by any Rishon or Acharon — how is that consistent with humility?
Who is actually guilty, in the Ishbitzer's words, of "creating God in our own image"?
[1] After all, as R' Elman points out, R' Tzaddok in his writings refers repeatedly to Moshe Rabbeinu not understanding the novel points in R' Akiva's shiur many centuries later (Menachos 29b) — and the shiur was almost certainly on halachic topics, as the Gemara itself implies.
[2] See Bava Metzia 86a: רבינא ור' אשי – סוף הוראה. See also Rambam, Introduction to Mishneh Torah, that all of Klal Yisrael is bound by the rabbinic legislation found in the Gemara and earlier works penned by Chazal; legislation penned later is binding only on local communities.
[3] Rav Lichtenstein's advice was based, of course, on the words of Chazal, who taught:  "הַרְחֵק מֵעָלֶיהָ דַרְכֶּךָ" זוֹ הַמִּינוּת, which means: Distance your way from "it" — this refers to heresy (Koheles Rabbah 1:24).
[4] Chagigah 15a; Rus Rabbah 6:4 (on Rus 3:13); Koheles Rabbah 7:18 (on Koheles 7:8).
[5] For a Yeshiva Maharat graduate who apparently doesn't even feel comfortable identifying with Orthodoxy, see the end of the article here.
Rabbi Spirn is a graduate of Gush, YU, Revel, and RIETS. He also has Semicha Yadin-Yadin (from Torah Vo'daas) and Semicha in Hilchos Gittin (from R' Gedalia Dov Schwartz and R' Zalman Nechemia Goldberg). He has served in the rabbinate and taught in a wide spectrum of yeshivos.