Of Fault Lines and Forgery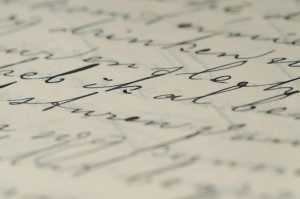 Many people, myself included, believe that the fallout from Beit Shemesh and Kikar Shabbos will have a longer half-life than others suppose. One item to keep an eye on is the fault line that has surfaced, much as those that sometimes appear on the earth's surface after an earthquake.
This fault line separates Israeli charedim from many of their American counterparts. Two different narratives developed. Americans could not accept the Israeli one, while Israelis were deaf to the arguments of Americans.
Americans by and large rejected the suggestion that protest was unnecessary, because there is no reason the rest of us should be responsible for the actions of a relatively small number of extremists. Witness the wall-to-wall condemnations of the activities in Beit Shemesh and Yerushalayim. Americans understood what was at stake: if you don't distance yourself from ugliness, you are considered complicit in it. It didn't matter to us whether lumping us all together was just or not. The honor of Torah, our relationships with non-Jews and non-religious Jews, our ability to attract baalei teshuvah in the future – all these would be imperiled by our remaining silent. So we spoke up, and couldn't understand that in Israel, our cousins seemed not to understand.
At the same time, almost everyone in the charedi world in Israel was intent on not having to answer for the sins of the few. They were conscious of the calculated media manipulation, the political machinations of Yair Lapid, and the traitorous conduct of groups like the New Israel Fund, who usually send their dollars to help Palestinian NGO's bent on destroying Israel from without, and now saw an opportunity to wreak havoc from within. Israeli charedim were not going to become dancing puppets, yanked around by evil puppeteers of the Left. Or so they saw it, and kept their silence, regardless of the costs.
It almost doesn't matter who was right. After things calm down, the rift between the two communities will remain. They think we can't understand their realities, because we Americans don't live there. We think they cannot comprehend the realities of the 21st century, as seen by those who interact with more of the greater world. It really doesn't make much difference. Point of fact: the divide between the communities is wide enough that we have to give up the pretense that we are all living the same form of Yiddishkeit. Baruch Hashem, there is perfect overlap in fealty to fundamentals of faith, and allegiance to halacha. But in some matters, it is clear that we do not and cannot think the same way.
One of the reasons that Americans could not and did not accept the Israeli response, is that many in the West simply do not believe the protestations of clean hands by the vast majority of Israeli charedim who deplore violence. Many Americans were uneasy with the assertion that the non-violent majority bears no responsibility whatsoever for the Sikrikim et al. Americans are uneasy about aspects of Israeli charedi life, whether they admit it to themselves or not. They are conscious of aspects that support, or lead to, the violence of the crazies. Those include systematized contempt for the "other," and acceptance of the kana'aim as misguided insiders, rather than people who are chutz le-macheneh. (Chutz le-macheneh to them means people who are really far out, like those who might have something positive to say about Rav Kook.) These factors help assure that the extremists have a community from which to emerge. (Remember: HKBH held all of Klal Yisrael accountable for the actions of Achan in taking a tiny amount of booty [Yehoshua 7:1]. One man sins, and the entire community is guilty? Yes, explains Rav Dessler. Had the community not been somewhat lax in its resistance to plunder a bit, had the community been fiercely determined to adhere to Hashem's instructions, the intense social pressure and moral climate would have made it impossible for Achan to act independently. For not generating that resolve, they were all held accountable.) Many Americans are ill at ease in accepting the boilerplate defenses coming out of Israel, because they simply do not ring true to American ears.
A recent op-ed in Kikar Ha-Shabbos helps illustrate why. Here is a free translation of what Rabbi Yitzchok Blumenthal writes:
While it is true that it is forbidden to forge a signature, I absolutely maintain that we should not compare forging a signature on a private document like a promissory note with forging one for the purpose of helping the greater community. Forging private notes [even when justified] cannot be allowed because of the damage done thereby to the good and peace of the community. For that very same reason, forgery for the purpose of the peace of the community is appropriate and desirable.
The die has been cast. Many of us will not accept such thinking under any conditions – and we have simply lost the ability to fully relate to those who do think that way We will not relate to and cannot listen to people who can embrace lies and forgery. It will be interesting to watch how the rift between communities plays out in years to come.
[Thanks to Daniel Goldman for pointing out the article in Kikar ha-Shabbos]