The Turing Test and the Limits of Science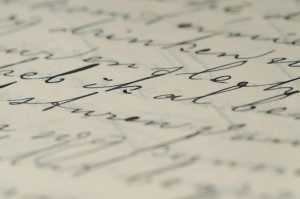 In most every area of computer science, the world has seen far more progress than we ever imagined possible back in 1950. Computer vision and control is so precise that we can launch a cruise missile from hundreds of miles away, and choose which window it will use to enter a building. We edit documents with point-and-click, not to mention creating them with voice dictation. Anyone familiar with the old Star Trek series knows that we already have computers that sound far more human than we expected, back in 1966, that they would sound in several centuries.
You are also reading this at a computer far more powerful than those that took humans to the moon, or even that launched the space shuttle. The method by which all our computers are communicating is certainly not something envisioned back in 1950, or even 1970, when in "Colossus: The Forbin Project" two supercomputers took hours to learn a common language that they could use.
In 1981, Bill Gates believed that providing 640K of RAM to users "would last a great deal of time" (he denies ever saying that "nobody will ever need more than 640K of RAM"). But it was only six years, he says, before people were clamoring for more, to match the needs of ever-more-powerful applications.
Now for the notable exception: Artificial Intelligence.
In 1950, Alan Turing devised a straightforward test for artificial intelligence: a person sitting at a terminal, engaged in conversation (what we would call today an Instant Messaging chat), is unable to determine that he or she is conversing with a computer rather than another human being. He also predicted that by the year 2000, a computer could fool the person for at least five minutes roughly 70% of the time.
In 1968, when Stanley Kubrick's "2001: A Space Odyssey" emerged, the thinking computer named Hal (trivia: despite the fact that each of the three letters "HAL" precedes by one the letters "IBM," this was merely a coincidence) was considered a far more realistic possibility than Star Trek's violation of Einstein's relativity (the relationship between speed, matter & time appear to preclude faster-than-light space travel).
In 1984, when the sequel "2010" emerged, the field of AI seemed to be making great progress. I recall this was the one course that used the LISP language, because with LISP one could have the program itself write and then execute additional code — to, in effect, learn from events and write procedures to respond to the same events in the future.
Today there will be no further sequels to 2001 — not only because the craft was not launched in that year, but because we still have no thinking computer anywhere close to meeting the Turing standard. Since 1991, Dr. Hugh Loebner has sponsored an annual contest which hopes to award $100,000 to the first computer program to pass the Turing test. At the tenth test in 2000, 100% of the judges were able to recognize the computer within five minutes. Ditto five years later.
Furthermore, all of the entrants to date are programs which employ various tricks to make the judges think they are human — not one is an actual attempt to get a computer to think for itself. It is not merely that we don't yet have a computer thinking like Hal, but that we don't even have a prototype capable of entering the contest and beating out a group of clever programming tricks for the $2000 awarded for the "best attempt" each year.
My father-in-law was one of the (if not the) first to note that the Turing test is awfully close to the one provided by the Talmud. The Talmud says that a sage once created a golem, a man of clay, and sent it to another. The second attempted to engage it in conversation, and — realizing that it was unable to speak or communicate — recognized it as a golem and returned it to dust. Chazal were certainly familiar with the people who were deaf and mute, as well as mental handicaps, so it was obviously not a simple matter of speaking but cognition that was involved. And the commentaries say that our sages were not given the amount of Divine assistance necessary to create a thing that could not merely walk and obey orders, but communicate intelligently as well.
There are certainly any number of Torah-observant individuals who believe that modern computer scientists might eventually meet this standard with artificial intelligence. I am — just as with evolution — less sanguine.