Asking "What If" Destroys Halacha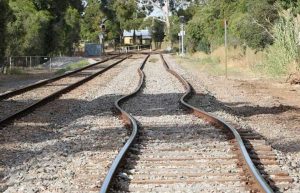 Writing in Mishpacha this week, Rav Chaim Aryeh Zev Ginsburg scolds MK Itamar Ben-Gvir for his passionate advocacy for Jewish visits to Har Habayis (the Temple Mount). Rav Ginsburg likens people who follow the halachic advice of their decisors to walking on train tracks, knowing that touching the third rail can be fatal, but without knowing exactly what that rail looks like.
Rav Ginsburg (I fondly remember the days when we were yeshiva-mates in prehistoric times) writes wonderful columns of thoughtful, sensitive chizuk, and has orchestrated some terrific community efforts. He is the source of much good in the Torah world. I am also no fan of many of Ben-Gvir's antics that act as a lightning rod for global condemnation. Rav Ginsburg and I may arrive at the same station, but we get there via different spurs. His current Mishpacha essay, though, can only lead to a train wreck.
Rav Ginsburg points to the many, many stellar figures who forbade entry to Har Habayis. For the most part they held that there was great uncertainty about the location of the Kodesh Hakodashim and the Temple Courtyard. Entering the wrong place would put a person at least at risk of violating an issur kareis – at least according to some Rishonim. Rav Ginsburg concedes that those who go where some Jewish angels fear to tread rightfully claim "that their rabbanim allow it." Still, he asks them, why take a chance? Even if you think that you have every right to rely on them, shouldn't you exercise more caution? In the face of so many who have opined in the other direction, assuming the risk of violating a chiyuv kares is irresponsible.
Sorry. That line of reasoning destroys halachic process. Think of its logical consequences. We should never have a daas yachid disagree with a large rabbim. (The Talmud is full of them. In some cases, halacha follows those minority opinions.) Isn't it better to be safe? If a childless couple came to Rav Ginsburg for guidance about IVF, would he respond, "Hey, Rav Moshe thought it was OK, but is it really worth taking the risk disregarding the Satmar Rov who held it was gilui arayos? What about the activities marked by Rav Yehuda HaChasid as dangerous, but ignored (for a variety of reasons) by many poskim? Are those poskim irresponsible in putting people at risk of the harm predicted by Rav Yehuda haChasid's tzavaah? How about relying on bitul when non-kosher ingredients are present in minute amounts? Sure, we know that the majority did not go with the Rashba? But why take the risk of chewing on a digestive third-rail?
The general approach that we have always taken is yikov hadin es hahar – let halacha pierce the mountain. There is a clear difference between "producers" of halacha and "consumers." The producers – the poskim and morei hora'ah who must make the large and small decisions – are dutybound to take all sides into account. They have to wade through all the information they believe is relevant before coming to conclusions. If the conclusion they reach butts up against too many voices they respect, they will think two or three times before offering their conclusion to others. If they are firmly convinced of the rectitude of their position, they will offer it even in the face of opposition.
But Hashem does not expect all of us – even consummate bnei Torah – to be halachic decisors. Consumers – the rest of the nation that go to their rabbonim for answers because they know they cannot responsibly handle all the material themselves – need not do any second guessing. They go to them with confidence that they're acting according to what Hashem asks of us. They need not look back at those who disagree (except as an exercise in perishus), which would always leave us hostage to the strictest opinion available. An individual rav – assuming he is genuinely higi'a le-hora'ah – is allowed – obliged really – to follow the conclusions that his Torah analysis leads him to. And his followers are allowed to follow them, with confidence that they are doing the will of their Creator.
Nor do numbers carry the halachic day. Rav Yitzchok Elchonon Spektor was initially a booster of the Darchei Teshuva project by Munkatcher chassidim. It was to be a line-by-line commentary on Shulchan Aruch Yoreh Deah, which would assemble the contribution of centuries of halachic writing since its composition in the 16th century. Rav Yitzchok Elchonon withdrew his support when he saw the results of the project. He complained that all voices – large and small – got equal billing. That's just not the way halacha is done. Some voices count quite a bit, some less so – and some not at all. Similarly, the numbers of signatories on a document should not impress us, particularly when we are aware of the practice of many (including those who haven't even engaged in the halachic analysis) to add their signatures in deference to a name they recognize on the document.
We do know there are halachic figures with fine credentials who are satisfied with the evidence that the path taken by Jewish visitors to Har Habayis avoid coming near the problematic areas. I'm not going anytime soon, but I will defend the right of those visitors to rely on their morei hora'ah. More than defending them, I'm really defending halachic process from the fatal flaw of "What if."
There is lots to discuss about Ben-Gvir and incitement, but the what-hurts-to-be-safe argument should be quickly derailed.