How Others See Us: Certainty and Doubt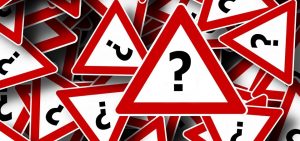 Perhaps because of the work I do with non-Jewish communities, I find myself constantly getting a boost from the observations of religious Gentiles about authentic Judaism. A recent exchange seemed too good not to share.
A young, talented political activist sent me an opinion piece that took an exceptionally dim view regarding those who cannot bring themselves to cast a ballot for either of the two major presidential candidates. My friend, a committed evangelical, asked me what a "Jewish ethic" would say about the essay.
I responded, in part, with the paragraphs that follow. (They were not intended to be a recommendation to him or anyone else, but as justification for those who opted not to vote.)
I'll answer the question after a caveat. In matters of law, there has to be a process whereby you weigh different competing positions and come up with a bottom line. This is not so in most matters of belief, other than genuine fundamentals of faith. People who tell you about "Judaism's position" on most matters in terms of great certainty usually don't know what they are talking about.

With that in place, the Jewish tool that comes to my mind in looking at the debacle we are facing is the following. A midrash speaks of a loyal servant of a king who is entrusted with the care of his master's vast orchards. Tending to the trees, he comes across one strange one, with two different kinds of fruit growing on it. One fruit is the deadliest toxin he has ever come across. The single tree has enough poison to kill thousands. The other fruit, however, produces a life-giving elixir. What should he do? If he tends to the tree, he nurtures a potential weapon of mass destruction. If he uproots it, he destroys the source of the valuable elixir.

He ultimately hits on the answer. "It's not my tree! The king will have to make that decision."

There are times in life when we really cannot make a choice – where both options are equally attractive or odious. When that happens, we don't act – and leave the outcome to the King.
I found his response delightful, and hope that some of our readers might agree.
So helpful. I love how Judaism remains comfortable in the questions and has so many tools to find a way through uncertainty.

In evangelicalism, we tend to isolate everything into binary choices and then we have no patient or capacity to deal with what is truly gray and truly uncertain.

It means we fail often as what's complex or relinquish what's most important to what's expedient.

We are not comfortable in what's uneasy, but it seems that Judaism is more than comfortable in what it unclear yet without the constraint of feeling the full weight to solve all the world's problems.

Thanks for helping me think through this.
The beginning of Avodah Zarah contains a long passage about Hashem giving the non-Jews the mitzvah of Sukkah. At one point, HKBH calls on a number of individuals to testify that Klal Yisrael observed the Torah. Maharal explains that He had to outsource the testimony, rather than testify Himself. Because of the Father-son bond between Hashem and His people, testifying to Jewish compliance with the law would be an "inside" observation. Klal Yisrael obligated to make its avodah "real" by making it visible to the outside – externally observable.
It's nice to see it happen sometimes.