Volozhin's Got Talent!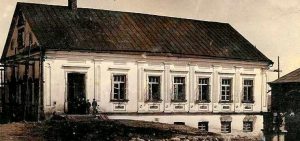 Pragmatic isolationism vs. an obligation to share the Torah's vision with non-Jewish Americans. Pose those choices to a group of charedi-identifying yeshiva students who expressed an interest in conservative politics. What would you expect would be the outcome? The results of the vote were as much a surprise to the group as they were to the lecturer – and to me.
Each year at this time, it takes me a while to climb down from the high I receive leading the Tikvah Program for Yeshiva Men. A week and change later, I'm still not back to sea level. It is nothing less than exhilarating to spend time with bright, curious yeshiva-trained men discussing how Torah relates to contemporary affairs.
Year Three of the program saw our fifteen participants who successfully competed from a larger pool tough out a prodigious amount of reading in advance, and then keep to a schedule that had them producing from 7:45 AM to 11 PM. Not so different from the day of guys into learning, but to the non-yeshiva staff members, it seemed like boot camp.
The participants hailed from Brisk, RIETS, BMG, Mir, Ner Israel, Satmar and Chabad. Quite a few mixed and matched. Some had virtually no advanced secular training – but had demonstrated keen interest politics, history and philosophy. Others were well read in a variety of disciplines. Some had some background as shul rabbonim, kiruv workers, and participants in political institutes. One was finishing a PhD in mathematical physics; another was a law professor. One had the distinction of regularly relating R. Asher Arieli's daily shiur to R. Nosson Tzvi Finkel zt"l. What allowed them to work well together was a firm commitment to authentic Yiddishkeit, and a love for limud Torah. None were from the group that was trying to escape the beis medrash by doing something different. To the contrary, it was their love of learning that told them that Torah must have even wider impact than they usually discuss over their gemaros.
The program combined classes in Torah with ones in political philosophy. Tikvah is pledged to the furtherance of conservative values. While virtually all of them came into the program with conservative leanings in matters that impacted upon Israel and Torah life in America, the program provided students with the philosophical backdrop of the conservative / liberal split centuries ago. It challenged them to think about whether the issues important to Torah Jews should be engaged piecemeal, or whether they are part of a larger struggle within Western society about the nature of government, authority, tradition and individual liberties. Eric Cohen, Tivkah's Executive Director (and a public intellectual in his own right) picked the perfect vehicle for sketching the outlines of two antipodal world views, through selections in Yuval Levin's The Great Debate: Edmund Burke, Thomas Paine, and Birth of Right and Left.
Cohen, an observant Jew, asked the hard questions coming out of the gate. In his opening presentation, he offered not just the two options mentioned in the opening paragraph, but a total of six positions regarding the preferred strategy of the American Torah community. All six positions were debated by the participants, and then voted on individually. All were shocked when the isolationist position ("we see our relationship to American society in entirely pragmatic terms. Our political agenda in America has two clear aims: to ensure that our Jewish practices and Jewish institutions are protected from state intrusion or state infringement, and to receive as much state funding for our institutions and our people as entitled under the law… we have no deeper interest in American policy or culture.") was voted down by a large margin, despite some heated support from those who showed that a similar policy had dominated Jewish relations with secular governments for centuries. We were even more shocked when the most extreme articulation for engagement and moral responsibility for general society ("As Torah Jews, we believe we have a set of moral ideas, given by G-d… we believe that we have an obligation to advance certain moral ideas…in the American public square. We believe that making such public moral arguments is part of our Jewish obligation to be a "light unto the nations") carried by an even larger margin.
Perhaps we had no reason to be shocked. Participants came to the program looking for the ways in which Torah spoke to contemporary issues. Joining the program with – and because of – that expectation, it should not be surprising that they would feel that Torah truths apply to all of humanity, not just Jews.
There were many memorable moments. R. Ahron Lopianksy delivered a major shiur on what could – and could not – be gleaned from the gemara concerning economic policy and government intervention. While that topic leaned towards the theoretical, a conversation between Rabbi Gedalya Weinberger and Dr. Irving Lebovics (Agudah, California) was entirely about the nuts and bolts of problems facing the charedi community, and advocating for our positions in hostile state legislatures. William Kristol, one of the acknowledged neo-conservative leaders (and one of the first of that group to announce that he cannot bring himself to vote for either Trump or Clinton) spoke about the future of the two-party system in the US, and the very different dangers to Jewish interests of the expected policies of either of the two candidates. R. Aaron Kotler engaged Dr. R.R. Reno (editor of First Things, the most important US journal of religion in the public square) in a vigorous discussion about maintaining one's moral positions while dealing with political figures and a polity that held conflicting views.
Participants, presenters and I were all delighted by the program. The most important takeaway, however, may have been to the rest of the community. Too many people have argued that, notwithstanding the breathtaking numbers of adherents to the yeshiva system, the price paid has been a uniformity in dress and group-think imposed attitudes that stifle individuality and creativity. The Tikvah Program for Yeshiva Men proves that this is not the way it has to be.