The Power of Chabad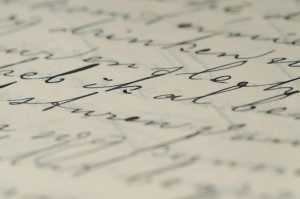 I have a son approaching Bar Mitzvah age, which means he will be needing Tefillin shortly. My mother mentioned that her grandfather's old Tefillin were in a package in a basement. I had never known of them before, but as you can imagine was excited to learn that they existed. Well… when I opened the bag my wife and I were dismayed. The batim, the boxes, were green. Mold green. We thought that after years in a wet basement, all was lost.
When I opened them, however, I got a surprise in the opposite direction. Not only were the parshiyos (the written parchments) in decent condition, but the writing was truly beautiful. I showed them to an expert sofer, who restored them. They are perhaps 150 years old, and the writing, he said, was only used by a pretty elite group. The batim were constructed from multiple pieces of leather, which we wouldn't use today with such fine parchments. But what we found inside them were hidden gems. "He spent his money on the writing," said the sofer. And who knows… what spiritual impact might have been felt from that level of sacrifice for the sake of a Mitzvah, four generations later?
The parshiyos are written in the Ksav, the font, attributed to the Alter Rebbe of Lubavitch.
When I read the responses to my earlier post, "A Hopeful Sign for Chabad?", I was extremely pleased to see the fiery denunciation of the 'Meshichist' wing from commenters who identify with Lubavitch. I think a tad more forbearance is appropriate towards those other commenters who previously encountered opinions similar to Eli Soble's from far more prominent figures within the movement. The fact that the JPost found no one better known than Soble to voice this tripe is a hopeful sign, but we cannot pretend that it has always been so.
The marginalization of the Meshichist viewpoint must be repeated until it is no longer espoused not merely in public, not merely in private conversation, but in the hearts of all ma'aminim, those faithful to Torah. Because, at the same time, Lubavitch has a long and distinguished Chassidic line, and thousands upon thousands of people willing to be moser nefesh, to give up their very lives, on behalf of all Jews and, indeed, all humanity.
Two newspaper articles, both published today, are good examples, and Rabbi Adlerstein deserves the credit for pointing them out. One is in the New York Times, the other the Concord Monitor, and both represent a Kiddush HaShem. Both of the gentlemen featured are Ba'alei Teshuva who found their way home via Lubavitch. Both have careers in the secular community. Both are unafraid to be who they are, beards, black hats, and all, in very foreign environments. And both have bridged the divide with great success.
Chabad shluchim are creating these types of success stories every day. There's much to learn from them, and much that could be accomplished with more unity.
Frankly, there's a divide to be bridged within the Orthodox world. Yes, the Yechi-niks are far too numerous, and far too visible. Yes, in Lubavitch there is a school of thought that other frum Jews have to be brought into Chabad. There are those who give their time, energy and money only to Lubavitch, who quote only Lubavitcher Rebbes, etc., etc., etc. The relationship has been rocky, and to a large extent that must be attributed to Lubavitchers rather than those who have criticized them. There is far too much of this to be dismissed as "the enmity of centuries of Misnahgdim." There are serious issues here, and you certainly don't see this sort of criticism leveled against Bobov, Stolin, Satmar, Ger, or any other Chassidic group. My aforementioned son is named after my wife's grandfather, who was a Belzer Chossid, descended from the Noam Elimelech via the Dinover Rebbe. We all have our own parochial hang-ups, but you don't find any similar level of friction between Belzers and Litvaks.
I would put it this way: there is mold on the outside. The public displays of the Meshichistin and these other issues stain the image of Lubavitch. The gems are less visible, less obvious, hidden inside. Having heard only positive things about Rabbis such as Dovid Eliezrie (and those positive things, quite frequently) one can only say keyn yirbu — may Rabbis such as he increase both in number and in influence.