Parshas Naso – Playing Favorites or Paying In Kind?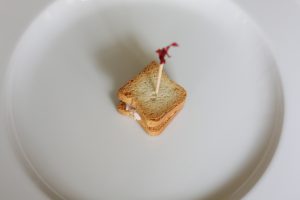 The Divine answer seems to beg the angels' question.
Hashem's angelic entourage, Rav Avira recounts (Berachot 20b) asked Him: "Master of the Universe, it is written in Your Torah (Devarim 10:17) that You do not show favor or take bribes. And yet, You show Yisrael special consideration, as it is written, 'May Hashem lift His countenance to you'! (Bamidbar 6:26)."
Hashem replied:"How can I not favor Israel? For I commanded them, 'When you eat and are satisfied, you must bless Hashem' (Devarim 8:10), and yet they are punctilious [to say birkas hamazon, the blessing after eating a meal] over even an olive-sized piece of bread."
Imagine a mortal judge excusing his showing favoritism to his nephew by explaining "but he's such a good nephew!"
I think the explanation of Rav Avira's description of the heavenly interaction lies in the words "and are satisfied." Hashem's retort was not that Jews say birkas hamazon even when they are not satisfied (which, arguably, would be an unwarranted and thus illegitimate bracha) but rather that they are satisfied with even a paltry meal.
Jews are called Yehudim, after Yehudah, whose name reflects his mother's acknowledgement that, with a fourth son, she has received "more than my share" (Rashi, from Midrash Rabbah). The quintessential Jewish characteristic is the conviction that we are unworthy of the blessings we receive.
And so, we are always, inherently, "satisfied," even if what we are apportioned is limited.
Thus, as a middah keneged midah, a "measure for measure," Hashem is "satisfied," so to speak, with even our limited service to Him.
His "special consideration" is but a payment in kind.
© 2023 Rabbi Avi Shafran
My most recent Ami column, "No MAS!", can be read here.