Lobstergate and the Hypocrisy of the Israeli Opposition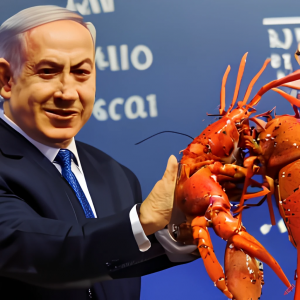 Some faces in Israel ought to be turning lobster-red from shame, instead of gloating over Bibi and Sara dining at a non-kosher restaurant in London on Shabbos.
The opposition piled on to Israel's First Couple. Chief among the critics was Yair Lapid. "There is no limit to Netanyahu's hypocrisy: He eats in a non-kosher restaurant and then runs home to vote for the hametz law."
Hypocrisy? Bibi does not claim to be halachically observant. He has shown many traditional leanings at times, and he does not show the contempt for the observant communities that the Left does. Neither of which can be said for Yair Lapid.
Not that we take lightly that Israel's face to the world found nothing wrong with being stuffed with treif food. Guaranteed – it won't happen after mashiach arrives.
In other words, what Bibi demonstrated is that he can work with coalition partners whose views he does not share, without finding those views threatening to his personal conduct, or the platform of his party. He has shown that there is a limit to the rein that he will give to some of the loud-mouthed Knesset member extremists in both the Religious Zionist and charedi parties. They can make stupid statements and introduce bills that are tone-deaf to the sounds of the rest of the world, but he will hold them in check. Exactly what the protesters claim they want to see: an Israel in which different groups can live together without anyone forcing their views down the throats of others. An Israel in which the Jewish character of the State can be accommodated by a chametz law that allows hospitals to take into account the needs of its traditional patients and their families, even if he will decide to celebrate his seder eating tortellini in a Rome restaurant. (Not excusing the treif part. Guaranteed it won't happen after mashiach arrives.)
Bibi's behavior should be reassuring to the State of Tel Aviv, not reprehensible. There should be dancing in the streets near Kaplan, not more incitement by Lapid et al. There would be, were it not for the fact that the protests have little or nothing to do with preserving democracy, and everything to do with their fear that the demography of the country has turned in favor of a more Jewish Israel than they would like to see.
Shame on the inciters! But if you are looking for some signs of crimson color, don't look to the faces of the Opposition. You'll have to turn to the infamous lobster, lying in state at the table next to the Netanyahus'. Probably planted there by the Iranians, trying to topple the government.
[Image by Craiyon]