Cheerleading Rarely Helps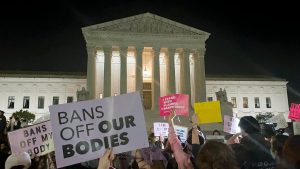 Rabbi Michael J. Broyde
Dear Rabbi Adlerstein,
There is so much truth in your open letter. Thank you for writing it.
Like you, I am grateful for our friendship and the ability to be civil even when we do not agree. I agree with you that our community is made weaker by the lack of polite discourse between opposing sides, particularly when the disagreement is about tactics or even strategy, but not core Torah values.
In truth, your comments about my article are correct on many levels. I share four ideas that I have, and that you criticize me for.
I work not to show emotion when dealing with public policy rather than with actual people, because emotions lead to bad policy.  I am a dead fish on public policy, but only on public policy. And I am proud of it – people deserve emotional support and policy needs analysis.
Many people did not cheer the fall of the Czar, since they intuited that what would come next would be worse and not better. I did not cheer the downfall of Roe, because I worry the change is bad for the Jewish people on a whole.  Not because Roe was correct, but because what comes next might be worse, I fear.
I made clear in the article what I think is a better policy on abortions than Roe, which is ethics panels; the mere act of having to ask, even if the panel permits over 90% of abortions, will reduce the overall number. This system is already in use in many Western nations, Israel included, and reduces un-needed abortions, which is what Jewish law wants. No matter how passionately I might have presented the idea, people who do not want to hear it would not hear it.
With Roe overturned, I foresee a state-by-state battle; in a highly polarized time, that repeated drama will damage the Jewish community as it engages in it and will produce bad policies for us. Furthermore being part of that battle — never-mind cheering as your favorite side triumphs — is not mandated by halacha.
Allow me to explain my first three comments – I think my final one is obvious and needs no more.  Your crucial paragraph is:
For what it's worth, I think that your essay omitted crucial elements in guiding people towards an intelligent position regarding abortion and its jurisprudential fortunes. I believe that you minimized the responsibility of Torah Jews to make Hashem's will known to anyone listening. I also believe that you ignored affect – what Jews are supposed to feel when they witness departure from His dictates, and what should be going on internally when they see people moving closer to the way Hashem wants them to live.
On the abortion issue, I do not see how "maximizing" the responsibility on Torah Jews to make God's will known, will contribute to progress towards "an intelligent position regarding abortion and its jurisprudential fortunes."    The jurisprudential fortunes of abortion are not hinged to God's will and ought to be shared in other ways. Let me explain:
First, I do not think secular law is a good vehicle for sharing our vision of what God wants generally. I am particularly sure this is so in abortion jurisprudence, because what halacha wants of Jews differs in the view of so many poskim from what it wants of non-Jews; furthermore, there is significant debate about when non-Jews are no longer allowed to terminate a pregnancy according to Noachide law – no less a figure than Rav Ovadiah (Yabi`a Omer Even Ha-Ezer 4:1) indicates that abortion is seemingly only prohibited to Noahides beginning in the second trimester (and over ninety percent of abortions happen in the first trimester!).
Second, the use of secular law – which is coercive and not merely informative – creates an environment of using the law to force "our" values on others, which is not a great model for a minority religion like ours. That was Rabbi Feinstein's repeated point as I noted in my Lehrhaus article, with which I deeply agree. As members of a minority faith, I think we should all favor policies that do not empower the majority to coerce private moral decisions, even if any given decision might seem to be morally proper in the short run.
I think my friend Rabbi Yonah Reiss, Av Beis Din of the Chicago Rabbinical Council, expresses the contrary view better than I could, and more concisely. He writes:
I think that our main concern as Jews must be that we be able to practice our religion freely. There is no right to abortion in Jewish law, but there are cases, such as when a mother's life is in danger, when an abortion is unfortunately necessary, and there are other cases, depending upon the stage of pregnancy and the medical or psychological issue in question, when a rabbinic authority might rule that an abortion is permissible. We would want to maintain our religious liberty to implement any such lenient rulings when applicable, and of course to adopt a stringent stand against abortion in cases when it is prohibited according to Jewish law, such as by declining to participate in a procedure that we believe is forbidden. I also believe that it is desirable from our perspective for non-Jews to take seriously the prohibition against abortion that exists for them as well according to Torah law, but that is true regardless of the Supreme Court decision.
I worry that the reaction you had in your article, that many Orthodox Jews have, is about values-signaling more than the policy issues. You have the chance to make clear where your heart lies, without any impact on the important moral game being played out, that will now be played out in state after state, with many of those states likely to take an absolutist stance very much at odds with an halachic perspective.
I think that public policy cheerleading — cheering on policy decisions because that gives us a chance to make a moral point we could not have made otherwise – is rarely effective as a way to reach better outcomes. Many years ago, the judge I clerked for – the great Circuit Court Judge Leonard I. Garth (yes, the same judge as Justice Alito clerked for) — once said "cheerleaders are fun to watch, but they do not win football games."  Do you think the column you wrote, or the Dobbs decision, brings us closer to where Jews or Gentile — who did not until now care to fulfill God's will – will choose to fulfil God's will?
Those who celebrate Dobbs seem to me to laud winning now, without paying attention to the long term complexities it started, with losses sure to come. Not to speak of the restrictions it is likely to place on Jews doing what halacha recommends in countless cases. I rarely view coercing people to do God's will to be a win, and this is even more so true when Jewish and Noachide law is as complex as this area, and this is ever so more true here, where our religious freedom to do as our faith recommends will be diminished.

With friendship and all the best, from your cold Litvak, who wants to follow the will of God, but feels no need to cheer this Supreme Court decision.