Putin, Explained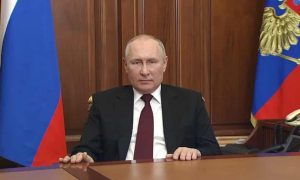 It couldn't be simpler. Putin is a despotic tyrant without conscience, who seized upon perceived Western weakness to enlarge his empire. All true – but there is much more than that. As the saying goes: it's complicated. Choosing to ignore those complications means proceeding at your own peril. Here is some analysis that may help, taken from two recent articles.
To begin to understand, writes Giles Fraser, you have to back up a bit. Over a thousand years, to be accurate, to the conversion (out of political and personal convenience) of Vladimir the Rus in the year 988. By taking the city of Kyiv to a mass conversion, the Russian Orthodox Church was founded:
It was from here that Christianity would spread out and merge with the Russian love of the motherland, to create a powerful brew of nationalism and spirituality.
Along comes the current Vladimir (born of a secular father and devout Christian mother), bent on continuing that toxic mixture, to which have been added the sting and shame of the dissolution of the Russian empire. The breakup of the old USSR with the fall of communism was to Putin what Versailles was to Germany. Add to this the irredentist urge to return Kyiv – the heartland of the old Russia – to its proper place. The first Vladimir was sainted for his role; Putin might see a halo when he looks in the mirror, rather than Satan's trident.
Ukraine is an inalienable part of our own history, culture and spiritual space," Putin said. That's what this is all about, "spiritual space" — a terrifying phrase steeped in over a thousand years of Russian religious history.
The West, which has lost the ability to relate to people who take such constructs seriously, prefers to think of Putin as a madman. Furthermore, Europe in particular – having been the home court for wars of both religious and nationalistic fervor, is inclined to see nationalism as the mother of all evils. (This is why it is so counterproductive to argue to Europeans and globalists, as so many of us do, that Jews deserve their own country no less than any other people. True, sneer the Europeans. No people deserve their own country. Nationalism is evil.)
We will have to wait a bit to learn how the West will emerge from the current debacle. Will it, in time, see Putin's urge to redeem Mother Russia as further evidence that all nationalistic leanings are evil and dangerous? Or will it come to realize that the need for people who share a common language, history and culture to forge a strong common identity is so deeply a part of human nature that it will not disappear by simply smirking at it? Will it instead come to accept a sanitized, kosher nationalism, such as that conceived of by Israeli thinkers like Fania Oz-Salzberger and (my shul-mate) Yarom Hazony?
Many in our community find themselves conflicted about the Ukraine. They react with disgust at the cruelty of Russian adventurism, and fully empathize with the pain and suffering of hundreds of thousands of innocents. (For that matter, I will state that I take no satisfaction in viewing photos of dead Russian soldiers. For the most part, they are clueless 19-year-olds, whose terms of service to their military was changed in mid-course, and were dispatched, ill-equipped and ill-prepared, to untimely deaths by people in comfortable dachas. They did not need to die, and their mothers did not need to bear the pain of their loss.) Yet, it is difficult to emotionally disengage from so many memories, recent and vintage. Bogdan Chmielnicki (a national hero in the Ukraine, who was also responsible for its unification with Russia) and his Cossacks massacred a larger percentage of Jews of the region than did Hitler in all of Europe. According to Professor Shaul Stampfer (a shul-mate at a different minyan), 18,000–20,000 Jews were killed out of a population of 40,000 Jews. More recently there were the pogroms in the first decade of the 20th century, followed a few decades later by Babi-Yar, the participation therein of enthusiastic Ukrainian volunteers was symptomatic of the savagery and cruelty of some Ukrainians that, in popular memory, outdid that of the Germans.
It is confusing, because clearly things have changed. Much intense anti-Semitism remains in the Ukraine, but a country that is thoroughly suffused with Jew-hatred does not elect a Jewish president. By a landslide, no less. At what point do we say that, two generations later, enough people there have changed that the word "Ukrainian" no longer sticks in our throats?
Fraser's article adds another important piece of evidence of change – of a transformation that came once the Ukrainians had drunk deeply from the wells of freedom and independence. The alliance of the Russian Orthodox Church with the other Orthodox (i.e. not part of the Roman, or Western, Church) churches came to end because
In 2019, the Ukrainian arm of the family of Orthodox churches declared its independence from the Russian Orthodox Church — and the nominal head of the Orthodox family, Bartholomew I of Constantinople, supported it.
The Russian Church then broke with all the other churches under Bartholomew, breaking up a "family" that had survived for many centuries. This move by the Ukrainians presaged the fierce determination we are seeing as they battle the Russians in the streets.
We move on to another enigma. The NY Jewish Week's editor interviewed Yale philosophy professor Jason Stanley concerning Putin's curious insistence that his goal was the "denazification" of the Ukraine. Has Putin lost it? Putin overruns a democratic country led by a Jew whose forebears were Holocaust survivors, and the Ukrainians are the Nazis?
Stanley is the author of How Propaganda Works, and How Fascism Works. He was able to offer explanations from both of those areas of interest.
What de-Nazification means here is that he is going to go into Ukraine, kill or imprison the democratic leaders of Ukraine and all who support them and replace them with a puppet he can control. The reason that he does this is because he can, he can lean on the history of Russia and the history of World War II, in which the Germans are always the enemies, and he is the one representing the West and democracy against the fascists and the Nazis.
So there you have it. If you are an impediment to regaining the grandiose empire of Mother Russia, you are a Nazi. Even if you are Jewish. Fascists never tell you that they are fascists. They all think that they are righteous ennoblers of mankind. Or at least the parts of it that count.
Still, this claim seems so bizarre that we will still have to ask if Putin believes it himself, and if not, whether he expects others to believe it. Professor Stanley weighs in once more:
He [Hitler] also clearly states in Mein Kampf that you should use the Allies' propaganda against them. You should reverse it, you know, "You're the fascist…" And I don't think he's trying to convince anyone. I think he's trying to mock the language of the Holocaust. It's Eastern European antisemitism. Eastern European antisemitism takes the form of saying that we Jews stole the victimhood narrative. He's mocking Jews. He saying, "The real victims are Christian Russians in eastern Ukraine. Those are the victims of genocide."
Now, where have we seen this technique before, deliberately accusing the other side of the polar opposite of what they are? Apparently, we've given too much credit to the Palestinians for the clever but audacious campaign to stick the "apartheid" label on Israel. They simply stole it from Mein Kampf!
Having learned this much about the workings of Putin's mind, we have to be taken aback by the chasdei Hashem in having kept this diabolical leader genuinely well-disposed to his Jewish citizens for decades. May Hashem now turn that chesed into protection and relief for the Jews of the Ukraine, alongside their peaceful neighbors. And may Jews throughout the Golah come a bit closer to realizing that there is no place like home.