The Highly Educated Hate Us, Too – Maybe More Dangerously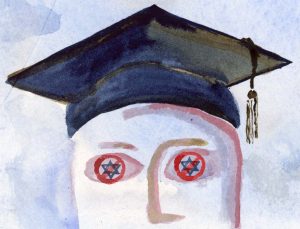 For decades, more education was presumed to be the antidote to anti-Semitism. People with more years of education showed less hostility to Jews in survey after survey. Jews and their non-Jewish allies placed their best efforts in combatting the hatred of Jews in programs of educating people about But we've gotten it all wrong, according to a new study by three professors of educational policy, as reported in Tablet. More education actually may lead to greater, not lesser, anti-Semitism.
That is no surprise to us. Even casual students of the Holocaust recall the Wannsee Conference of 1942, where the process of the annihilation of European Jewry was coordinated among Nazi leadership. Of fifteen attendees, eight had academic doctorates. The takeaway: More education does not mean more morality. Better education does not necessarily produce better people.
The authors of the study suspected that people with more years of academic study were able to discern the purpose of questions about Jews in the older surveys, and respond with the "right," more socially acceptable, answers. They tested their hypothesis by asking subjects about issues that involved Jews and non-Jews, and comparing the answers. For example, one question involved the legitimacy of Israel's describing itself as a Jewish state, with a similar query about Denmark's declaration that the Evangelical Lutheran Church is the official church of the country, to be supported by the government. Another dealt with whether academic boycotts were appropriate against countries accused of human rights violations. Some subjects received the question about China, others about Israel. Were there no bias against Israel, the responses should have been similar. Instead, they showed more respondents critical of Israel than of non-Jewish states. A classic double standard was at work; the effect was stronger among those with more education than among the less educated.
The disturbing finding screams for explanation. We think of prejudice as built on ugly – and untrue – stereotypes and conspiratorial excess. Why wouldn't education erase these? Having been professionally involved with combatting anti-Semitism, I'll venture a few observations..
Firstly, in our decades of experience we have come across two forms of anti-Semitism. The kind that receives the most attention is the crude, primitive kind that is so nonsensical that it can only be described as tragicomical. This form is in vogue with a resurgent extreme right, and with Muslim extremists around the world. It is conscious and deliberate, and pulls no punches.
Then there is the other kind, more insidious but no less pernicious. Perhaps it is more so, because those affected by it don't realize that it is there. You can't provide an antidote when a patient doesn't believe that anything is amiss with them. We call it unconscious anti-Semitism. The result of centuries of hostility to Jews, it is transmitted subliminally as part of the cultural surround. We believe it to be far more common than the overt, explicit kind. Those who possess it are often horrified – genuinely – by the thought that they are anti-Semites, and come around only when they are forced to confront its presence in their decisions. When they become aware of it, they cannot explain it with the strained, hysterical claims of the extreme rightists and Islamists.
Unconscious, often genteel anti-Semitism is an issue not only for Jews. If hatred of the Other can persist beneath the surface, we have to wonder how many Others are there that suffer from similar attitudes in the surrounding culture. It certainly supports the claim of many Black Americans that they remain the victims of large-scale unconscious hostility, even in a country that consciously elected a Black president.
A second observation, darker than the first, explains why the educated might be even more likely to hate Jews in the old-fashioned, overt way, than the less educated. The highly educated can do what "lesser" people cannot: churn out ideology. With elitist arrogance, they can determine what is wrong with the world, design their solutions, and impose them on the unwilling through the cultural power they wield. They can be the architects of totalitarianism, and destroy countless lives, whether by brute force, or by cancel culture. If a group – like Jews – can be linked (accurately or not) to the twin devils of whiteness and privilege, they will be pursued relentlessly.
The ability of educated, cultural elites to lord it over others is helped along, we believe, by a secular religion that replaces traditional religious belief. According to a 2017 Pew report, "Among all U.S. adults, college graduates are considerably less likely than those who have less education to say religion is "very important" in their lives: Fewer than half of college graduates (46%) say this, compared with nearly six-in-ten of those with no more than a high school education (58%). Highly educated Americans also are less inclined than others to say they believe in God with absolute certainty and to pray on a daily basis. And, when asked about their religious identity, college graduates are more likely than others to describe themselves as atheists or agnostics."
It is worthwhile remembering historian Paul Johnson's epilogue to one of his books,[1] warning of the power of the intelligentsia. "Far from being highly individualistic and non-conformist people, [they] follow certain regular patterns of behavior. Taken as a group, they are often ultra-conformist…That is what makes them, en masse, so dangerous, for it enables them to create climates of opinion and prevailing orthodoxies, which themselves often generate irrational and destructive courses of action."
The authors of the new study conclude with a recommendation. "Countering the anti-Semitism of the well-educated will be a political and moral struggle, not one that can be addressed by conventional approaches and conceptions of education." I concur – but only in part. Decades of experience with visitors to our Museum of Tolerance convinces us beyond doubt that tolerance can be taught, one visitor at a time. Therefore, Jewish response to anti-Semitism must be nuanced, and not monolithic. We must be politically astute in standing up to the new wave of Jew-hatred engulfing our campuses and our culture. But it is premature to abandon education as an important tool. And there are lots of people who can be won over, one at a time, by friendship and kiddush Hashem.
Intellectuals, 1988, pg. 342 ↑