Parshas Tzav – The Illness That Was Egypt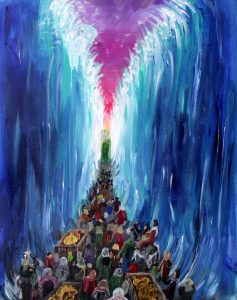 The korban todah, or "thanksgiving" offering described in the parsha (Vayikra 7:12), according to the Gemara (Brachos 54b), citing Tehillim 107, is the proper response to one of four categories of danger (though other situations may well be incorporated within them) from which one has emerged safely: 1) going to sea, 2) travelling in a desert, 3) enduring a serious illness and 4) being confined to prison. Those categories are based on Tehillim 107.
Both interestingly and timely is the fact that the Jewish national thanksgiving which is Pesach involves all of those categories. A sea had to be crossed, a desert, subsequently, had to be travelled, Egypt is described as having been a virtual prison, from which no one had previously escaped, and the Jewish people are described as having sunk to the lowest spiritual level in Egypt — a sickness of the national soul — necessitating their immediate exodus from the spiritually decrepit land.
But something is strange here. The korban todah, unique among offerings, requires as an accompaniment four groups of flour-offerings. And, equally unique, one of those groups must be chametz, leavened. (Other flour offerings, aside from Shavuos' shtei halachem, are not permitted to leaven.)
And on Pesach, of course, chametz is forbidden not only to consume but even to own.
If Pesach is a national parallel of an individual's korban todah, why would the latter include something that is anathema to the former?
What occurs is that the "illness" that a korban todah offerer survived was a physical one, whereas the national malady we experienced in Egypt was entirely spiritual.  The inclusion of chametz in the todah-offering might reflect the fact that the danger was to bodies (chametz being associated with physical desires); the dearth of it on Pesach, the fact that the danger was entirely to our souls. (The Alshich, in fact, identifies each of the four flour-offerings with one of the todah- obligating escaped dangers, and associates "enduring illness" with the chametz offering.)
Soon enough, we will be celebrating Hashem's rescue of our ancestors from the illness that was Egypt, when we recount the happening at our Pesach seder tables and declare our thanksgiving in Hallel, with not a crumb of chametz to be found.
© 2021 Rabbi Avi Shafran