Rabbi Lord Jonathan Sacks, z"l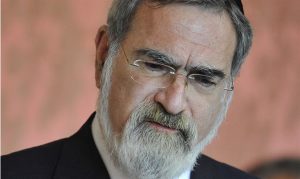 Rabbi Lord Jonathan Sacks, z"l
One could have spent all day Sunday reading the tributes to Rabbi Lord Jonathan Sacks and still not finished them. Without examining their content, the sheer volume of laudatory material assembled in the hours after his passing – including from the Arab world and from Prince Charles – testifies to his greatness.
My practice (and I believe it is that of the other Cross-Currents writers) is to weigh in only with some insight or angle that others have not contributed.[1] Is there anything left to say? Yes, I knew him, was privileged to spend time with him, and even interviewed him for a short biography of him. But I would not say anything different about those interactions than everyone else who spoke of his wisdom, his eloquence, his vision, and the great kiddush Hashem that he created in front of audiences of all backgrounds and faiths.
What more, then, remains to be said? Two points, I believe, that I have not seen stressed by others, although I could easily have missed them:
• He was more than just a giant. He may have been the sole person in the
generation who demonstrated (as a reality, not as some vague, imagined goal for a distant future) that Torah can radiate its brilliance in front of an appreciative non-Jewish audience. Just like it is supposed to. While people were awed by his insights and delivery, it was the Torah itself that bored into their hearts. Was there ever a time since the days of King Solomon that so many listeners, from such a huge swath of humankind, had to acknowledge the relevance and depth of the word of G-d?
I know that there are many, many young people who grapple with the Big Picture. Because of their appreciation of the grandeur of Torah – not their depreciation of it – they want to see that Torah has something to say to all of mankind. While the rest of us assert that it does, R. Sacks proved that it does!
This makes the challenge of his passing all the more weighty for us, the survivors. While we cannot fault ourselves for failing to have his native intelligence, most of us are quite capable of translating Torah insights into a secular vernacular that can be shared with non-observant Jews, and non-Jews.
If, as the Gemara claims, Hillel obligated the poor,[2] then R. Sacks obligated the skeptic. In Kovetz Maamarim, R. Elchonon Wasserman speaks of an imaginary soul standing before the heavenly throne to defend his life of non-observance. "How can You be upset with me for not believing in You? Maimonides praised the intelligence of Aristotle, and he lived his life as a non-believer. He was so much smarter than me! If he couldn't figure out Your existence, how can I be faulted for not doing so?"[3] If the argument has any potential traction, then R. Sacks' career is its answer. Some skeptics simply are looking for a way out. Their questions are little but excuses. Others, however, struggle with genuine questions, sincerely hoping to find answer that will support their faith. This second group could ride the coat-tails of R. Sacks. He had seen all the questions, from so many disciplines. He had considered them in great depth. And he found nothing in them that could budge his faith. People who are struggling in search of explanations and answers can turn to him as the reason that they can soldier on until they find them. In the interim, they can tell themselves, "R. Sacks was much smarter than me. He read all that the skeptics and the atheist came up with. (He was not afraid to debate them publicly.) He considered all the counterarguments to belief. And he dismissed them from a position of power and erudition. I can rely on his search until I am able to clarify my own path."
Yehi zichor baruch.
This should serve as a response to readers who read all kinds of motives into the non-appearance of tributes on these pages to a number of giants who fell in the last months. There was nothing nefarious going on, and no slighting or marginalizing intended. All of them deserved warm, appreciative treatments. But if we did not have anything novel to convey, we didn't write. If I recall correctly, no Cross-Currents tribute appeared for R. Nachum Rabinowitz, R. Zalman Nechemiah Goldberg, R. Adin Steinsaltz, or R. Dovid Feinstein. If we employ the gemara's definition of a rebbi as someone from whom you have learned even a single Torah insight, then all of them were my rabbeim. With the exception of only one, I had interacted with all of them in person. I almost wrote about one amazing story I about R. Steinsaltz that I witnessed myself – and then remembered that I had written previously about his shiur after davening in the Marina Roscha shul in north Moscow in 1988. Someone had volunteered to submit a piece about R. Zalman Nechemiah, but then couldn't find the time. ↑

I.e. those who claimed that the pursuit of their basic material needs left them no time to learn Torah were answered by Hillel's diligence, despite his oppressive poverty ↑

Disclosure: I have struggled with R. Elchonon's explanation my entire adult life, and have made no progress in understanding it. It does not conform to my experience with sincere people who have struggled with real issues that have nothing to do with serving their interest in shunning the yoke of heaven. ↑