WZO Election: Vote (No Longer) Early, Vote (Not) Often, and Still Appreciate the Moetzes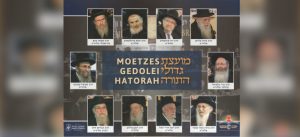 Cynics rejoice at the spectacle of rabbis sparring with each other. Supporters of the Moetzes Gedolei Torah groan in disbelief. Both reactions, however, are uncalled for. The internecine conflict regarding the WZO elections continues, but there are healthier ways to deal with it.
Some saw the reported threats of R. Aharon Feldman and R. Malkiel Kotler to bolt from the Moetzes over the WZO issue as a fatal blow to a venerable institution. That is simply ludicrous! Disagreements among Torah leaders regarding important issues has been the rule, not the exception, throughout Torah history. It is scarier to consider the prospect of consistent unanimity among Torah thinkers. We should quickly realize that such unanimity could only be maintained artificially through authoritarian rule, or in a generation of robots whose creative thought had been quashed and stilled. To the contrary, we've been at home with serious disagreements since the time Rabban Gamliel and R Elazar ben Azaryah disagreed about admissions standards to the academy. That is why many of us have an effortless time following the pronouncements of Torah leaders in the minority of instances in which we see genuine consensus – either unanimity, or near-unanimity.[1] Because agreement is not so common, when it does occur, it is impressive.
The Moetzes, some people naively thought, was somehow supposed to change all that. All the gedolim would meet in closed door sessions, hammer out their differences, and smoothly guide the Torah ship of state from calm harbor to calm harbor. This, however, is not only an historical error, but a distortion of what the Moetzes was supposed to be. Precisely because the Moetzes was not that, it will remain an effective institution for much more modest goals.
Those who find my analysis scandalous should study a remarkable article in Hakirah vol. 25, and a shorter follow-up in vol. 26. The longer article by Jerusalem attorney Moshe Fuss examines the sometimes strident insistence of R. Moshe Soloveitchik (RMS), son of R. Chaim (RCS), that his father – conventionally depicted as an Agudah stalwart – strongly opposed the formation of Agudas Yisroel and the Moetzes in particular.
The articles should be read in their entirety. I am not privy to the reasons that the author, who is Anglo, wrote such an important piece in Hebrew, ensuring that far fewer people would read it. Perhaps he didn't want his windows broken. I will summarize just a very few of the salient points.
RMS: The apparent purpose of a Moetzes is not just to decide on halachic matters, but to deal authoritatively with all matters of Yiddishkeit, so that all would have to heed its decisions. Even is we could imagine that such a body is possible, its authority would only come from a vote of all Jews. Gedolim can't be artificially appointed or created. Moreover, the assumption is incorrect. Such a body could exist in the times of the Sanhedrin, but not today. No one group can claim a monopoly on Torah and dictate policy to others.[2]
Agudah's response to him, he believed, was built on untruths, and frequently ad hominem attacks, attempting to brand him as a heretic for serving in a faculty position in a Mizrachi school, a "factory," mass-producing sub-standard rabbis. It was true that RCS attended the founding of Agudah at Katowice, but he soured on it upon his return. He saw it as more of a political party (and he opposed such parties) than an organization to boost Torah observance. RCS told his son that if he had the strength, he would fight Agudah with the same fervor that he fought the Zionists.
R. Chaim Ozer (RCO) responded with a claim that RCS had been in on the founding of Agudah from its beginning in Katowice. True, he had subsequently voiced concerns. He wanted eighteen points addressing concerns of his to be published in very precise language, and grew wary when, for pragmatic reasons, they were not published. RCO felt, however, that RCS's concerns had been addressed, albeit less formally, and that RCS should be seen as a supporter, rather than an opponent.
Fuss assembles much material in support of the contentions of both sides! What emerges are two competing narratives, both with significant evidence on their respective sides. One is tempted to almost say elu v'elu divrei Elokim chaim. RCS did have strong reservations about Agudah and the Moetzes – but they were concerns that could be met. On the other hand, RCO himself (and speaking about Agudas HaRabbonim, not Agudas Yisrael) did voice strong concerns about an organization not speaking for its Torah giants, but for its "secretaries and functionaries," who sometimes would speak in direct contradiction to the wishes of the gedolim. RCO claimed that the Chofetz Chaim at an asifa in Moscow vigorously opposed the same for the same reason!
The article should be studied in its entirety, including all the footnotes. I will share some of my own take-aways:
Strangely, the dispute had a they-lived-happily-ever-after ending. RCS did not visibly pull out of Agudah; RMS, after moving to America, became an active leader. He was forgiven the sin of having taught in the Mizrachi yeshiva. His son, Rav Yosef Dov HaLevi Soloveitchik, was also an active Agudah leader until his conversion to the Mizrachi cause.
It is very, very hard to dismiss RCS's concerns about a Moetzes, and his resistance to Agudah becoming a political party and force. Yet at the same time, RCO's vision has to be applauded. RCS was looking at a worst-case scenario; RCO was more pragmatic – and proved to be correct. It is impossible to imagine the thriving of the Torah community in Israel after the founding of the State without the leadership of Agudah in the first decades. Entering politics exacted – and still exacts – a huge toll on the image of religion in Israel, but the alternative seems to be much worse.
RCS concerns weren't so much overcome as made irrelevant. Here we go back to the point that launched this discussion. The Moetzes never served as the ultimate authority for Klal Yisrael! (Shhh! Not so loud. Some people still don't understand that.) It has done a good job for those who identify strongly with Agudah, which has done immensely important work – and still does! – for Torah interests. But it cannot be said to be the body that all Orthodox Jews, or even all right-of-Orthodox-center look to. If it ever was, it isn't today. RCS's point about not appointing gedolim seems irrelevant in regard to the configuration of the Moetzes that has been in place for decades. This means ensuring that there would be an equal number of Chassidic and non-chassidic representative, and one figure who was seen as senior and important enough to command the respect of both. Some of those figures over the years have included the greatest Torah figures – true Gedolim. Others were fine, respected leaders in their own communities, but not otherwise likely to appear in a random selection of kids' gedolim cards. That's been OK, because no one expected otherwise. (Well, some did, but they don't read this blog.) RCS's fear of artificially dictating Torah policy was mooted – at least in our day – by the fact that the Moetzes did not emerge to a position that everyone expected them to. Hence – no real problem. And those who point at this or that person on the Moetzes with disdain ("Why should he be on the Moetzes") are missing the point. The Moetzes works well for the job that it has settled on. If a few members threaten to quit, it will survive anyway because quitting will not mean that it will have lost its authority and position.
If you ask, just what is that authority and position, since it is so limited? I'll leave that to some of my good friends who are much closer to ground zero. I will only state that the different parts of the Orthodox world seem to suffer from either too much, or too little, authority. We all complain, one way or another. After decades of reflection, however, if I have to make a binary decision between those too evils, my personal choice is a Torah community in which "authority" is not a lexiconic fossil, but a reality. More on that at some future time, BEH.
*********************
Back to the WZO elections. I can say with pride that I was likely one of the first to vote for the Eretz HaKodesh slate, because the polls opened in Israel many hours before they did in the US. I am not an oleh yet, unlike my wife who is ineligible to vote. This was all before the brouhaha of recent days. Do I have any compunctions, now that it has become controversial? Would I have any of the Moetzes ruled against it – which, of course, you know it didn't.
Well, no. Not according to what I've outlined above. I do look for guidance from some of the members of the Moetzes, but not because of their ex officio roles. I definitely don't see myself beholden to the Moetzes (neither the US one nor the Israeli one) as my sole lodestars. And of those whom I consult, Rav Osher Weiss, shlit"a, is certainly close to the top of the list. His endorsement of voting in the election was enough to get me over the top, and keep me there.
That said, I stand in awe of the sheer honesty and integrity of Rav Aharon Feldman, shlit"a, who certainly will not approve of this essay. He has shown himself throughout as a wonderful ish emes, and that should be appreciated even by those who disagree.[3]
According to Rav Feldman, absent compelling reasons to believe that the votes garnered by the Eretz HaKodesh bloc will make a real difference in safeguarding the kedushah of Torah in Israel and abroad, we should not break with firm Charedi policy. "For one hundred years, Gedolim…have taken the non-compromising stance that we should not join with the Zionists in any of their organizations."
Phrasing it that way allows for interesting discussion. That position is perhaps rhetorically defensible, but it does leave room for dissent. Are the Zionists who were so strongly fought by the Chofetz Chaim, R Elchonon Wasserman, R. Reuven Grozofsky and the Brisker Rov a century ago (all cited by Rav Feldman) the Zionists of today? Or are some people in the Torah world fighting a battle against enemies that have long disappeared?
From where I sit, I see those who talk of the old theoretical Zionism as a dying breed, very much confused about whether there is direct application of the old set of principles to the present and future. I see many people (outside of the charedi world) who call themselves staunch Zionists – but mean nothing more than a fierce determination to champion the well-being of the world's largest concentration of Jews against those opposed to a homeland for Jews as Jews.
The topic requires much more attention than I can devote on an Erev Shabbos. But for those who see the point (or can point to many other reasons endorsed by Rav Shmuel, Rav Osher, and Rav Brudny, please, please go the Eretz Hakodesh site before voting closes on March 11.
Klal Yisrael does need your vote. And it won't be a violation of your principles.
E.g., the rejection of R. Yaakov Emden's proposal to bring back pilegesh a few centuries ago, or the need for mechitzah in shuls a few generations ago, or the rejections of women clergy and Open Orthodoxy as beyond the pale of legitimate Orthodoxy in contemporary times ↑

Pg.8 ↑

Aside: Several of my children pointed to an unusual development. Rav Feldman writes in the latest round that R. Chaim Kanievsky's, shlit"a, endorsement of voting was based on inaccurate communication to him of the facts. Until such time that the facts are reported properly, R. Chaim's ruling should be considered irrelevant. This, in fact, is what many, many people have been saying for years. Gatekeepers. Grand-sons. Manipulators. Up until now, however, when people pointed to a flawed communications process, they have been accused of undermining Daas Torah. It remains to be seen whether they will now accuse the Ner Yisroel Rosh Yeshiva of doing the same. ↑