Contemptible Comity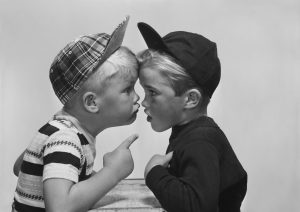 The state of political discourse in these United States today – unfortunately, including much of the American Jewish world (including our corner of it) – was well exemplified in the reactions to something Senator Chuck Schumer of New York did not long ago.
When Long Island Representative Peter King announced his retirement from Congress, some were pleased. Representative Ilhan Omar of Minnesota, never one to hide her deeper feelings, tweeted, simply, "Good riddance."
Mr. Schumer, however, although a Democrat, issued a warm tribute to the soon-to-be Republican retiree, who not only is a member of the other party but someone with whom the senator has strongly disagreed on a number of occasions.
Mr. Schumer tweeted that Mr. King, during his service in the House of Representatives, showed that he "fiercely loved America, Long Island, and his Irish heritage, and left a lasting mark on all 3."  The senator added, "I will miss him in Congress & value his friendship."
How… how… how… DARE he?
Well that, at least, was the reaction of many on the livid left.
"Good grief," read one of the milder social media responses. "Have you lost your mind?"
Most of the more than 10,000 replies to Mr. Schumer from his followers were decidedly negative, and many were quite outraged. Videos of thumbs-turning-downs, eye-rolling and heads shaking "no" flooded into the senator's Twitter feed. Some commenters suggested that the former Congressman and current fourth-term Senator, as a result of his contemptible comity, should resign.
To be sure, many Democrats have had problems with some of Mr. King's positions and statements. He voted to repeal Obamacare, opposed the redefinition of marriage and was a fervent supporter of the Patriot Act.
And he once complained that there are "too many mosques" in America, "too many people sympathetic to radical Islam," and suggested that "We should be looking at them more carefully and finding out how we can infiltrate them." He also compared football players' kneeling in protest against racism during the playing of the national anthem to Nazi salutes.
But none of that prevented Mr. Schumer from giving him credit where he felt it was due.
The reaction to Mr. Schumer's praise of a political adversary was a sad reflection of what plagues politics today, what might be called hyperpartisanosis.. It is no longer enough to disagree or even to engage in verbal duels with one's political adversaries.  They must be enemies – hated, derided, declared evil incarnate.
And the disease exists on both sides of the current political divide.  One can, for instance, consider Bernie Sanders (or Barack Obama – remember him?) to be woefully misguided about what American policy toward Israel should be.  One can reject totally the idea that a two-state solution – the outcome those two men embrace – is a path to peace in the Middle East. But disagreeing, even vehemently, with that contention, and opposing any move to try to bring such a plan closer do not, or should not, yield to vilifying its proponents or ascribing "Jewish self-hatred" or anti-Semitism to them.
Not every wrongheaded person, in other words, is wicked.
But, of course, the ascribing of wickedness is very much a part of the new blue/red American civil war.  One sees it in the online anger and insults, in the bitterly sarcastic questions lawmakers pose to people "'from the other side" giving testimony, in the chants at protests and rallies. No longer do presentations of arguments and evidence suffice. Contempt and invective must be summoned.
It's nothing entirely new, of course.  American politics has long entailed a degree of abuse and incivility.  But it seemed that, over the years, things were moving in a more genteel direction.
Alas, it was only an extended blip. Things are worse than ever.
And, as the Yiddish maxim has it, the way that larger society goes, unfortunately, is the way some Jews go as well.
Self-appointed arbiters of ostensible Jewish positions, in coffee rooms and chatrooms, comments sections and letters pages, preach about the unforgivable sins of this or that public figure or holder of a position different from the preacher's own. There are only black and white; shades of gray are for sissies.
To be sure, there are indeed bad actors in public life, people who well deserve vilification because, well, because they are villains.  But not every black activist is Louis Farrakhan; and not every democratic socialist, Joseph Stalin. What's more: Not every candidate (like Bernie Sanders) with anti-Israel fans and not every candidate (like President Trump) with anti-Semitic ones is necessarily himself either anti-Israel or anti-Semitic.
We all know better than that.
Or, at least, we should.
© 2019 Hamodia