Making It All Work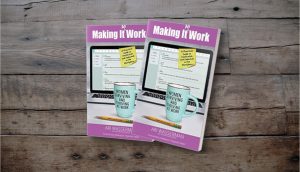 Listening to an old recording recently, I was taken aback by a statement in passing by of one of the participants. Kol kevudah bas melech penimah,[1] he opined, meant that women should keep themselves far away from the influences of the external "street" because they have a harder time than men remaining above its influences. That was a take I had never heard before!
It also seems entirely counter-factual, at least in my experience. Whether judging from the latest infidelity stories, or from the level of conversation of some people a few years out of yeshiva, the corrosive effects of the workplace are writ large all over the males. Frum women – more than men – seem to be asking the right questions and taking the right steps to hold on to their penimiyus – their inner sense of dignity, not allowing it to be abraded by the hours they spend daily in a morally challenged job environment. If anything, their performance argues for one of the competing takes on the bas melech passage: that the true honor of a woman is in her inner qualities, rather than external appearance or activities. Baruch Hashem, our women seem to do a better job safeguarding their penimiyus than the men do with their outwardly-oriented avodah.
All this makes Making It All Work: Women Surviving and Thriving at Work by Ari and Miryam Wasserman not only a gem, but a must-have for every Torah family in which a woman works outside the home. Our community is so often reactive to new challenges, waiting till a problem turns into a crisis before beginning the serious interventions. Here is a book that wisely anticipates the problems, deals with them, takes cues from those who are in the field, and empowers women well before things get out of hand. (Full disclosure: Ari Wasserman was a student of mine many years ago, and later a chavrusa for learning Tur/Beis Yosef on parts of Yoreh Deah.)
It does so much that is right. It doesn't preach. It offers a range of solutions regarding common problems, without dictating practice, recognizing that readers come from all over the halachic and hashkafic landscape. Most importantly, it doesn't rely on conjecture and assumptions. It listens to women. The Wassermans spent years interviewing scores of Orthodox women about their experiences, their challenges, and their successes and failures.
The treatment is comprehensive. The topics include: kiddush Hashem in the workplace; choosing an occupation; honesty at the interview; a husband's obligation to help at home; preparing for Shabbos; socializing with men on the job; special challenges in the frum place of employment; the single woman; issues relating to working in healthcare; socializing on the job, including drinking and office parties; avoiding vulgar speech; shaking hands; casual contact; hair covering; tzniyus in professional dress; staying connected to kedushah; dealing with failure.
Ari Wasserman's earlier work for men (A Practical Guide to Halachah in the Workplace) should have been a failure. Jewish bookstores already had multiple similar works on the shelves. Its runaway success (and popularity in different parts of the Orthodox world) testifies to his talent as a writer and researcher, and as a fully-engaged ben Torah dealing practically with practical issues. (His full-time learning after high school kept pulling him to the beis medrash through the years at Penn and Harvard Law; he is one of those rare people who took the best of competing worlds, rather than the worst.) If that book succeeded, all the more so will this work, which has no competition. Mishpacha splashed the earlier book; they'll have little choice but to do so for this new one. (Without pictures of women, of course.)
Making It All Work (distributed by Feldheim) should be hitting the bookstores just about when you read this review.
Psalms 45:14 ↑