The Measles Outbreak – A Chillul Hashem on Multiple Levels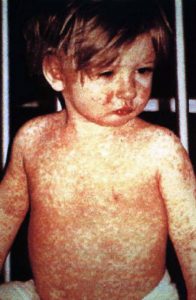 My maternal grandfather, who was a prominent pediatrician, internist and radiologist, used to say that "Judaism is the Cadillac of religions." Although my grandfather's formal Torah education pretty much ended at his bar mitzvah, he had a deep appreciation for the brilliance and profundity of Torah study – something to which he returned much later in life, after retirement. Even those who are not members of the tribe, and those who are very delinquent members,  are aware of the theological sophistication of Yahadus and its highly intricate and logical legal system. Jews were always known to be the most literate and wise people in their host societies; the God-given intellectual abilities of the Jew mirror the exceedingly advanced character of his religion.
The measles outbreak in Rockland County (and Brooklyn, and other Orthodox areas) challenges this all. In defiance of proven medical knowledge and basic public safety, anti-vaxxers have helped engender one of the most pervasive measles outbreaks in recent history. Obviously, the chillul Hashem of Jews spreading disease and the health crisis of hundreds of new measles cases are bad enough, but those who refuse to vaccinate are portraying our people and Yahadus in turn as backwards, primitive and crude, akin to the type of ignorant and delusional people and ideologies that embrace and propound conspiracy theories and other homespun bubbe-mayses.
I have spoken with healthcare professionals about the issue, and they have told me that just like those who espouse conspiracy theories, the anti-vaxxers, both Jewish and non-Jewish, are impervious to reason. Anyone with basic intelligence will realize that the need to vaccinate is compelling (I love this video by Dr. Rich Roberts about it – and here is a new article on the topic as well), but those who have gone beyond the boundaries of reason and empirical evidence will almost never be persuaded otherwise. (We must ask the anti-vaxxers why is it that 90% and upward of those with measles in Rockland County were not properly vaccinated, whereas 97% of the properly vaccinated population in any given jurisdiction does not contract measles, even when exposed? And why is it that among the hundreds of millions of Americans who are properly vaccinated, reports of adverse side effects are so exceptionally rare? Something for the anti-vaxxers to consider.)
Although Orthodox anti-vaxxers comprise a small fraction of the larger anti-vaccine movement, their actions are causing a major chillul Hashem and are endangering the entire community on many levels. These selfish people, conspicuously pictured wearing tzitzis, yarmulkes and sheitlech in articles around the globe, are tarnishing the noble image of traditional Judaism and Jews, and are of course arousing enmity, as they portray themselves to the world as devoid of seichel and refinement. Is this the image of Judaism and its people that Hashem seeks?
My grandfather administered all of the recommended vaccines to my entire family, including me. As I interface with people from the measles-infested areas, I thank God that I was given this basic and most necessary protection.