Jewish Action Magazine, Peshat in Tanach, and Jimmy the Greek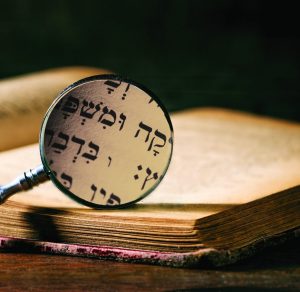 Jean Calas learned the hard way that reading a dubious peshat into a pasuk can be fatal. Mr. Calas, a Protestant, was tortured to death in 1762 on the spurious charge of having murdered his son because he believed that he was planning to convert to Catholicism, the dominant religion at the time in France. (A later inquiry posthumously sustained Calas' claim that his son had taken his own life.) The Catholics believed that Calas accepted John Calvin's take on Devarim 18:21, the ben sorer umoreh passage. Calvin, the famous Protestant leader, paraphrased it as, "The Lord commands that all those who are disobedient to their parents be put to death." Had Calvin been willing to consider the Jewish approach to the verse, Calas perhaps would have been spared.
Calas aside, if Calvin were correct many more of us could be in deep trouble. Fortunately, there are many ways of understanding almost any pasuk in Tanach. Centuries of our meforshim have given us many different approaches, allowing us to share the variegated responses that only a Divine text can evoke.
You would think that after all this time, no strikingly new methodologies would appear. In fact, there has been a quiet revolution in parts of the community in devoting more energy in looking at the plain peshat of Torah text, especially utilizing literary techniques that emerge from the secular academic world – techniques which, in many cases seem to have been very much part of the methodology of Chazal.
The current issue of Jewish Action devotes a number of articles exploring some of the current issues in how to approach Tanach. While tensions between proponents and opponents of the "new" approaches have been simmering for years, the editors diplomatically chose to ignore them and simply present to readers in the space of eight articles some of the views and some of the personalities on both sides.
There are contributions from the past (Nechama Leibowitz) and present. Eliyahu Krakowski provides a fascinating historical review of when learning Tanach went out of style, and why.
Traditionalist presentations are made by from both charedi and. Dati-Leumi perspectives – which may not differ at all. Rabbi Nosson Scherman's pithy explanation of Artscroll's goal – "to explain the pasuk as Chazal and the major meforshim understood" – contains much to think about. Rabbi Yaakov Ariel gently places, rather than throws, a gauntlet when he makes room for the new literary approaches, as long as they do not contradict the approach of Chazal. Rabbi Netanel Wiederblank offers an excellent and more detailed consideration of how important it is to understand the key personalities of Tanach through the lenses of the baalei mesorah.
We meet two popular teachers – again, one charedi (Rabbi Dovid Fohrman) and one Dati-Leumi (Dr. Yael Ziegler). Both could be describes as moderately tied to the new literary approaches, but not in the extreme.
It remains to explore what pitfalls, if any, attend to the new approaches. I can think of two that are worthwhile making explicit for our readers.
The first is where the new approaches sometimes lead. All those featured in this issue maintain a healthy respect for Chazal. Others who devote much time to the new approaches use them in concert with Chazal, or to demonstrate the necessity for the drashos of Chazal. The latter can only be appreciated by first determining what the simple peshat is – and the loose ends that remain to be addressed. Thus, paying keen attention to peshat becomes a tool in developing enhanced appreciation of the contribution of Chazal, rather than lessening it.
Unfortunately, that is not always the case with others enamored with or associated with the new, literary approaches. One hears all too often from those who run to the new approaches because they are running away from the old ones. They see the literary approaches as a welcome refuge from the traditional ones. Some are openly contemptuous of Chazal, seeing their world view as fanciful and ignorant of realities that are appreciated by contemporary scholars. When they offer an alternative to the positions of Chazal, they see them as superior and more enlightened, rather than as a base level from which Chazal departed for good reason. They regard as anathema the notion that a particular story line can be dictated by the musings of old rabbis.
A subset of this attitude is associated with the learning of Tanach – particularly in regard to its important personages – begovah einayim, at eye-level. Tired of placing the avos and others on a high pedestal that removes them from scrutinizing them the way we examine familiar people, advocates of this approach insist on understanding them in familiar terms. They speculate about their inner conflicts, their disappointments, their deficiencies. They do so good a job humanize them (only so that we can relate better to them, and learn from their lives, of course) that they bleed them of all their kedushah, of all that is important to our understanding of why they were so beloved to HKBH and significant to us. Because the Tanach begovah einayim camp leans heavily on the new literary approaches, proponents of more moderate uses of these tools are put on the defensive- which is understandable. They may very well be in the best position to convincingly show why those approaches are not a bor b'reshus ha-rabbim, a public spiritual menace. Among the advocates are enough people with yiras Shomayim that I will assume that they can succeed.
There is, I believe, another cause for hesitation, although it involves fewer people. The training I received from a number of my own rabbeim makes me a member of that smaller group.
None of us have an infinite amount of time available to learn. We have multiple goals when we open a sefer. I am not aware of a single, magisterial work that explains what we are to look for when we enter the beis medrash, other than the hope that our learning should be lishmah.
Some of us, however, do make assumptions about what learning is supposed to do for us. Not the least of our goals is to be instructed by Hashem's wisdom. That's what the word "Torah" means. We believe that Torah study is valuable because we encounter the Mind of G-d in its words. (The letters of Anochi, the first word of the Decalogue, is taken by the gemara (Shabbos 105A) to be an acronym for (at least according to one reading) "I wrote Myself into the Torah and gave it." Torah thus becomes the place where our minds are bathed by the presence of HKBH's chochmah.
Therefore, when we budget our time, we want maximum assurance that we are going to come away from our learning session with something that is part of HKBH's greater message. When we are forced to choose between different authors and works, we behave very much like handicappers at a race track – we try to put our money on the likely "winner." In assessing the likely quality of a candidate's performance, we will take into account piety, scholarship, depth, past performance, and proximity to Sinai. The closer that a figure lived to maamad ha-nivchar, the more weight we will generally assign to his work. A contribution by a known rishon has to be generally more attractive in this regard than that of an unknown acharon.[1]
While Torah by its nature leaves room for new insights in every generation,[2] not all attempts at uncovering such insights and meaning end with the same degree of success. There are an infinite number of ways to interpret text. Not all of them contain enough emes to be termed Torah; of those that do, the amount of HKBH's emes that they contain varies.
The bottom line is that it is, baruch Hashem, a crowded field of competitors out there. It will take some convincing to get me to spend quality time with material of recent vintage, especially when it openly concedes to be a new approach. This is not to imply that such material cannot contain insights of sterling worth. It does mean that many will remain skeptical as to whether to spend an hour with a new entry, when they could be spending it with a classic.
The issue comes to a head in the classroom. While experienced adult consumers may know enough about themselves to be drawn to particular contemporary authors, planning a curriculum is by its nature a statement about worth. When a teacher in the classroom picks from the new approaches rather than from the more or less standard fare, he or she subliminally transmits values about the greats of the past relative to the present. אם הם כבני אדם וכו'.
For this particular writer, when all is said and done, Rabbi Scherman's contribution to the discussion[3] remains the most important.
This is more of an art than a science. There is no formulaic method of choosing between competing works. We might pass over something very early not because we think it lacks gravitas, but rather because we believe that is has so much, that we won't be able to penetrate to its essence. Our moods matter as well. At times, our souls will stand to be better impacted by a sharp vort from a particularly skillful baal derush than by the depth of a rishon. The exceptions, however, do not invalidate the rule. What we are looking for every time we sit down in front of a sefer, though, is something that will strike us as making HKBH's journey, kivayachol, from shomayim to aretz to speak to us worthwhile. ↑

See, especially, the introduction to Rav Kook's Eyn Aya"h. ↑

Referenced above ↑