Eulogy for Amiad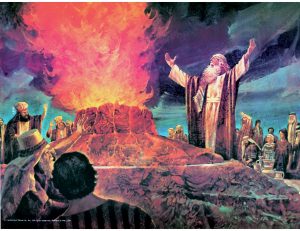 [I could not find out the name of the author of this beautiful poem, but thought it more important to get it out while the wound is still fresh in all of us. It was translated by Rochel Sylvetsky from the original m with the writer's permission, and sent to us by Harvey Tannenbaum of Efrat. UPDATE: One of our readers, Yaakov Borow, provided the following: [The author is] אלישוב הר שלום. The referent of the Hebrew words towards the end is a tefilla said by Eidot Mizrach on Rosh Hashana and Yom Kippur asking Hashem for mercy. The tefilla opens with עת שערי רצון להיפתח and the refrain repeated between each stanza is עוקד והנעקד והמזבח]
Greetings to you
Elijah the prophet
I wish to tell you
That there is no need for you to attend –
The blood of the circumcision has already been spilt.
And the infant? Where is he?
Here he is – he lies before you
He is yours.
Not moving, nor stirring
Gone as he came.
Pure, perfect, innocent offering
Gone to rest under the wings of the Divine Presence
His laughter never heard
His tears never soothed in a mother's arms
His bright sayings never uttered
And no, no one will call for him by name.
***
Greetings to you, Prophet
Perhaps you can bring
A measure of consolation to my people?
A full recovery to the young mother?
She whose joy has faded
With the son she gave birth to
And never knew –
Not his fragrance
Not his form.
She will only know
That within her
She carried
A young and holy life
A child of kingly spheres.
***
Greetings to you
Elijah the Prophet
Greetings, Peace –
But there is no peace.
עת שערי רצון להיפתח
העוקד, הנעקד, והמזבח
As the gates of good-will are to open
Remember Abraham binding Isaac on the altar.