Make Tehillim Sing!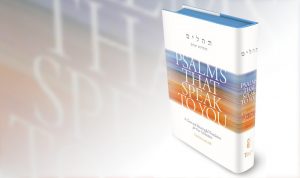 "This new translation of Tehillim will change your life!" My friend in Johannesburg was exultant. I reacted with the enthusiasm of one who contemplated spending an hour looking over a list of new offerings on the Mongolian Stock Exchange. In Mongolian. Why would I care about a new translation? All the competent translations I'd seen struck me as about the same. The difference usually was the page format. Some offered facing-page translation, others some variety of interlinear presentation.
My friend insisted that I take a deeper look. I did – and I got it. He was right. Rabbi Yitzchok Leib Bell's Psalms That Speak To You works like no other that I have seen. It is a translation that captures not just the meaning of the words, but the heart that went into their authorship. It is a translation for those who want to daven Tehillim, not to read or study it.
Translators have to make tough choices. If they choose absolute fidelity to every word, the result is choppy and clumsy. If they get too colloquial, they have crossed a line into paraphrase. In the Torah world, we have far too much yiras ha-rommemus for kisvei kodesh to go for the latter. But the former often leaves people doing a second round of translation in their own minds: "Now how would I say that in my own words?" That presents no problem if you are studying the text. But it is unwieldy if you are trying to pour your emotions into a conversation with HKBH, using Tehillim as the best vehicle ever known to Man to do so. You wind up more brain-squeezed than heart-felt.
What we needed was a translation that is scrupulously faithful to the spirit and content of our mesorah, but whose words preserve the cadence, the feeling of the original, and which express the profound yearnings of the soul in words that we would use ourselves. Psalms That Speak To You does all that. It makes Tehillim sing!
Rabbi Bell possesses the literary instincts of a good translator. The words he chooses flow smoothly and effortlessly. Skeptics that we are, thought, why would we trust him? We won't accept a pleasant-sounding product if it is not faithful to the original. Rabbi Bell assures us that every choice he made between competing understandings of a word or phrase is backed up by a traditional commentary well within our mesorah. I'm inclined to accept his word. He is a punctilious talmid chacham, and he delivered in every instance that I challenged him.[1]
Here are a few examples of the difference between the Artscroll translation (AS) that has served us well till now, and R. Bell's (PTSTY), taken from well-used passages:
| | | |
| --- | --- | --- |
| Text | AS | PTSTY |
| 145:3 | Hashem is great and exceedingly lauded, and His greatness is beyond investigation | G-d is great and beyond praise; we cannot estimate His greatness |
| 13:3 | How long must I set schemes within myself, is my heart melancholy even by day… | How long must I make plans for my aid, and each day my heart be filled with grief… |
| 19:2-3 | The heavens declare the glory of G-d, and the firmament tells of His handiwork. Day following day utters speech, and night following night declares knowledge. | The heavens proclaim the glory of G-d and the skies declare the work of His hands. Each day arouses praise of G-d, and each night conveys knowledge. |
| 22:2 | My G-d, my G-d, why have You forsaken me; why so far from saving me, from the words of my roar? | My G-d, my G-d, why have You forsaken me? Why do You remain far from my salvation and my cries of distress? |
| 130:4-5 | For with You is forgiveness, that You may be feared. I put confidence in Hashem, my soul put confidence, and I hoped for His word. | Forgiveness is Yours alone, so that we fear only You. I put my hope in G-d; my soul has hope. I wait for His word. |
| 142:3-4 | I pour out my plaint before Him, my distress I declare before Him. When my spirit faints within me – for You know my [perilous] path; on this road that I wal they have laid a snare for me. | I pour out my speech to Him and tell Him of my troubles. When my spirit collapses, You know the difficulties I face. Wherever I go, they have hidden traps for me. |
Psalms That Speak To You is distributed by Feldheim, and available in hard-bound and compact paper-bound formats.
I did chide him for not providing a list of his authorities. I urged him to make them available through a website. If enough users think similarly, I think he will do it. ↑