Airbnb is Anti-Semitic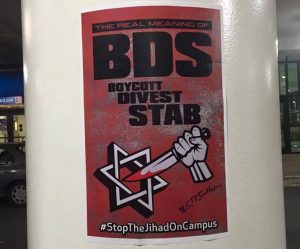 I rarely disagree with my good friend Rabbi Avi Shafran, even privately. Public disagreement between us is rarer then good single malt being left unfinished at a high-end kiddush. Friends, it must be time for another round of drinks. This disagreement is major; the implications of my friend's piece spell danger to the Jewish State, and to Jewish lives.
It is anti-Semitic to treat Jews differently than any other people – period. End of discussion. Acceding to an expectation that Jews are tolerated only when they live on a higher plane than others is intolerable, and puts us all in jeopardy. If we will be allowed safety and security only when living like angels, we had all better up our insurance policies. (If I were working for Lloyds of London, I wouldn't issue them. We are not all going to be perfect.) And while we all believe that our security only comes from HKBH, that does not stop us from conducting our hishtadlus for Jewish safety with full vigor. That hishtadlus demands that we call out as morally repugnant any explicit or implicit demand that Jews need to act differently than anyone else to enjoy the rights extended to all others.
We ought to remind ourselves of Natan Sharansky's 3Ds that served well as a measure of anti-Semitism for decades: double-standard, delegitimization, and demonization.[1] Airbnb's decision to delist Jewish properties in Yehudah and Shomron was a clear example of double-standard at work. Airbnb did not take similar action in several other trouble spots. Agree or not, there is an alternative way of looking at the present exercise of Jewish control than calling it occupation. Israel calls the area "disputed territory."[2] No Palestinian nation existed in those areas, only one that was to have been created by the UN Partition of 1947, which was rejected by all Arabs concerned. Palestine, the state-to-be, was then "occupied" without much fanfare by Syria, Jordan, and Egypt. The final status of that area should be, according to Israel, determined by direct negotiations between the parties – something Israel has been willing to do, and the Palestinians steadfastly refused.[3]
There are patently unambiguous "occupations" around the world, and no one raises their voices against them. Chinese occupation of Tibet is clear-cut, bloody and aimed at cultural obliteration. Airbnb lists over 300 properties there. There is no action pending in equally unambiguously occupied northern Cyprus (occupied by Turkey) or the Western Sahara (occupied by Morocco). If we were to add dozens of more ambiguous occupations (Russia of Ukrainian Crimea), Airbnb would need overtime help with the delistings.
Airbnb – acknowledging that their expertise in not in international affairs – nonetheless picked one conflict out of many for boycott. Furthermore, despite their lack of expertise, they determined who was at fault for the continued impasse. It is not Hamas rockets, PA corruption, or Palestinian intransigence. Rather, it is "the Israeli settlements in the occupied West Bank… [that] are at the core of the dispute between Israelis and Palestinians." They chose to boycott the Jewish State, while they have boycotted no other. That is anti-Semitism, and it has to be treated as such. With a full throat. Failure to do so both encourages anti-Semitism, as well as tacitly supports the contention that the "occupation" is the chief cause of Palestinian evil and savagery.
Rabbi Shafran wrote that Airbnb's reasoning – inconsistent as it may be – does not necessarily show anti-Semitism at work. It may reflect the truth of the Torah's calling us a people that dwells alone, not reckoned among the nations:
The crazy attention the world gives Jews and the country established for them should inspire us, confirming as it does the truth of the Torah, which includes what Bilam may have meant as a curse but which stands as a silent yet deafening testimony to the specialness of Klal Yisrael.
This is unacceptable. The specialness of Klal Yisrael should guide us to constantly improving ourselves before Hashem, and before the rest of the world. It is for us to reflect upon, but never something to be deployed against (or for) other groups. We should not use it to claim "superiority" (that is not what it means), nor to give them a license to mistreat us. We don't give Paroh a free ride because the Egyptian exile had been foretold to Avraham. He was punished dramatically because it wasn't his business to carry out the Divine decree (Rambam), or because the crimes he committed were far in excess of what Hashem called for. (See Ramban, Bereishis 15:14.) Airbnb and its BDS colleagues are not interested in benignly maintaining an isolation to keep Jews holy. They mean it, like Bilam, as a curse. And we don't accept curses – even straight from Hashem – as matters of fact. We work to minimize them.[4]
Let's keep our specialness for what it was intended – consciousness of never taking a moment off from our mission of maximizing k'vod Shomayim. It has nothing to do with Airbnb's treachery, which must be resisted. The piece should not have been written. Hamodia should not have published it.
Please tell me, Avi, when we can be friends again.