Snatching a Smartphone From the Jaws of Defeat: In Tribute to Mishpacha and Others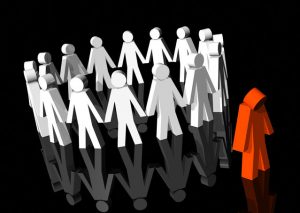 If I hadn't been standing in the Mir, I would have yelled out "Eureka!" even though I wasn't even near a bathtub. It was one of those moments when you get it, because someone outside your framework has forced you to reframe something you took for granted. In my recent case, it was the role that our Orthodox media plays in our lives.
It began with an embarrassing episode. A non-Jewish friend was in town. A real mensch, a close advisor to the President, he takes Scripture seriously, and had heard quite a bit about the way Orthodox Jews extracted meaning out of every word of G-d's book. He had asked to spend some quality time experiencing the traditional Jewish approach to learning Chumash. I figured that I could enhance the experience by showing off the Mir. [NOTE: Before you get apoplectic, yes I am familiar with the halachos of what is, and what is not appropriate for non-Jews to study, and have gone over guidelines with gedolei ha-poskim.]
I picked up my guest from his hotel at around 8, plopped a black yarmulke on his head (which ensured that we would not need to explain why we were there) and we took a cab directly to the Mir. Because it was bein hazemanim/ semester break, davening / prayer was going on in the main beis medrash/ study hall, rather than learning. (Eventually, the beis medrash filled up after the minyanim ended, which was impressive to my friend, since he understood that everyone there was doing during their vacation exactly what they were doing the rest of the year. They clearly loved this stuff.) So my friend was treated to what is taken for granted by many who learn in that building and find the beis medrash completely full. We had to park ourselves on a landing of a staircase. This definitely added to the experience.
A few minutes after we began to learn various passages in Bereishis, a very chassidish looking guy spotted us, and with urgency in his voice, asked if we had a phone. Without thinking of the implications, I handed him my Samsung. The fellow looked at it, and recoiled in horror. He thrust it back in my hand, and high-tailed it out of there.
I had some explaining to do. I went for broke. I explained the campaign against smartphones and connectivity, and that many people bought into the message. How they regarded anything involved with internet use as a threat to their souls. That launched us into a discussion about holiness, what it is, whether it shows itself in actions or in what fills a person's mind, what things are incompatible with it. By the time we finished, my Christian friend found beauty and strength in the reaction of the chassid who did not have to take time to weigh his options. He had internalized a value strongly promoted by our community, namely, that a good Jew does not take chances with his neshamah. He will flee from anything that might threaten its sanctity. He doesn't really stop to ask himself whether he can "afford" to pay such a steep price.
Because of my professional responsibilities, I have met many, many traditional Christians. They take G-d seriously, and are committed to virtuous living. They are scared, fearful, hurt by what is happening around them. Their religious affiliation once made them quintessentially American; in the last few years alone, they have become a cultural minority, often reviled and detested by the cultural elite. Most importantly, they are aware that popular culture rejects – in practice, if not often in principle – the values and virtues they admire and would like to pass on to the next generation. Many insist on sending children to religious schools, sometimes continuing through high school and college.
However, although they realize that the popular culture that surrounds them is corrosive, very few are willing to eschew it. Almost all of them drink deeply from a cultural well they know is poisoned. There are multiple reasons for this, some of them having to do with Christian notions of an obligation to evangelize, i.e. to tell their story to the world. That makes it hard for them to think of cultural isolation. For the most part, they will watch the same movies, tune it to the same television, listen to the same music, and read the same books as more secular Americans. They are either unwilling or unable to do what Orthodox Jews have done, which is to deliberately limit and circumscribe participation in general culture.
And that we do, in all forms of legitimate Orthodoxy. Within our community we see Jews who keep anything secular at arm's length, and others who believe in accessing much of it lechatchilah. But all of us have to frequently say, ad kahn – just so much, but not more. We set boundaries and limits, not just for children, but for ourselves as well. We all seem to follow the beautiful model that R. Mordechai Rogov z"l (Rosh Yeshiva of Skokie; nephew of R. Boruch Ber) saw in the three miracles associated with Soro's tent. Brachah was commonly found in the dough; a lamp burned from erev Shabbos to erev Shabbos; a cloud hung outside the tent. R. Rogov summed up the three as a single evocation of the Jewish home. Within the home, a child will find only kedushah. He will know, however, that when he steps outside, he will find clouds and murkiness. Different groups will dispute whether those clouds ought to send us running for cover, or just reaching for a firm umbrella. But we all recognize the clouds and protect ourselves in some way.
It is easier today than it was a quarter century ago. General culture is inviting not only because it appeals to us, whether for good reason or not. It is inviting because societies seem to require both what is called "high culture" and "low culture." The latter – forms of entertainment, music, dance, news sources, literature, sports – is so ubiquitous that it seems to represent a genuine human need. Which means that if a particular subculture cannot offer its own forms, its members will find it elsewhere. ("Low" is not meant as a pejorative. It does not imply primitive, or substandard. It does mean cultural elements that do not require specialized training to appreciate, or elite rank to be able to participate.)
Our high culture will always be Torah. It is the topic, the literature, that always will have pride of place and eternal value. We will encourage as many people as possible to involve themselves with it, but it will always take some special skills to fully participate.
If I be am allowed to speculate, I would argue that for centuries, Torah served as a kind of low culture as well. While not everyone could handle depth learning or write commentary or responsa, everyone could listen to an Ein Yaakov shiur, listen to a lighter vort, delight in a few gematrias, or trade a few riddles on the weekly parshah. In other words, Torah was not only a higher calling in its most serious applications, it served at times as the source of diversion and (may I say it?) even entertainment. If this is true, it would give new meaning to the statement in the Mishna that hafoch bah, hafoch bah, dekula bah/ turn it over every which way, for all is contained in it. Perhaps even the material for the times we need to lighten up.
Clearly, this is not where all Torah Jews find themselves today. In all but the most insular communities, committed Jews have been venturing outside of Soro's tent to find entertainment, news, etc. There may be some good in that, but there are huge attendant risks. People pick up all sorts of subliminal influences from general culture.
Not so long ago, the tide shifted. The Torah community became completely self-sufficient in regard to low culture. To be sure, frum Jews before this shift could avail themselves of a small but steady supply of Jewish music, a few Yiddish broadsheets, and some periodicals. They were all important trail-blazers, but they could not fill all the demand. People were still going outside the community for their low culture.
That has all changed. There is so much out there that is home grown, that we don't have to touch anything outside the eruv if we don't want. (Some of us do want. I'm not taking sides. I believe, however, that it is definitely healthier for some – many – families not to go outside at all to find entertainment and diversion.) We can listen to many hour of Jewish music without hearing a bar repeated. We can access libraries full of popular fiction, and popular non-fiction. Women can participate in professionally produced drama events, both on stage and in the audience. In some places, dance as well. Poetry – a staple in the times of the rishonim – is beginning to reemerge. Humor is never difficult to find. There are YouTube channels entirely sourced in the observant community. Dailies and weeklies like Hamodia, Yated Neeman and The Jewish Press keep readers informed about events and personalities within the community through inside reporting, and up to date about developments in the US and abroad through new services. Subscribers have more content at their fingertips than if they were to watch CNN or MSNBC, which they don't. Given the preponderance of women in editorial positions in the Orthodox Jewish press, we should not be surprised that women have their own glossy weekly in Binah.
The crown jewels of cultural self-sufficiency for the US Torah community, I believe, belong to Mishpacha. We're not talking chiefly about content. We likely have Cross-Currents readers who agree with most of what they read in Mishpacha, and others less so. That's understandable. A Torah world in which there is no difference of opinion will intellectually shrink and shrivel from lack of individuality and creativity. These differences, however, do not put a dent into the formidable accomplishments of the glossy weekly. Those accomplishments may be best appreciated in the context of this discussion – how they help a community that requires a certain amount of cultural separateness in order to thrive. It is the powerful, subliminal messages that come packaged with every issue that I want to applaud.
In a world that no longer has any heroes, Mishpacha focuses on the lives of people worth emulating – leaders of the past and present, as well as the otherwise unknown and unsung heroes.
In a world in which all strongly-held moral positions are ridiculed, readers constantly read about virtues like devotion to principle, loyalty, consistency, honesty.
In a world in which so much entertainment requires sensationalism, schadenfreude, and visiting the darker side of life, Mishpacha refuses to go there, without diminishing its ability to hold the interest of readers.
In a world in which fewer and fewer people have the advantage of a two-parent family (or even care), Mishpacha celebrates it and offers sound advice to parents
In a world in which readers are bored unless talking heads are shrill and uncivil ("When they go low, we kick 'em," to quote former Attorney General Eric Holder), Mishpacha just doesn't go there.
Some our readers who are outside our community will imagine that the content of the magazine must be overly moralistic and preachy. It may be at times – especially some of the Letters to the Editor. For the most part, though, readers don't seem to think so, or they would not be coming back for more.
Which means that as much as we should appreciate the blessings of Mishpacha and others in the haredi press, it is the readers who should come in for loud and clear praise. Some parts of the Orthodox world find Mishpacha too far to the left, because it incorporates more openness than they bargain for. Other parts find it too confining, demanding far more access to general culture. For literally hundreds of thousands of people, however, the success of Mishpacha represents the commitment of a community that insists on creating a safe space for their avodas Hashem. They turn to Mishpacha as an invaluable aid in maintaining a balance between isolation and engagement. Seen against the backdrop of other groups, it is a testimony to a Torah community willing to step back from the surround, and consciously limit its intake of certain commodities, knowing that they will not advance its mission. We have much to be proud of.
Those steps back are, at least at the moment, unimaginable or unattainable in other faith-communities. They move in through increasingly hostile times at their own peril.