What's Not Necessarily in a Name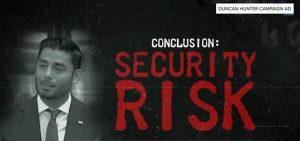 Unless you happen to live in California's 50th Congressional district, which encompasses parts of San Diego County and Riverside County in the south of the state, you won't have to choose between incumbent Republican Congressman Duncan Hunter and his Democratic opponent, Ammar Campa-Najjar.
But if you did reside in that relentlessly sunny part of America, you would probably be somewhat suspicious of Mr. Campa-Najjar, not only because he is only 29 years old but also because he has a Palestinian father and a Mexican mother, lived as a child in Gaza and once attended an Islamic school in San Diego. And if that didn't dissuade you from pulling the lever for him, there is the fact that his father served as a Palestinian Authority official.
And his grandfather was Muhammad Youssef al-Najjar, a "Black September" terrorist involved in the murder of 11 Israeli athletes at the 1972 Olympic Games in Munich.
Equally disconcerting to some, Mr. Campa-Najjar worked as Deputy Regional Field Director for President Obama's reelection campaign, and subsequently worked for the Obama White House.
His opponent, Mr. Hunter, has bravely publicized all that, and recently warned in an ad that Mr. Campa-Najjar is working, along with alleged Islamists, to "infiltrate Congress" and so represents a "risk we can't ignore." The district's base is solidly Republican and the incumbent is expected to win.
That, despite the fact that Mr. Hunter and his wife have been indicted by federal prosecutors on charges of wire fraud, falsifying records, campaign finance violations and conspiracy. They allegedly used hundreds of thousands of campaign dollars to pay for things like luxury vacations, fast food, theater tickets, racetrack outings, alcohol and family dentistry bills.
Speaker of the House Paul Ryan was sufficiently upset at the allegations, which he called "deeply serious," to remove Mr. Hunter from the three House committees on which he sat.
But Mr. Hunter has denied the charges, and the choice between him and Mr. Campa-Najjar would seem a stark one.
Only it's not. While nuance and fairness have largely left the electoral building, they are not yet entirely expired. So let's try to revive them for a few paragraphs.
Not that his religion should make any difference, but Mr. Campa-Najjar is a proud Christian, and has described himself as "an apostate" in the eyes of Islam. His father, during his stint in the PA, spoke out in favor of peace with Israel and renounced hatred for Israel; and the candidate himself, who was born 16 years after his infamous grandfather was dispatched by Israel, has denounced his elder and terrorism in the clearest terms.
As to the Middle East, Mr. Campa-Najjar supports Israeli sovereignty and, referring to his family's fleeing Gaza, asserts that "To achieve peace, Palestinians and Israelis will have to make the same personal choice I've had to make: leave the dark past behind so that the future shines brighter through the eyes of our children."
Mr. Hunter's insinuations that Mr. Campa-Najjar is a Muslim and a threat to America were dismissed as "absurd and classless" by Nick Singer, the challenger's (Jewish, as it happens) communication director.
I'm not endorsing any candidate here. Were I a resident of the San Diego suburbs, I would do some real research on the positions of Messrs. Hunter and Campa-Najjar on various issues, and base my voting decision on my judgment about which contender is more in line with my priorities.
But the facts of Mr. Campa-Najjar's ancestry would not be part of my calculus. There was a time when Orthodox Jews were suspicious, often rightly, about black candidates for public office. But some of our closest and most reliable public service allies today are African-Americans.
To be sure, there are currently Congressional candidates with Middle-Eastern or Islamic backgrounds who seem beholden to anti-Israel constituencies – people like Rashida Tlaib in Michigan or Ilhan Omar in Minnesota. But a sign of political maturity and savvy is rising above generalizations and being able to distinguish among members of various groups.
What's more, even candidates who may have said wrongheaded things, like Alexandria Ocasio-Cortez, who won the Democratic primary in New York's 14th congressional district, should not be written off as enemies. Ms. Ocasio-Cortez hastily criticized Israel's use of force against protesters in Gaza but later admitted that she is "not an expert on Middle East affairs." and vowed to "learn and evolve" on the issue.
How her evolution will unfold will have to be seen. But being able to learn and evolve on issues – including the judging of candidates solely by their ethnicities – is most certainly a praiseworthy thing.
© Hamodia 2018