#Metoo: Why Asking Whether Sexual Harassment or Adultery is Worse is a Terrible Response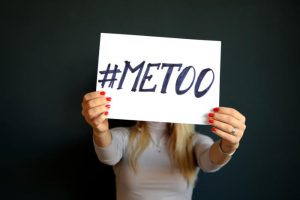 By: Chayi Hanfling
A recent post to Cross-Currents questioned whether sexual harassment or adultery is worse. It then posited that since the left excuses all sorts of sexually sinful behavior they have no right to lecture "us" about sexual harassment from our politicians. It was a provocative post and readers will surely gain from hearing another perspective on such a sensitive topic.
The author begins by saying that this recent "moral crusade" is very confusing and that anyone who is the "slightest bit guilty" is being punished . Let me break this down for those who apparently find this "moral crusade" confusing. It really shouldn't be; it should also not take a "crusade" to point out what should be obvious to anyone, especially observant Jews: Don't touch a woman without her consent. Don't make unwanted sexual advances towards a woman, particularly in the workplace and particularly when you hold a position of power over her.
The author speaks of the left making a big deal if "you make an inappropriate comment to a woman". This line is especially telling. It minimizes what women have experienced, and creates a straw man in place of our experience. (It must be pointed out that "women" in this regard include more frum women than anyone wants to believe, including too many at the hands of supposedly frum men.) Not a single man that has been accused in the last few months since women have started coming forward has been accused of "making an inappropriate comment." Most of the charges have been actual sexual assault with some cases of extreme sexual harassment, the details of which are best not made explicit in a frum publication. In a world where Brock Turner sat in jail for only three months after brutally raping an unconscious women, acting like men are being crucified for "making comments" is incredibly out of touch with reality.
The author claims that "the left" doesn't care about adultery, citing some famous leftist heroes who committed adultery and yet remain revered. This does not stand up to fact-checking. Adultery is not and will never be a partisan issue, but simply a human one. In search of Republican icons who are known adulterers, there is no need to go back to the 1930's, when according to the thinking of many, men were real men, and women knew their place. The very current honor roll includes Newt Gingrich, John McCain and Rudolph Giuliani, among many more. And then there is the inconvenient fact that only one party ran an unrepentant adulterer for president, and it wasn't the "left".
While speaking about Donald Trump, the author says that if those on the right would be outraged by his behavior it would be his adultery not his "alleged sexual harassment". Trump was accused of sexual assault by about 15 women and counting, and extreme sexual harassment of many others. He was caught bragging about sexual assault on a recording that we were all "privileged" to listen to. Roy Moore, who the author mentions later, was also accused of the sexual assault of several women, some of them minors. One would assume that someone who is attached to his Jewish values would be able to summon outrage over this heinous behavior, irrespective of whatever adulterous indiscretions he was also guilty of. With all our emphasis on kedushah and tzniyus, how could it ever come to pass that disappointment (or even outrage!) at a licentious attitude towards so-called "private" sins between adults could lead to less sensitivity and outrage about the abuse of women through sexual assault and the wholesale cheapening of women through persistent, pervasive harassment, even if they are not all capital crimes like adultery? We get exercised often enough about halachic failings that are also not capital crimes. Why are we so glib and cavalier in dismissing common behavior that the Torah regards as repulsive and hateful?
The author then says that the reason "we" are not outraged is because we believe in teshuva and that men can repent and be forgiven for previous wrong behavior." Firstly, repentance after committing a grave sin of bein adam lchaveiro does not merely happen through "feeling sorry". Forgiveness must be sought from the ones wronged and that has clearly never been done by the likes of Trump, who has only responded by further ridiculing and shaming the women who have come forward. We all know that Trump and repentance don't belong in the same sentence. He bragged about sleeping with married women and said that he doesn't need to ask G-d for forgiveness about anything. He did no teshuva when confronted with the recording of his famous words but rather minimized it to "locker room talk."
The author says that the left has no problem with adultery. Although I don't think that most people think adultery is ok, it is certainly true that people are more likely to overlook adulterous behavior in their politicians than sexual assault. Consensual sex between two adults in this country is legal whereas sexual assault is a crime. People are going to tolerate legal behavior even if they view it as immoral more than criminal behavior that physically or psychologically harms another. Additionally, examining the pervasive issues of sexual assault and harassment also requires an examination of power dynamics and the way that women will be systemically exploited by powerful gatekeepers in various aspects of society. In this regard, and in many others, the issues of sexual assault and harassment and adultery are not comparable and therefore ought not to be compared. If the author wishes to bemoan modern society's lost connection with Judeo-Christian values and, in his view, their increasing acceptance of adultery, then would it not make sense to urge us to maintain a higher standard of ethics for our politicians? If, as the author says, he would love to see a "return to a more moral America" then wouldn't it make sense to start by saying no to sexual harassment and assault, even if one thinks there are worse crimes?
It would only make sense that a Torah driven response would be to be grateful that our society is standing up against sexual assault and harassment and then go on to say that we should continue to hold those who represent us politically to a higher moral standard including an intolerance for adultery. To say that because "the left" tolerates adultery therefore the "right" should tolerate sexual assault and harassment, since the Torah views adultery as worse, is simply wrong. The desire to compare the two in an effort to minimize sexual assault is so lacking any kind of sensitivity and basic human empathy and the answer that the author gives is, even from a purely Halachic perspective, very simplistic and therefore not entirely accurate. Sexual abuse is bad. It is very very very bad. You don't have to be getting your morality from the "godless left" to know this. Any attempt to minimize it disguised as moral indignation against the "left" rings extremely hollow.
The author then goes on to say that since secular society is hyper-sexualized, one can hardly be indignant when men act on their sexual impulses inappropriately. Yes, society is hyper-sexualized. We should still expect decency and when, instead, there is criminal behavior, we can and should summon more than mere outrage. Of course the author makes sure to say "a sin is a sin is a sin. Nothing excuses it". He then went on to do just that -excuse it -with statements like "Is it really fair to inundate Americans with sexual jokes and images 24/7, 365 days a year and still expect them to act like Puritans?" A great compliment to Puritans to be sure but a severe insult to everyone else on earth, including Orthodox Jews who are not "Puritans" and yet who also don't tolerate sexual assault and harassment.
If what the author means to say is that sexual assault and harassment are terrible things, and if society truly wants to eradicate such behavior then we need to examine the way other aspects of society such as the normalization of porn, the sexualization of women in mainstream media and the acceptances of adulterous behavior create a society that is hostile to women, objectifies them and will ultimately lead to sexual violence, then we are in agreement. But to say that until society does that we will not take sexual assault or harassment claims seriously truly leaves me scratching my head. Is it a Torah position that if they go low then we will go lower? Wouldn't being a light unto the nations mean expecting more and better and showing this by not tolerating such behaviors from those we support? As frum Jews who wish to uphold the highest moral sensitivities we should strive to be the first to protest the mistreatment of women and the last to allow unfaltering loyalties to highly flawed human beings to tarnish our moral compass.
Chayi Hanfling holds an MSW from Wurzweiler School of Social Work and currently works for JAM at UCLA.