The Women's Empire Strikes Back!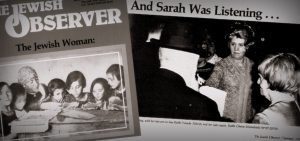 A group of intrepid women is pushing back against a problematic practice in our community. We should all try to help them out.
There are twelve gates in Heaven, to accommodate the different forms of prayer of different subgroups. When the Bnei Yisrael crossed the Reed Sea, according to one midrash, twelve paths stood in front of them, providing a different walkway for each of the tribes. We are fresh off the celebration of Purim, one of whose themes is the achdus, the essential oneness of our people. And yet, as R. Zev Leff, shlit"a, points out, Chazal assigned different days for different parts of the community to celebrate. Unity can coexist with diversity.
It is a terrible error for a group of Torah-abiding Jews to claim a monopoly on rectitude, oblivious to the gifts and advantages of competing practices. Each group ought to be able to acknowledge the thinking of the others, even when they have good grounds to reject it for themselves. It is also tragic when those who should be taking one path through the raging sea are pushed into one of the other lanes.
This is precisely what has happened, with great ill effect, in regard to the non-publication of women's pictures in many Orthodox outlets. Such a practice had no place in non-chassidic circles just a few years ago. Market forces dictate that the numerical strengths of different subgroups count; Chassidim have become the largest subgroup, and their needs now prevail in media, and in setting kashrus standards. That has meant, however, that other subgroups that are far removed from some of their thinking have been wrenched from their paths and forced to march on a different road.
To mock chassidishe standards in regard to mechitzos – real and virtual – between the genders, to treat these practices contemptuously, is small-minded and wrong-headed. We ought to understand and embrace the longings for kedushah in which they are sourced. We can and should do this even as we can be skeptical of whether the methodology works, critical of the problems it generates, and absolutely certain that it is not the way for the rest of us to serve Hashem.
When it comes to expunging women's faces from public presentation, we must have the courage to say that this is harmful, dangerous, and not for us. It may serve the needs of some, but not those of us who have different needs. I have heard from many women of unimpeachable frumkeit and yir'as Shomayim how painful it is to them to have become visually marginalized. How they cannot explain to their daughters why women do not seem to have a place, even though (outside of Chassidic circles – and even inside many of them!) women have assumed much broader roles in the community than their grandmothers, all the time hewing to the demands of halachah and tzniyus. How they cannot explain to their sons that yesh gevul – there are defined standards of modesty, and that once met, there is nothing at all wrong with a woman's picture being displayed when appropriate. How they have no answer to the mocking of Torah that this practice precipitates in the greater world – a world that was once opaque to the eyes of outsiders, but is no longer, and will continue to drill down on what they can point to with derision.
For those of us who are concerned with the inroads made by groups who have crossed over to the other side of Orthodoxy's border, this practice has been a disaster. We seem to have broadcast loud and clear: You might as well join with the falsifiers of Torah, because the traditionalists have hit upon an extremism that is simply incompatible with who we are.
For those who have not given up on Jewish neshamos still waiting outside the borders of halachic commitment, the publicity that has attended to this practice has created an insuperable problem. Who wants to join a religion of mullahs?
A group of women is doing something about this situation. Their effort will likely win a hechsher from the OU, but not the Badatz. Please study their proposal, and sign on to their effort.