Riveting Personal Recollection of Auschwitz "Selection" – A Must-See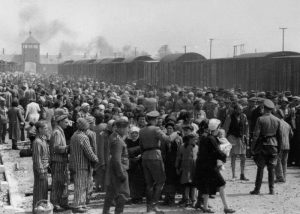 Please see this new video (and read the accompanying important article) of Rabbi Nissan Mangel's detailed portrayal of the "Selection" protocol upon his arrival at Auschwitz as a 10-year old boy. Every Jew should view this and remember it well.
(In like vein – and there are so many similar accounts – my wife's paternal grandfather, a slave laborer at Auschwitz whose parents were murdered by the Germans, was taken out to be executed on numerous occasions, but was inexplicably released at the last moment, each time and just in time. Miraculous salvation in the midst of overwhelming and unfathomable horror.)
We cannot understand Rabbi Mangel's miraculous survival, just as we cannot understand the unparalleled viciousness of those who murdered the six million, or the deaths of these and other Kedoshim. Hester Panim does not mean that God is not there, but rather that His ways are hidden and cannot be humanly understood.
Rav Soloveitchik zt"l explained this as the fundamental message of the story of Iyov, such that Iyov's friends, who sought to explain the logic of Iyov's lot, failed to appreciate that we cannot understand how God runs the universe. Only Iyov refused to accept rationalizations for his lot based on human understanding, and in the end therefore surrendered in deference to God's inscrutable ways.